Boetius Adamsz Bolswert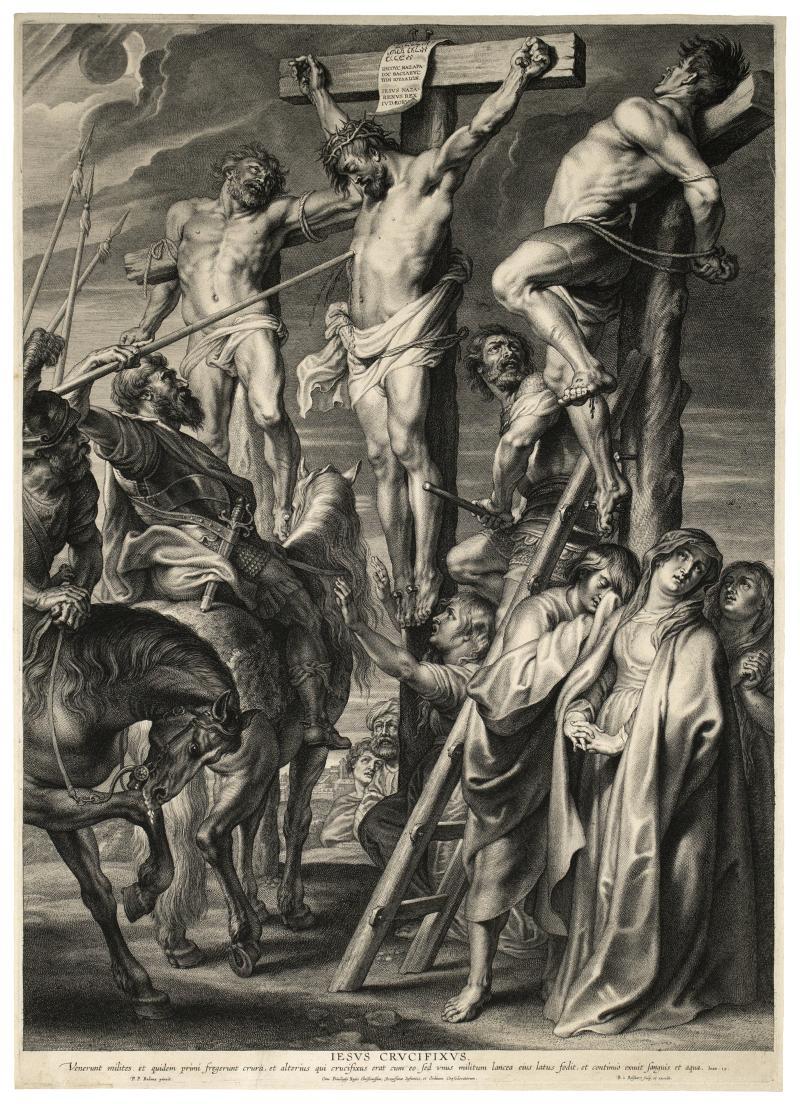 Boetius Adamsz Bolswert (Dutch, 1580-1633)
Christ on the Cross Between Two Thieves
1631; after Peter Paul Rubens (Flemish, 1577-1640)
Engraving
Hollstein 9; Schneevoogt 433; Le Blanc 6; Basan 86 
Inscription in margin l.c. "IESVS CRVCIFIXVS." / l.l. to l.r. "Venerunt milites : et quidem primi fregerunt crura, et alterius qui crucifixus erat cum eo. sed vnus militum lancea eius latus fodit, et continuo exivit sanguis et aqua Joan .19."  / l.l. "P.P. Rubens pinxit.";  l.c. "Cum Privilegijs Regis Christianissimi, Serenissimae Infantis, et Ordinum Confederatorum." l.r. "B. à Bolswert sculp. et excudit." 
Learn more about Boetius Adamsz Bolswert's work from
Trinity Lutheran's Pastor, Thomas Voelp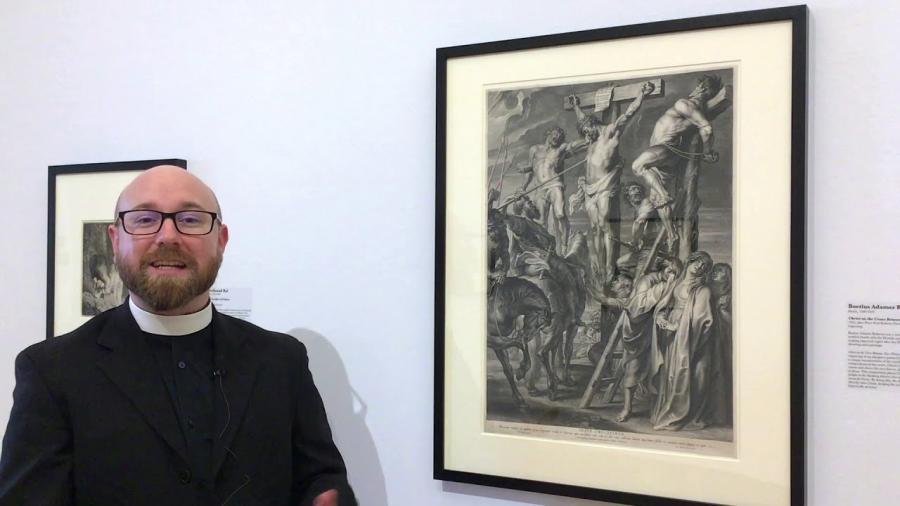 Boetius Adamsz Bolswert was a renowned copperplate engraver born in the small town of Bolsward, Friesland into a family of engravers. He moved early in life to Holland where he began to work with painters, making engravings of their work. His most recognizable prints are after four David Vinckboons' (Dutch, 1576-1636) paintings titled The Horrors of the Spanish War (1610). He is believed to be the pupil and close friend of famous painter Abraham Bloemaert (Dutch, 1566-1651), and the two share a similar graphic style. In his later life, Bolswert established an engraving studio in Holland while still maintaining a large publishing house in Belgium.
 
Bolswert worked closely with the Flemish artist Peter Paul Rubens (1577-1640) in Antwerp, Belgium, engraving many of the Dutch Master's drawings and paintings. Bolswert was a skilled engraver whose work matched both the style and skill of Rubens' other engravers, including the artist's brother Schelte Bolswert (1586-1659) who worked closely with Rubens as well. Rubens valued uniformity in his prints and selected engravers who could unvaryingly reproduce his works. Christ on the Cross Between Two Thieves (c. 1619) was originally an altarpiece painted by the Dutch master who later commissioned  Bolswert to create an engraving. Bolswert was able to create smooth, curved lines, translating the painting's brushstrokes with precision and expertise while capturing the turbulent drama.
 
Christ on the Cross Between Two Thieves depicts the Christian story of Jesus' crucifixion. Death on a cross was considered the worst method of execution and was usually reserved for rebels, criminals or slaves. Jesus was sentenced to death by Pontius Pilate at the insistence of angered Jews. A crown of thorns was placed upon his head, and a sign hung above him reading, Jesus, King of the Jews. Both were used to mock him. At the foot of the cross stands Mary Magdalene pleading with the soldiers to respect Jesus' body while Mary, Mother of Jesus, stands on the right side of the composition agonizing over her son's death.*
 
Rubens chose a unique interpretation of the crucifixion. In many compositions of this scene, Christ's placement in the center and above the two thieves, draws the viewer's eye to Jesus. Christ on the Cross Between Two Thieves places Christ at the same height as the flanking thieves who are turned inward toward the Christ figure. By doing this, the positions of the two thieves places the viewer's focus directly on Christ, keeping the scene dramatic and historically accurate. 
 
Bolswert enjoyed a prolific career engraving many artists' works. He died in Antwerp in 1633.
-OR
*The scene is from three books in the Holy Bible: Matthew 27, Luke 23, and John 19.