Francis Dodd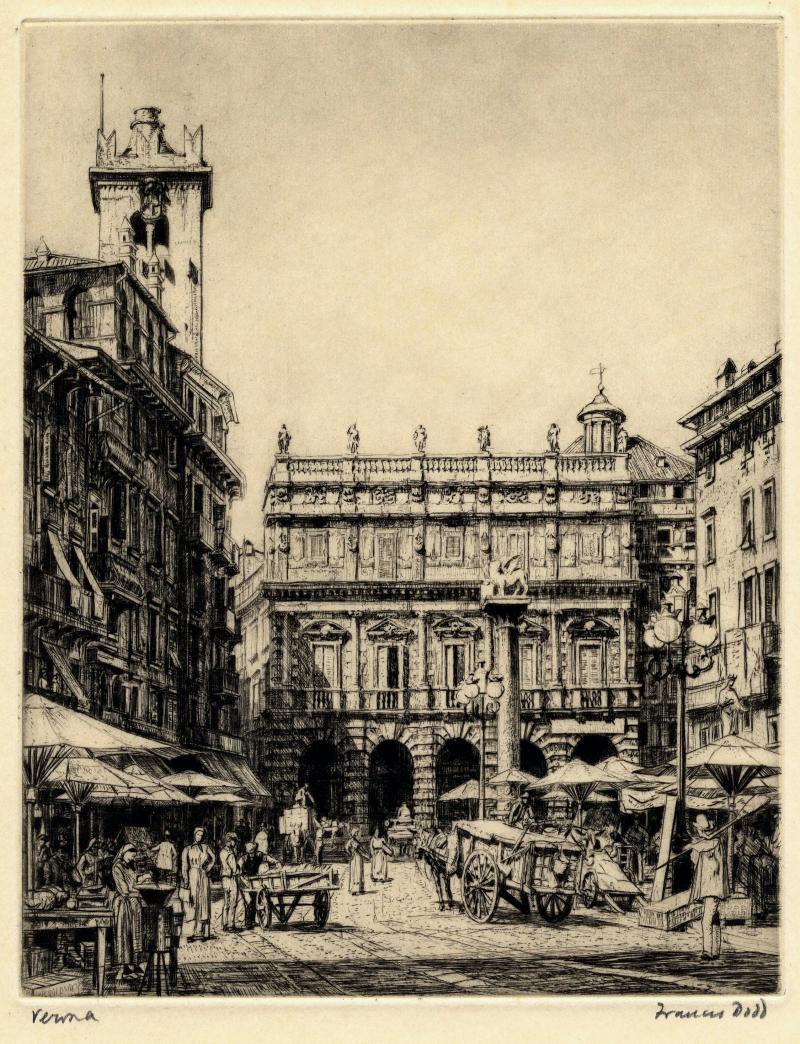 Francis Dodd (British, 1874 - 1949)
Verona – View of the Piazza delle Erbe
1914
Etching and drypoint
 
Schwabe 5/96
Inscription on recto l.r. (in box) "Dodd / 1914"; in margin l.l. "Verona"; l.r. 'Francis Dodd'
 On recto u.c. Indistinguishable watermark including the word "SKIN" 

Born in Holyhead, Wales, Francis Dodd was the son of a Wesleyan minister. He trained at the Glasgow School of Art, before settling in London in 1904. During World War I, Charles Masterman, the head of the War Propaganda Bureau, appointed Dodd a war artist and commissioned him to serve on the Western Front; here he produced over thirty portraits of senior military personnel. After the war, Dodd turned his attention to watercolors and portrait commissions. 
 
Created during a visit to Italy, Verona – View of the Piazza delle Erbe is an etching and drypoint of the Piazza delle Erbe (Square of Herbs), the main market square in Verona. During the Roman Empire, the Piazza was the town's forum and was a part of Verona's Roman Court. With its shops and history, it has been the center of the city's economic and political life for centuries. The specific view of the Piazza delle Erbe is the Maffei Palace in the northwestern part of the square. The Maffei family purchased property on the square in the seventeenth century and built a beautiful palace. The grand home is designed in the Baroque style and sits slightly higher than the square's ground to expose the ancient Roman Capitoline Hill remains below. Over time, the family added a banister adorned with statues of six Roman and Greek gods, as well as the focal point of the palace, its tour de force helicoidal staircase, which curves through the center of the building. The palace is now a popular restaurant in the Square.
 
Dodd's etching and drypoint also depicts a marble column, which holds a statue of St. Mark's Lion. This feature is a curious aspect of the Piazza delle Erbe, as the Lion is a symbol of the Republic of Venice. Verona joined the Republic of Venice in 1405, but the city was captured by Maximilian I in 1508 and remained under the Empire's hand until 1517. Following Verona's return to the Republic, citizens celebrated by placing a monument of St. Mark's Lion in the Piazza, signifying Verona's fidelity to the Republic of Venice.  
 
Dodd's Verona etching dates to 1914, just as World War I was beginning. It is a great example of his mid-career work, characterized by rich, velvety lines. Ten years later - after Dodd's experience as a wartime portrait painter - his work demonstrates an improved expertise. There is a soft and unfocused quality to his earlier prints, including Verona – View of the Piazza delle Erbe, that is not as visible in his later, more detailed works, where he experimented with deeper colors. 
Francis Dodd lived and worked in Blackheath, London until his death in 1949.
-TV