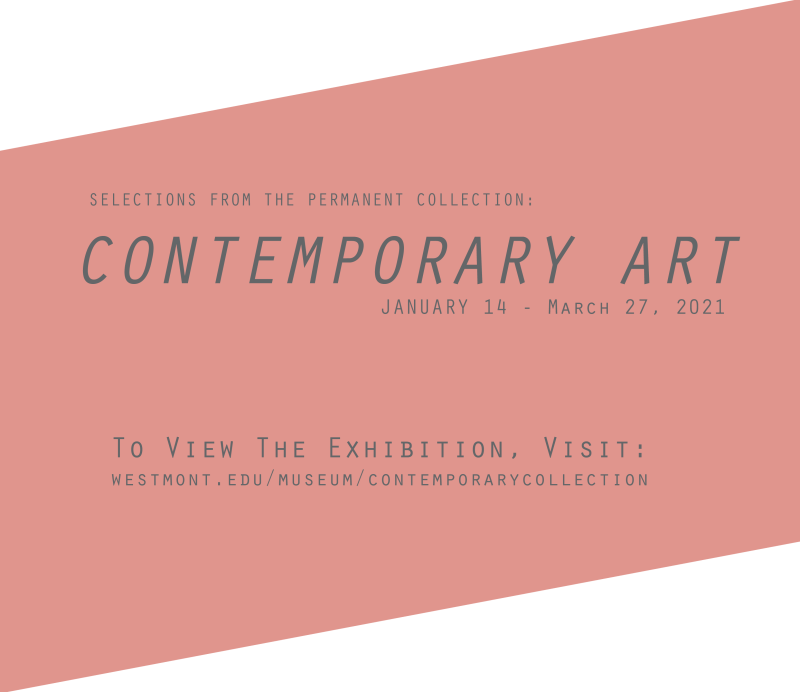 Thank you to our Generous Donors:
Director's Circle
Ken & Francie Jewesson
Lillian Lovelace
Friends of the Museum
Mark & Sara Hayden
Pat & Walter Moore
Sharol & Wayne Siemens
Barry Winick & Linda Saccoccio
Major Benefactors
Diane Dodds Reichert & David Reichert
Bob & Chris Emmons
George & Shari Isaac
Jane & David Jackson
Peter Morris
It is always a challenge to stay current with the art of our time. Art history interprets art that has come before; contemporary art asks that we become critics of art made today. It means as critics, we must be fluent in the issues, trends, politics, and cultural shifts of our time, keeping current on emerging technologies and new materials.

The contemporary works in our permanent collection have come from many gifts and other sources. Two major private collectors have helped shape our collection. Barry Berkus and his son Jeff Berkus and Arnold and Marie Forde were private collectors who enjoyed "the hunt." They attended exhibitions and gallery openings and enjoyed getting to know emerging artists and encouraging them with significant purchases. They were willing and eager to donate parts of their collections to museums, so everyone could enjoy the art.

Some of the works in the exhibition came to the Museum as gifts from artists or families of artists, who desired a significant piece of their oeuvre be placed in a museum collection for perpetuity. Other works came as acquisitions. When the Museum has an opportunity to purchase a significant work, we can tap into a small, but growing, acquisition budget for purchases.

Our collection has a particular interest in artists who work on the Central Coast, especially art by people of color and women artists. We also collect contemporary art from global artists; notable examples include works by British, Mexican, Iranian, and German artists. We have a deep strength in sculpture, works on paper, and ceramics. 

The art of our time requires thoughtful consideration. The work may not speak to you at first, but we invite you to spend some time with each piece, approaching each with a creative and open mind.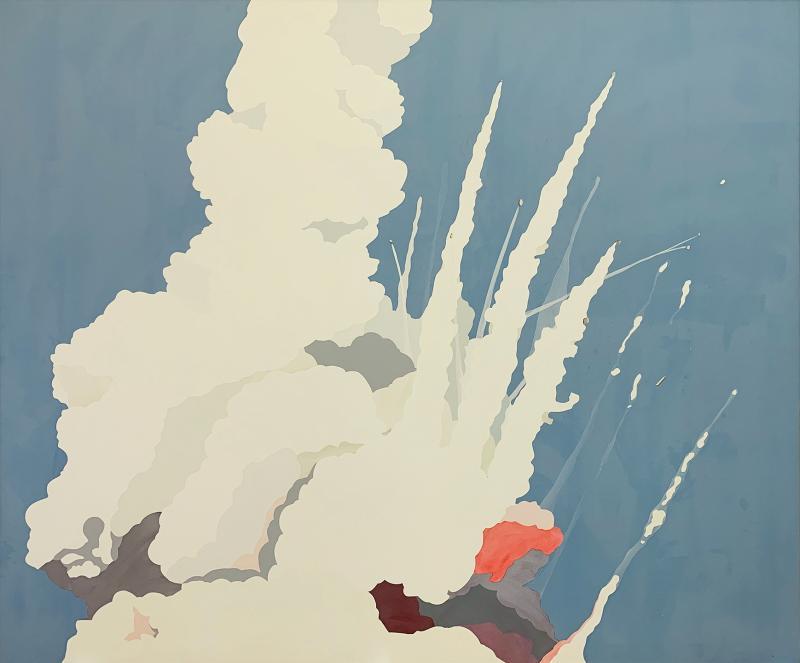 Brian Alfred (American, b. 1974)
Saddest Day of My Youth, 2005
Acrylic on canvas
Gift of Berkus Family Collection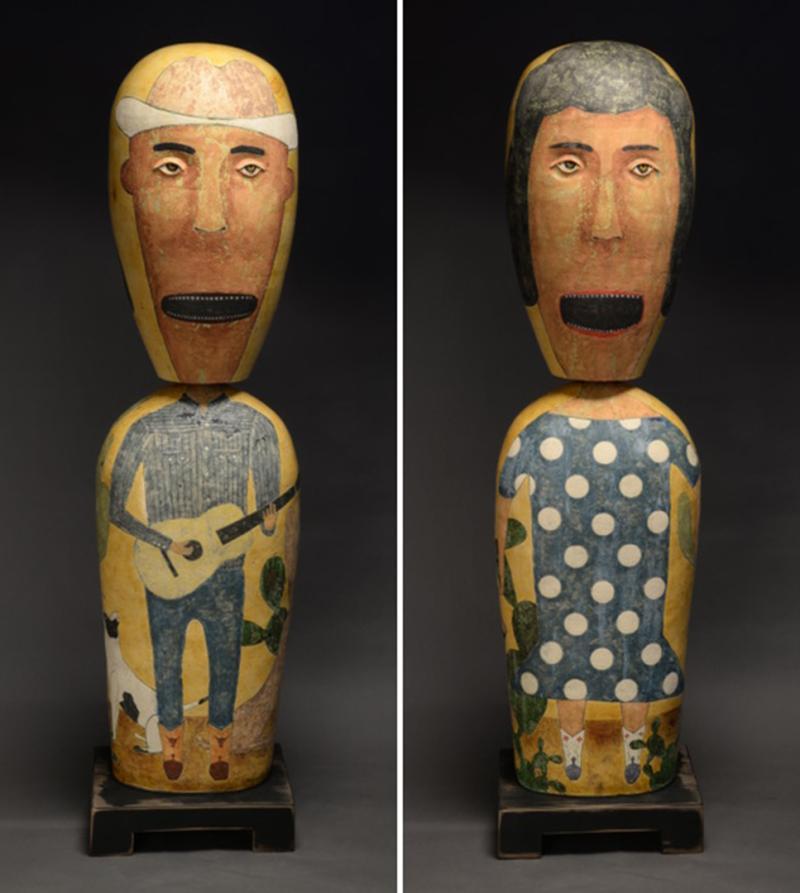 Wesley Anderegg (American, b. 1958)
Lady and Her Pets, 2020
Ceramic             
Westmont Acquisition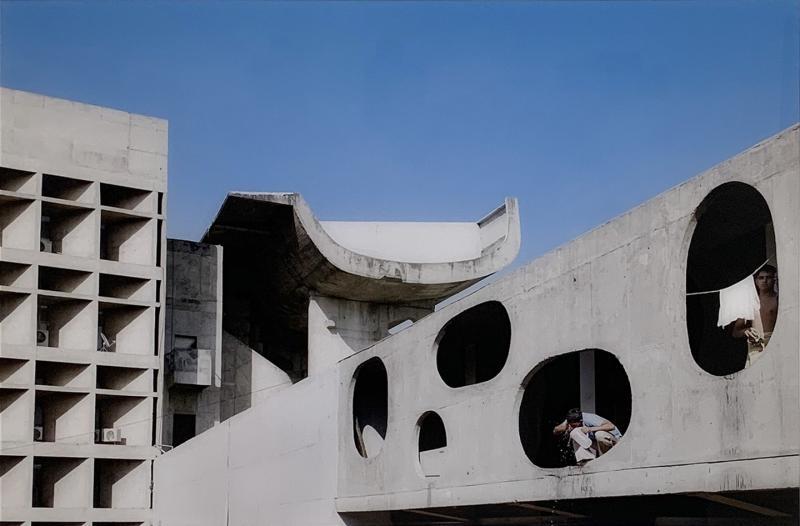 Iwan Baan (Dutch, b. 1975)
Chandigarh (published in Brasilia-Chandigarh Living With Modernity, 2010)
C-print with face mounted acrylic
Gift of Berkus Family Collection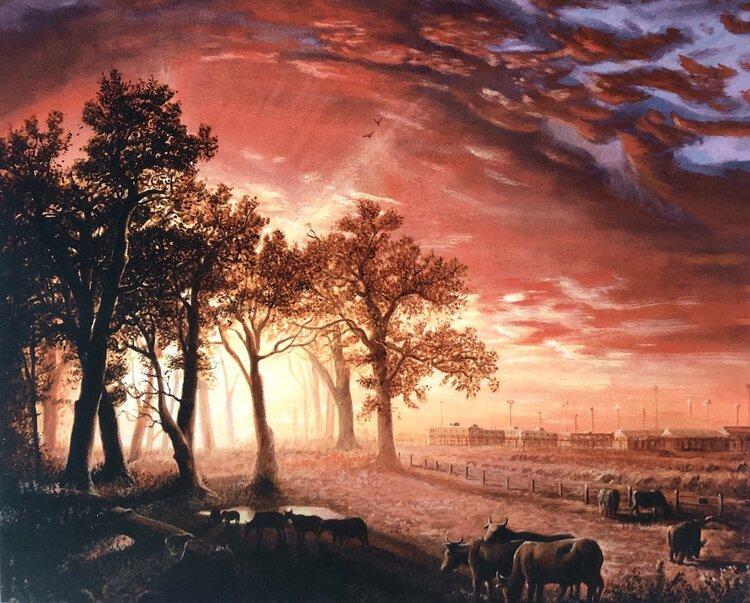 Sandow Birk (American, b. 1962)
Northern California Women's Facility, Stockton, CA, 2001
Oil and acrylic on canvas
Gift of Berkus Family Collection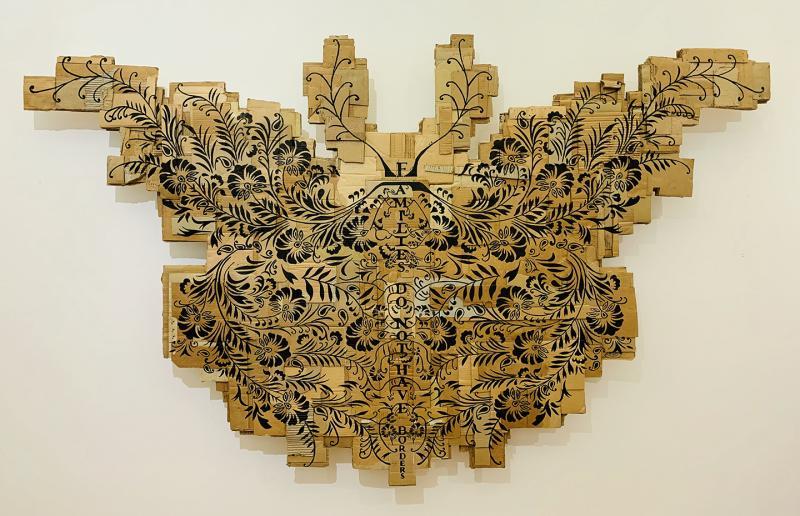 Andrea Bowers (American, b. 1965)
Monarch Butterfly (Families Do Not Have Borders), 2016 
Marker on cardboard
Westmont Acquisition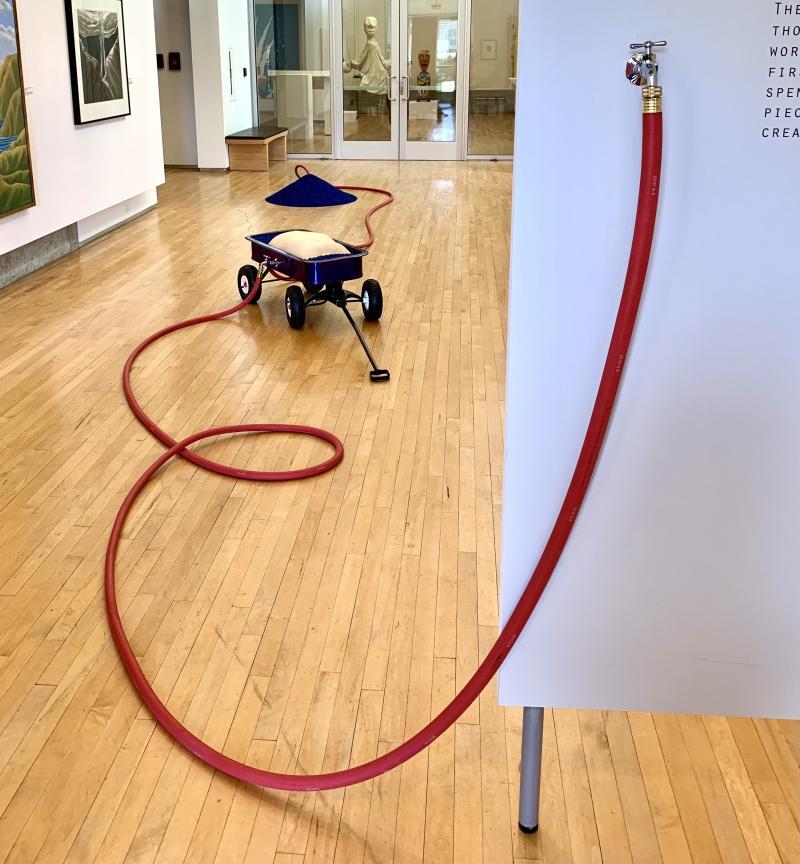 Kent Anderson Butler (American, b. 1971)
Drowning With Land Still in Sight, 2016/2019
Mixed media sculpture
Westmont Acquisition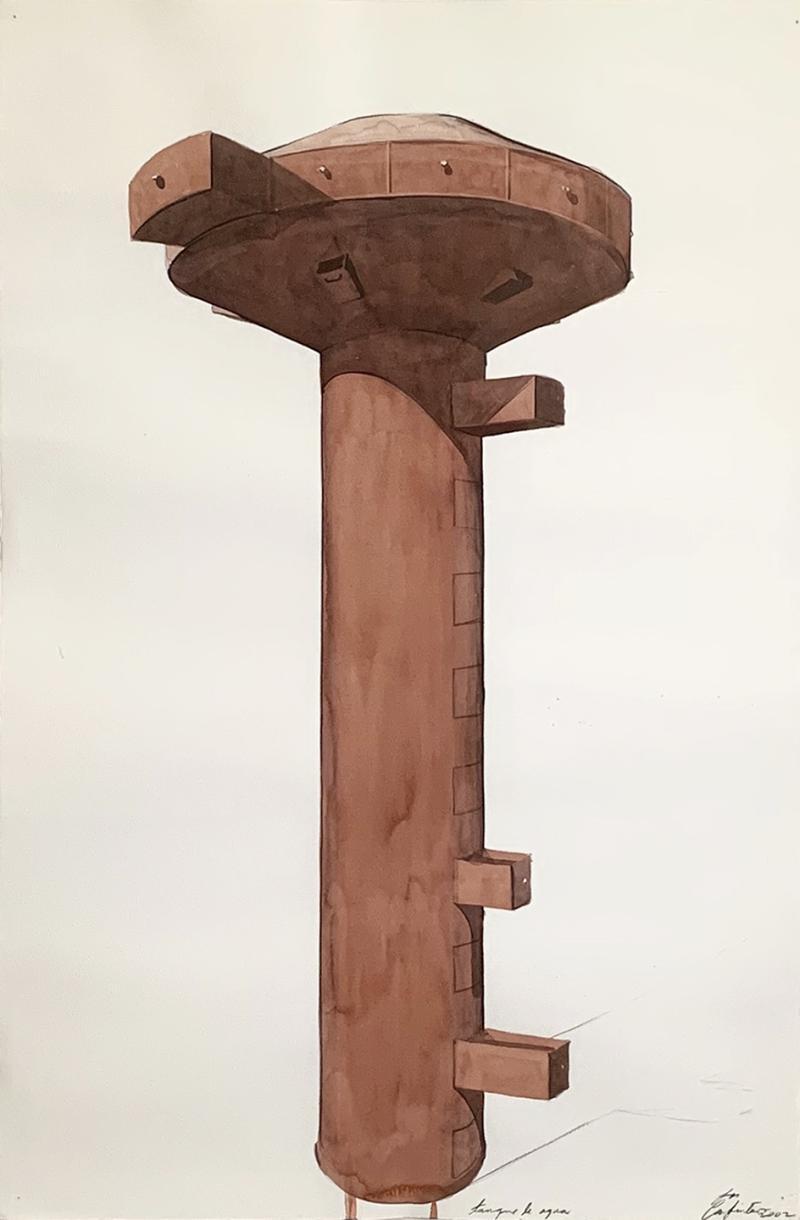 Los Carpinteros (Cuban artist collective, 1994)
Tanque le Aqua, 2002
Watercolor and graphite on paper
Gift of Berkus Family Collection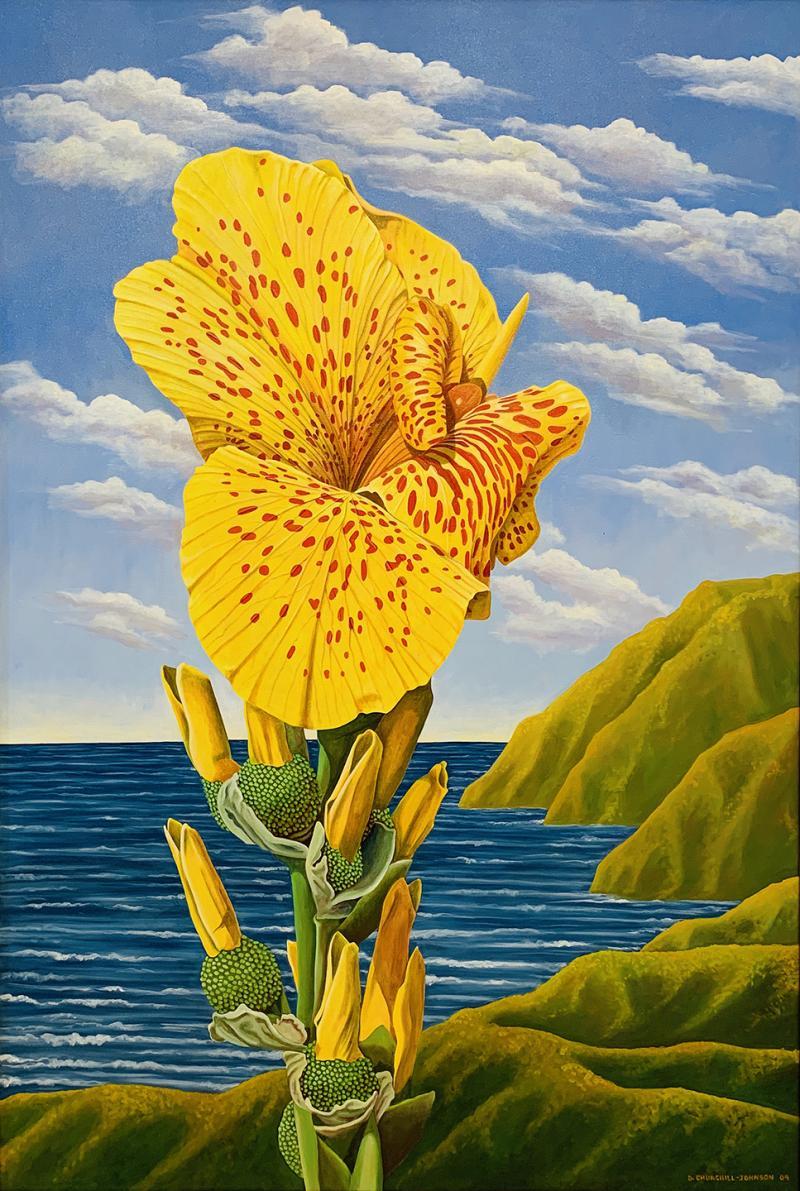 Dorothy Churchill-Johnson (American, b. 1942)
Joy Rising, 2004
Oil on canvas            
Gift of Janyth Strickland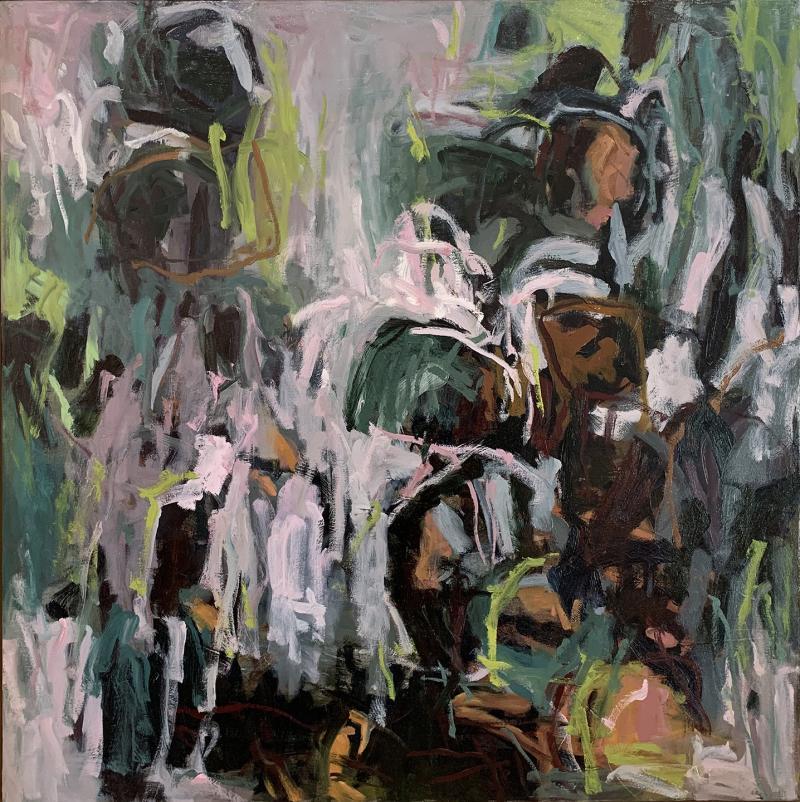 Connie Connally (American, b. 1952)
Ocean Tumble, 2014
Oil on canvas
Gift of Connie Connally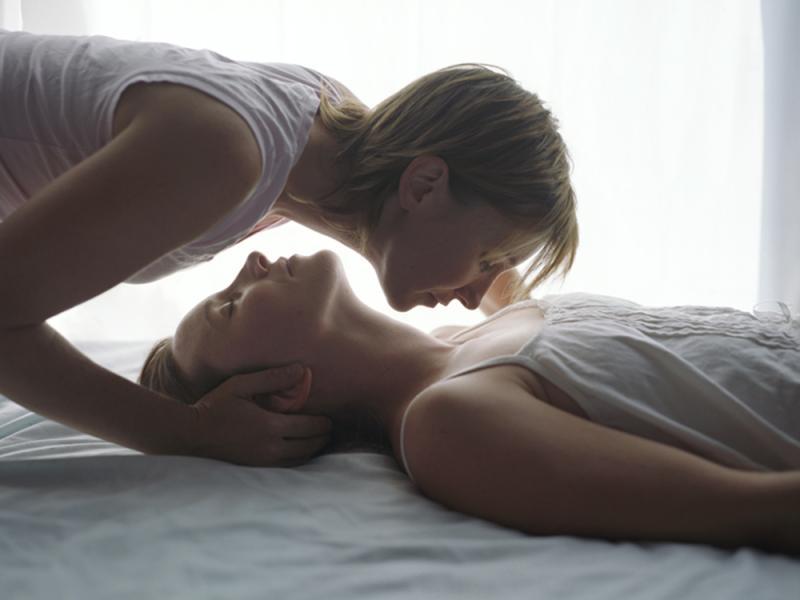 Kelli Connell (American, b. 1974)
The Valley, 2006
C-print with face mounted acrylic
Gift of Berkus Family Collection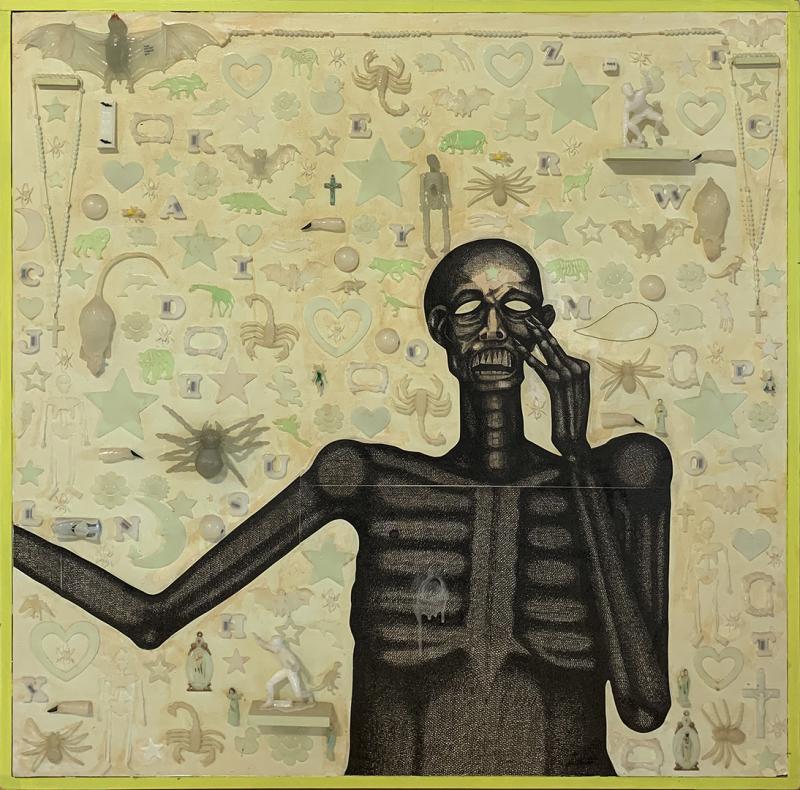 The Date Farmers (Mexican-American artist collective, 1998)    
Glow in the Dark, 2012
Acrylic and mixed media collage on wood panel
Westmont Acquisition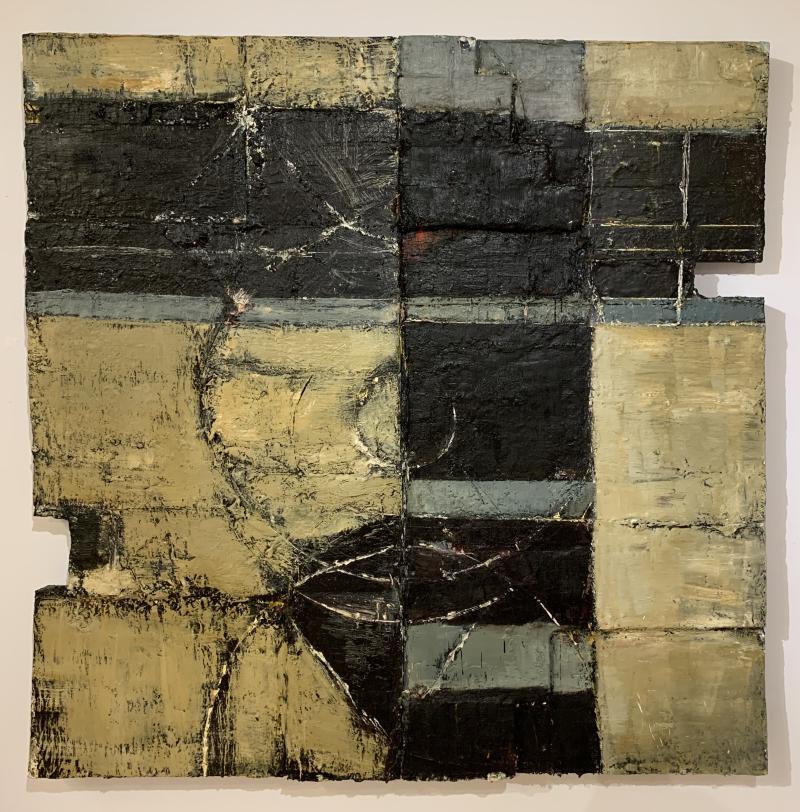 Michael David (American, b. 1954)
Scarecrow, 1987
Oil, wax, and acrylic on canvas        
Gift of Berkus Family Collection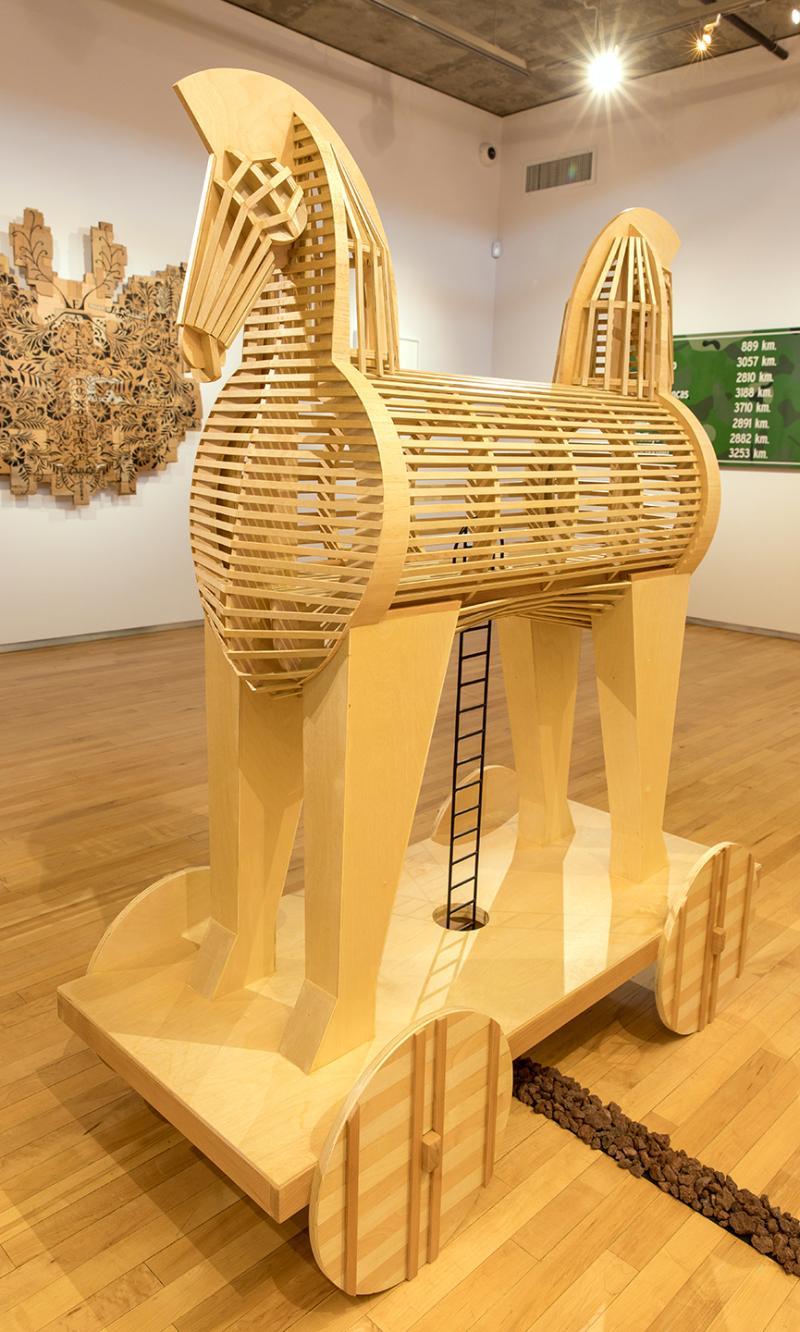 Marcos Ramírez ERRE (Mexican, b. 1961)
Toy An-Horse, 2016
Wood, steel, and red lava rocks
Westmont Acquisition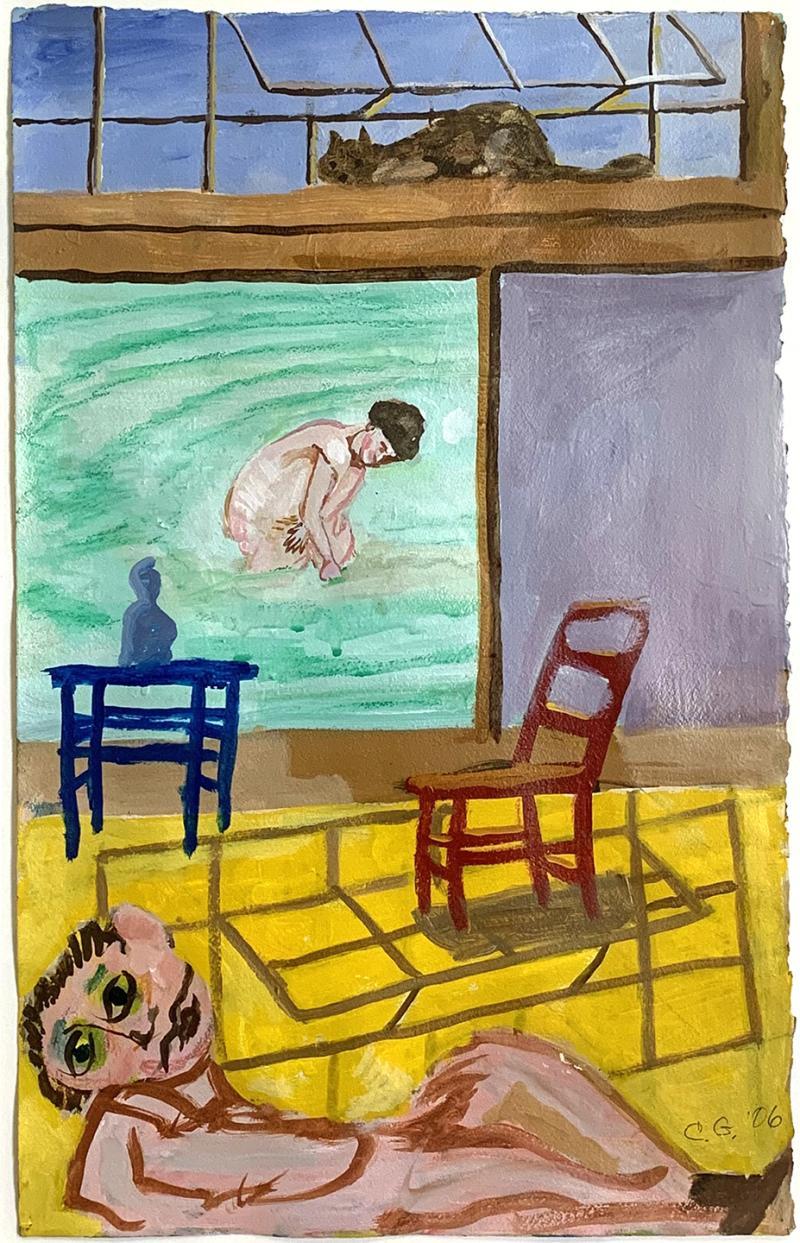 Charles Garabedian (American, b. 1923)
Self Portrait as a Bobble-head, 2006
Acrylic on paper
Westmont Acquisition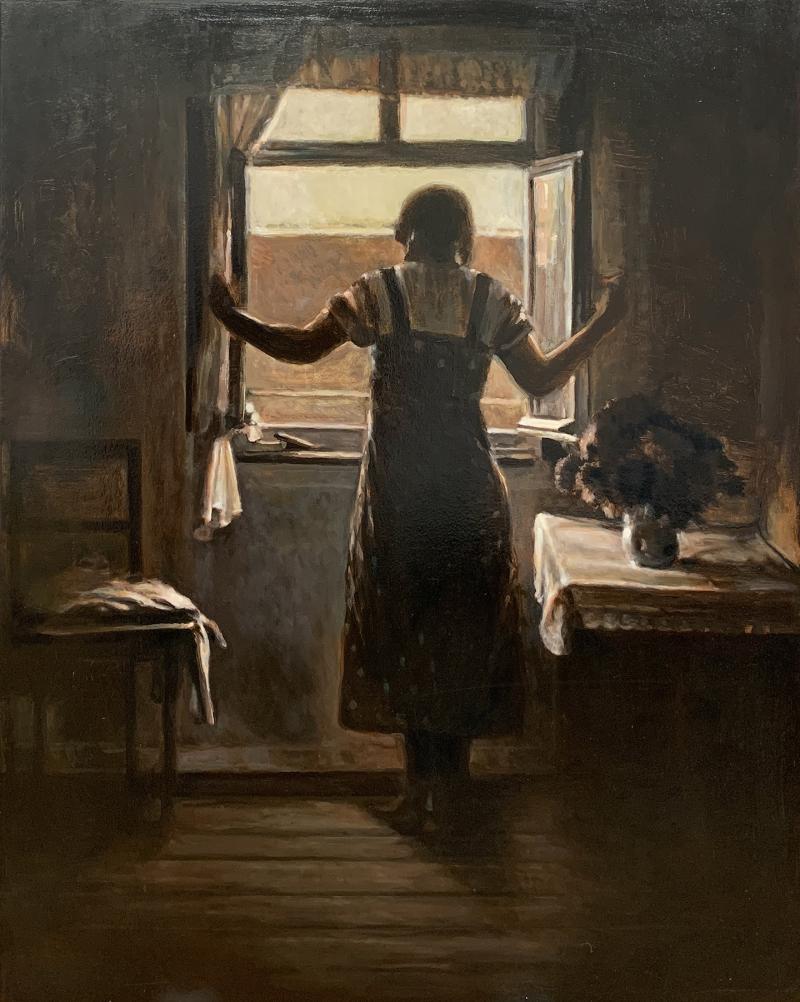 Lawrence Gipe (American, b. 1962)
Woman and Window (Panel #5 from Schone), 2001
Oil on panel
Gift of Berkus Family Collection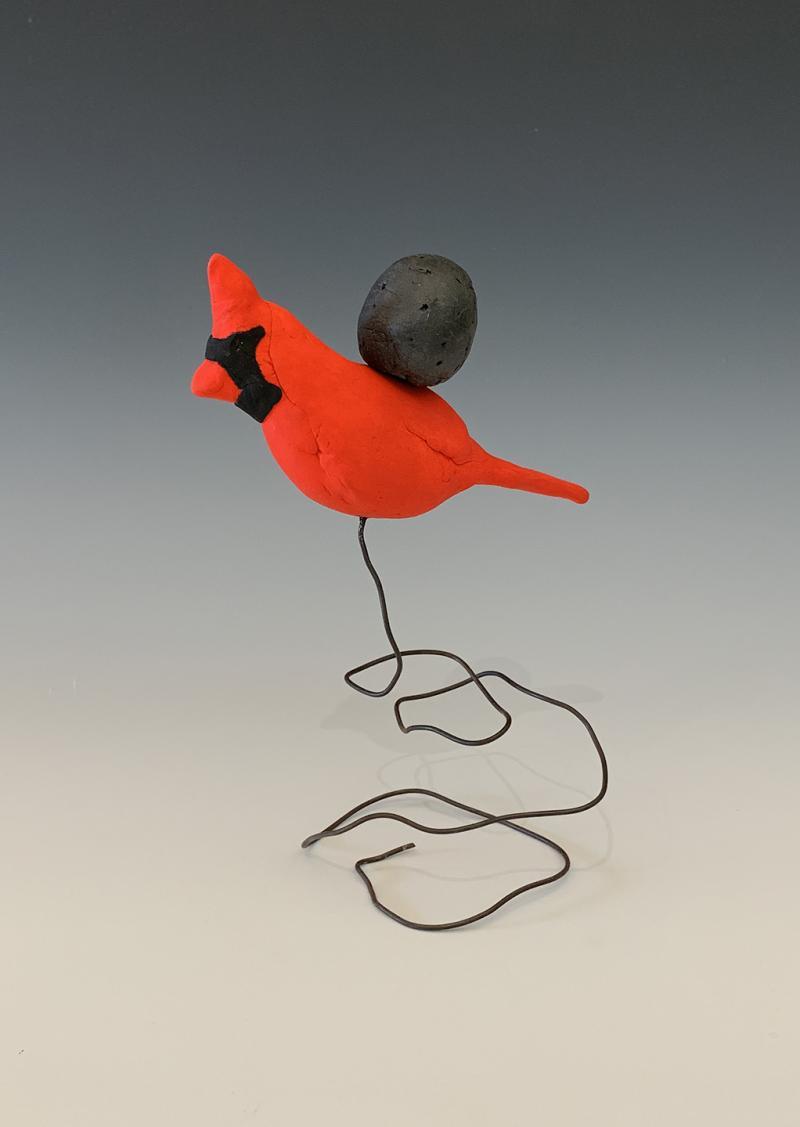 Dane Goodman (American, b. 1947)
Loaded – Cardinal & Potato, 2013
Model Magic, acrylic, and wire
Gift of Frances Garvin and Keith Julius Puccinelli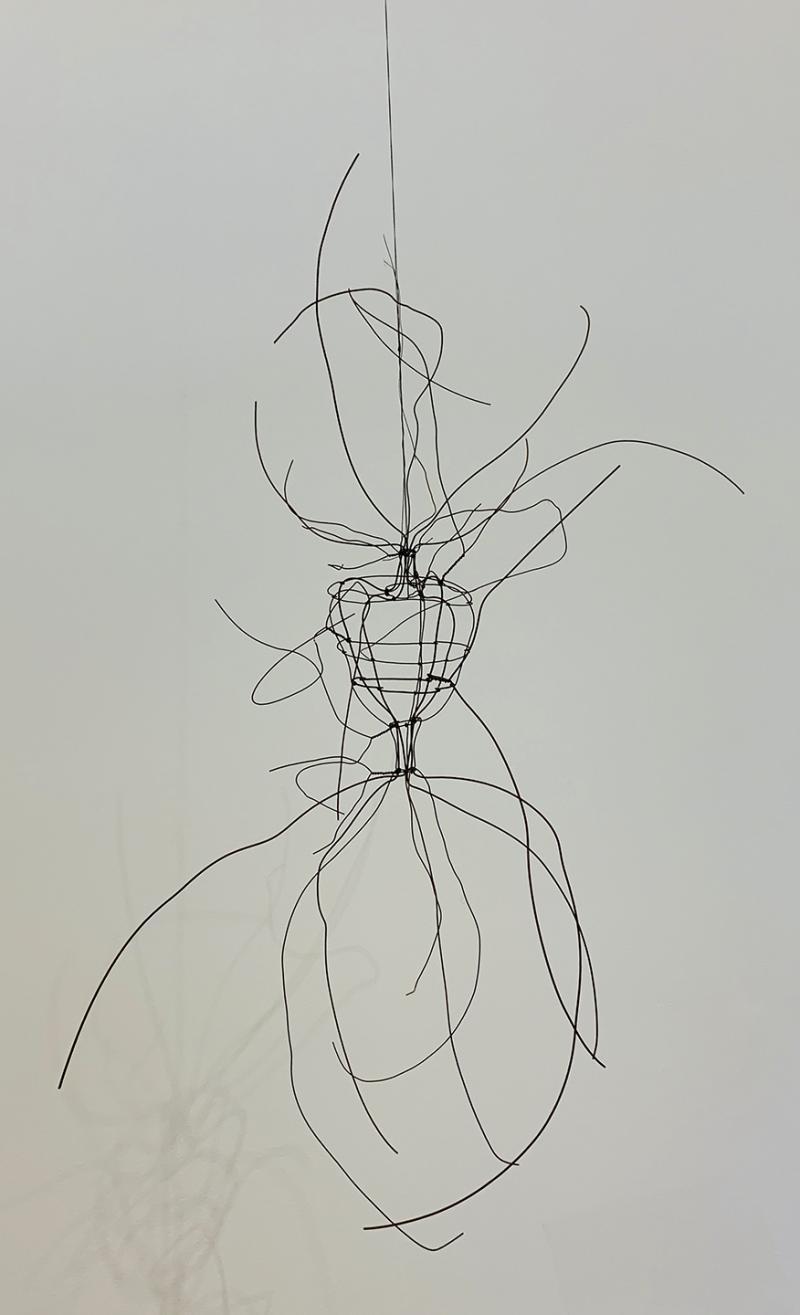 Nathan Hayden (American, b. 1977)
Untitled, c. 2009
Metal wire        
Frances Garvin and Keith Julius Puccinelli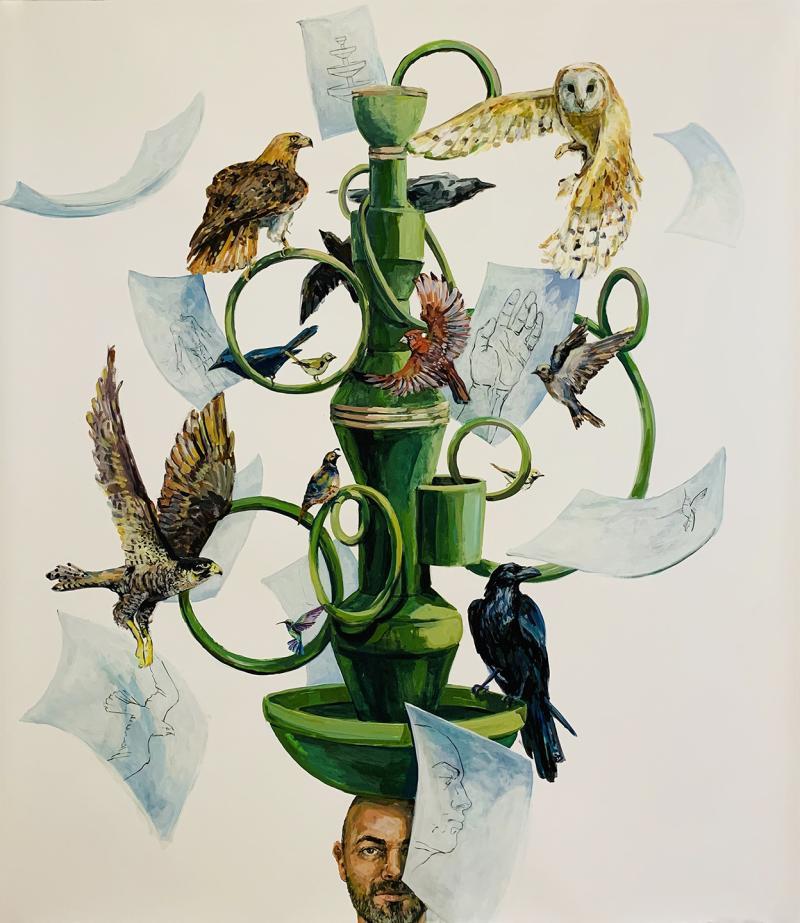 Nathan Huff (American, b. 1981)
Seeking Balance, Chasing Francis, 2020
Acrylic and acrylic gouache on fabriano
Westmont Acquisition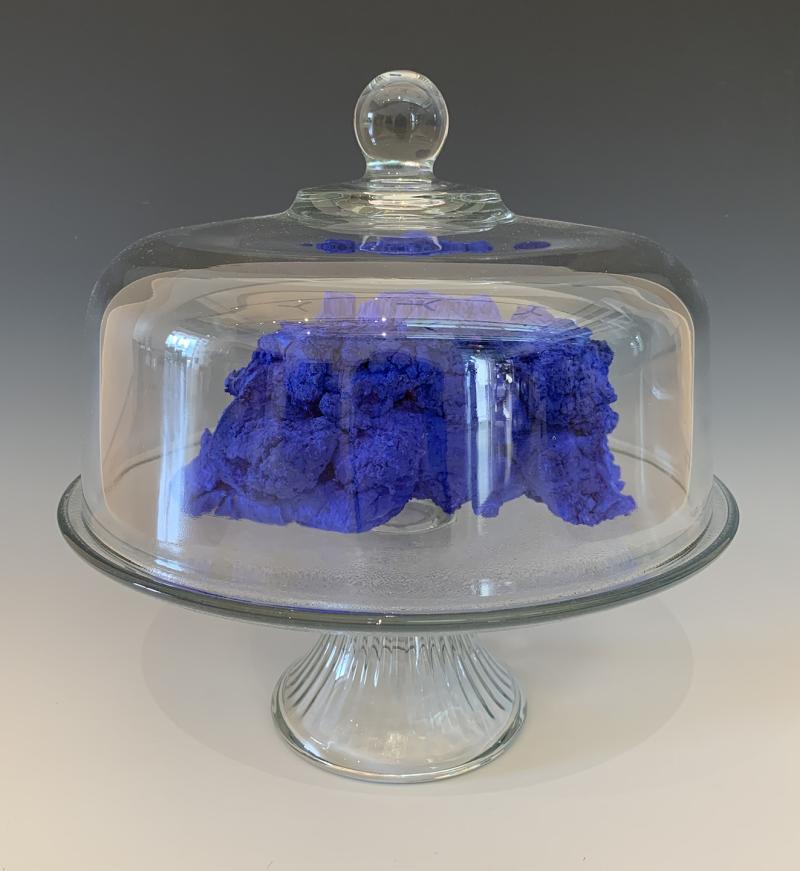 David Ireland (American, 1930 – 2009) 
Cake Dome Vitrine, 2000-2001
Glass cake stand with dome, Fixall, and blue pigment
Westmont Acquisition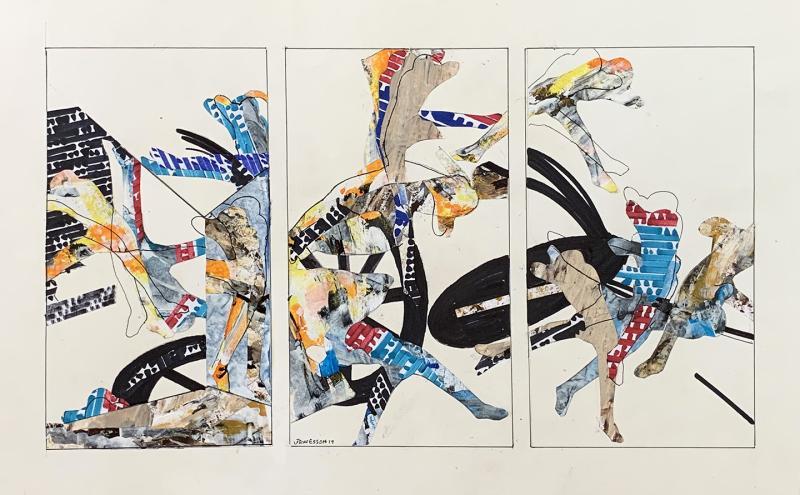 Ken Jewesson (American, b. 1939)
Untitled, 2019
Ink, acrylic, and collage on paper
Gift of Ken and Francie Jewesson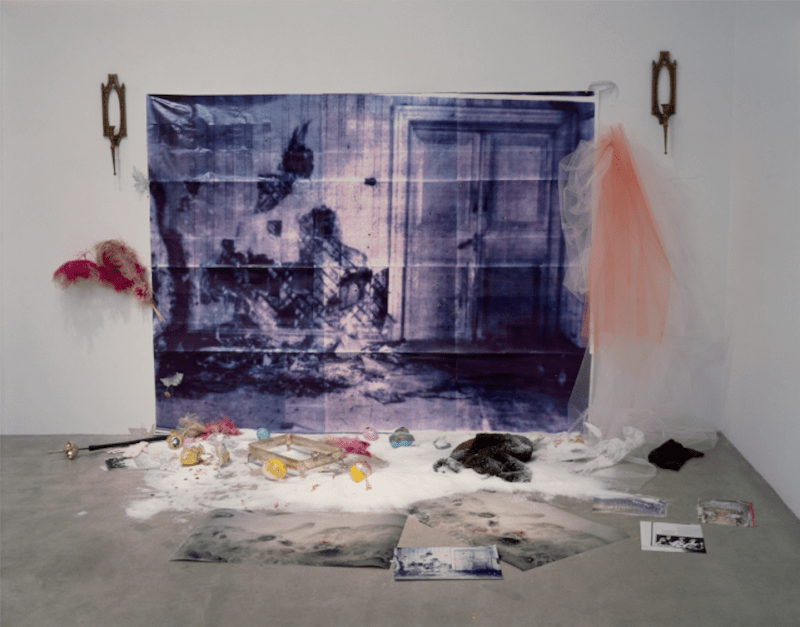 Karen Kilimnik (American, b. 1955)
The Czars, 1991
Sculpture
Gift of Marie and Arnold Forde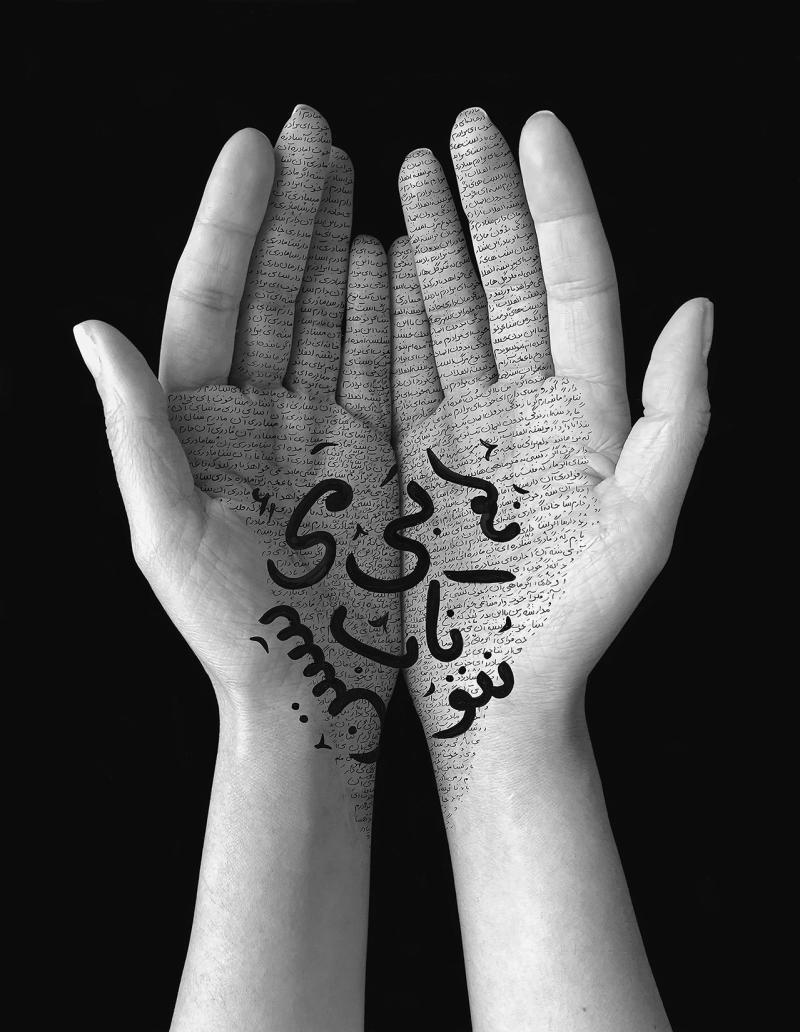 Shirin Neshat (Iranian, b. 1957)
Offerings Series, 2020
Chromogenic photograph (C-print)
Purchased with funds provided by the Dewayne and Faith Perry Print Acquisition Fund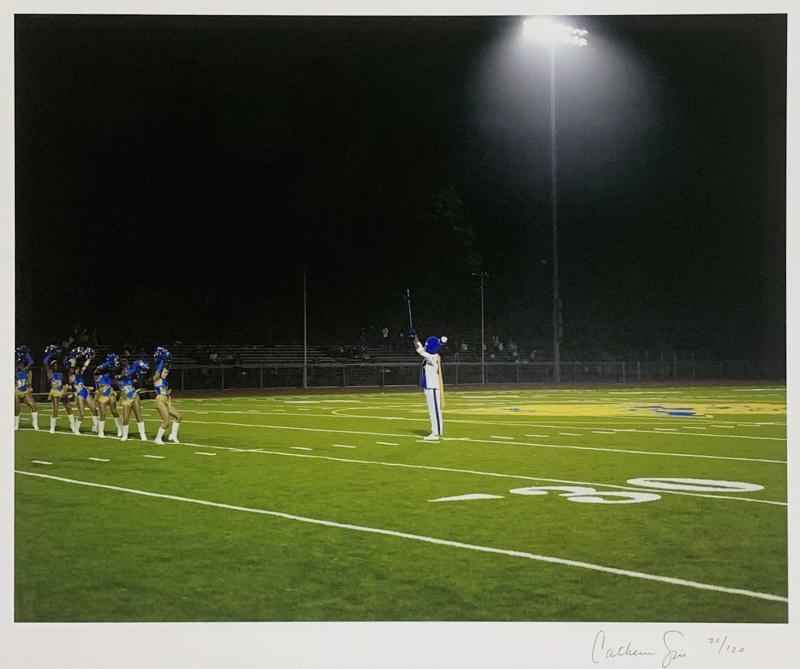 Catherine Opie (American, b. 1961)
Crenshaw High School Marching Band, 2007
Color archival digital print
Westmont Acquisition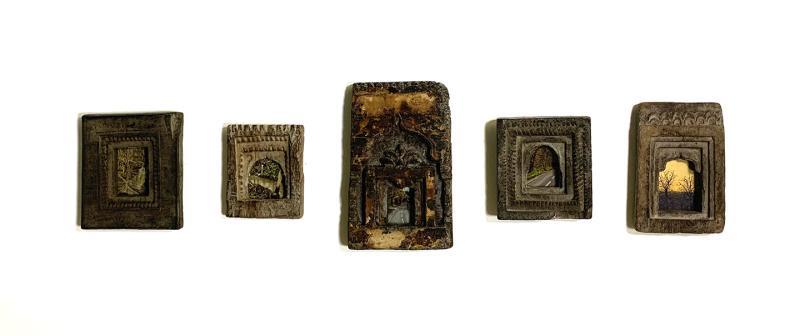 Robert Priseman (British, b. 1965)
Suffolk Landscape – S, 2011
Suffolk Landscape – U, 2011
Suffolk Landscape – M, 2011
Suffolk Landscape – A, 2011 
Suffolk Landscape – C, 2011
Oil on board in antique Indian shrine frame    
Gift of John and Barbara Priseman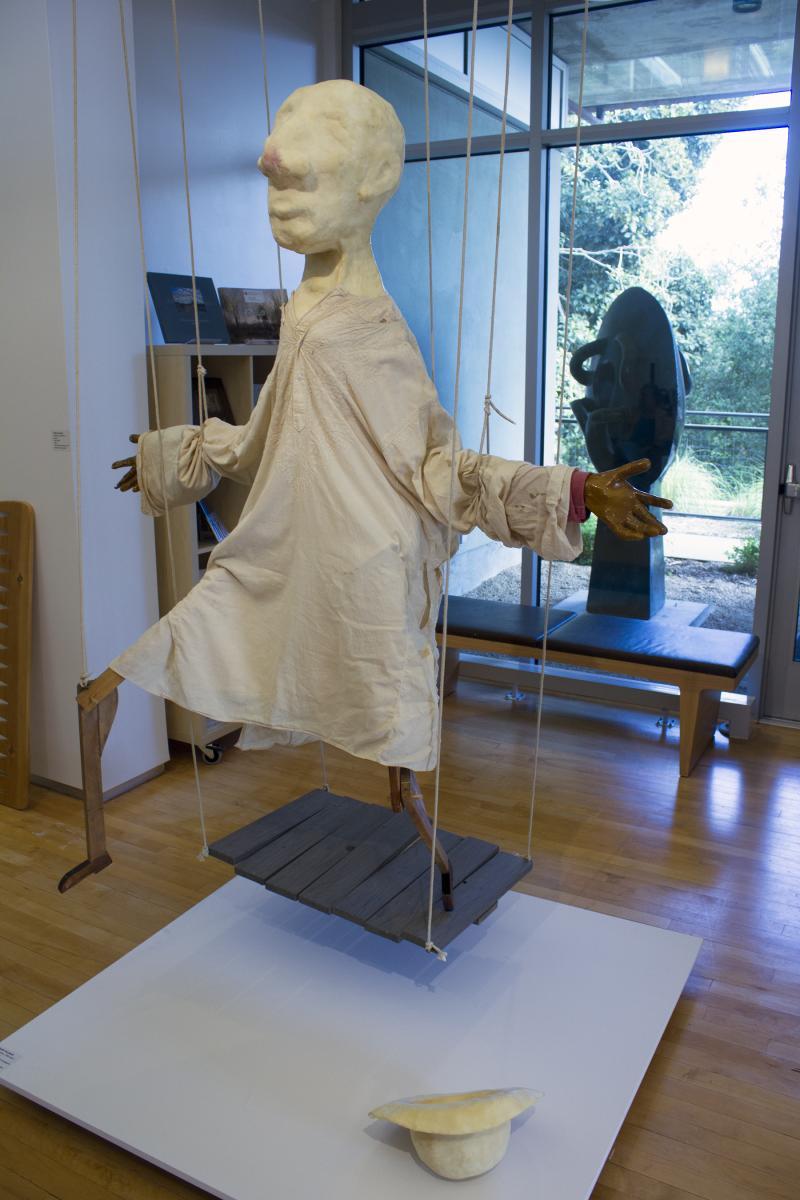 Keith Puccinelli (American, 1950-2017)
Noi Pupi, 2012
Mixed media sculpture
Westmont Permanent Collection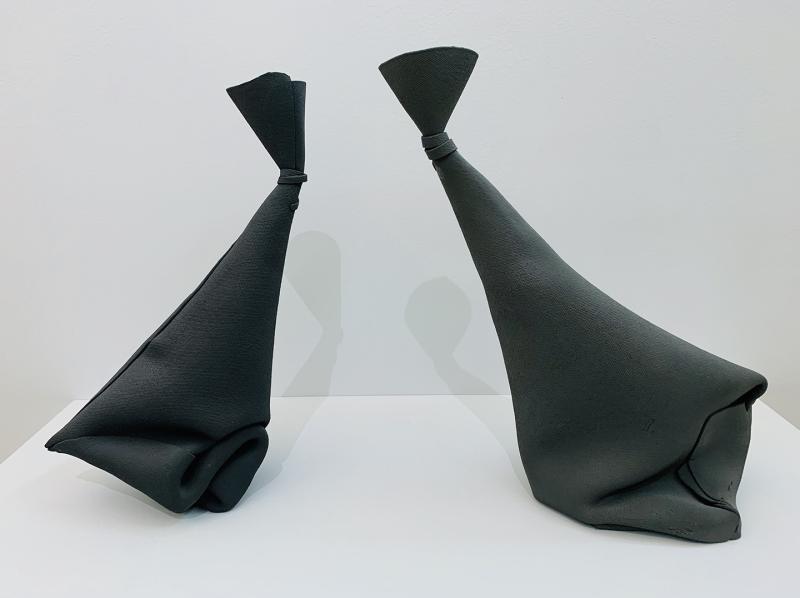 Joan Rosenberg-Dent (American, b. 1942)
Dancer #1 (inspired by Martha Graham), c. 2000
Dancer #2 (inspired by Martha Graham), c. 2000
Porcelain
Gift of Joan Rosenberg-Dent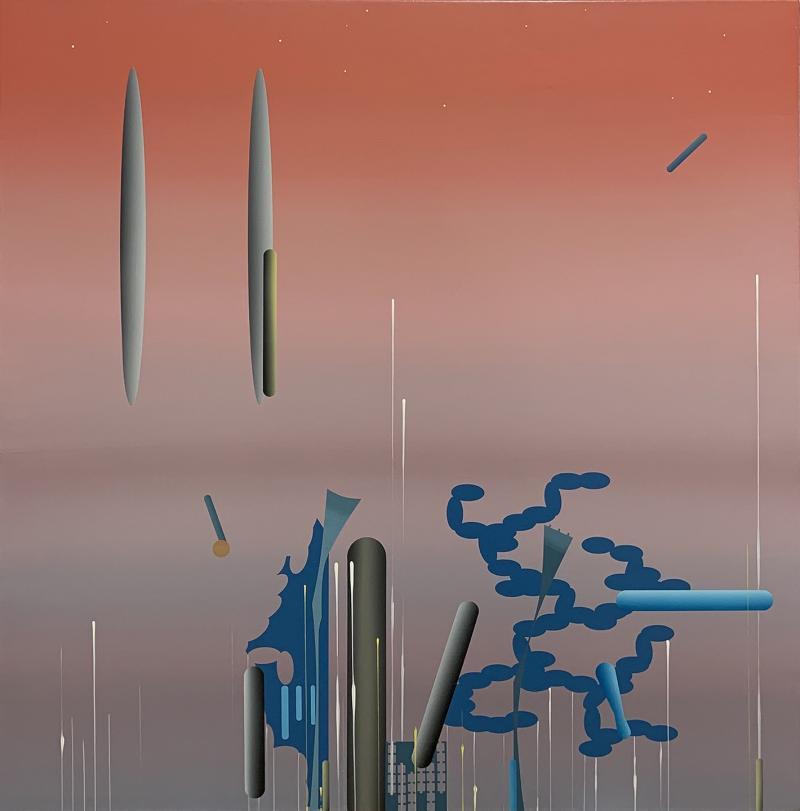 Adam Ross (American, b. 1962)
Untitled (Chronopolis 2), 2003 
Oil and alkyd on canvas over panel
Gift of Berkus Family Collection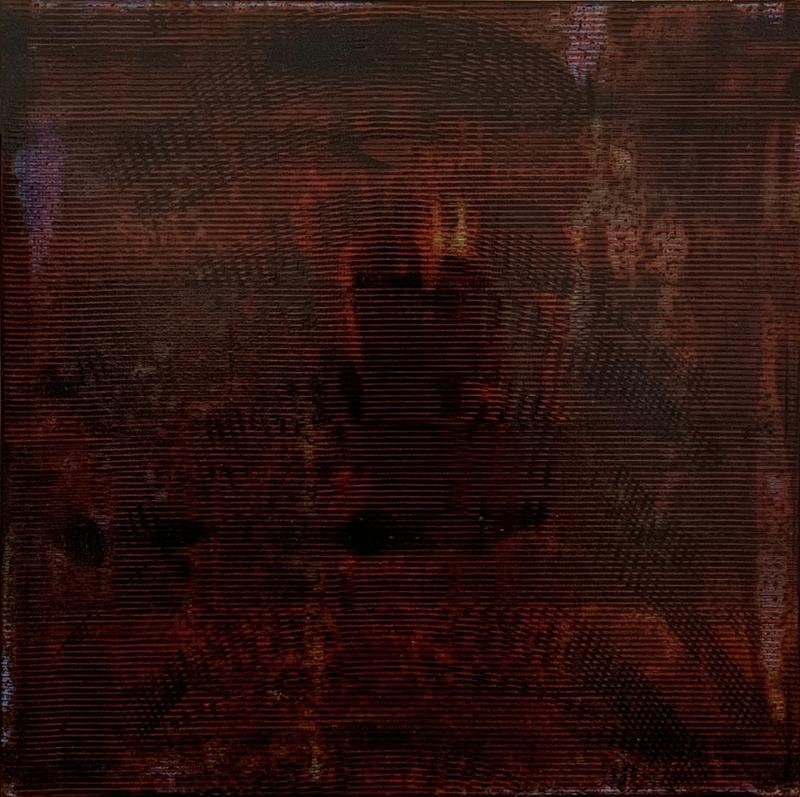 Adam Ross (American, b. 1962)
Untitled, 1990
Oil and alkyd on wood panel    
Gift of Berkus Family Collection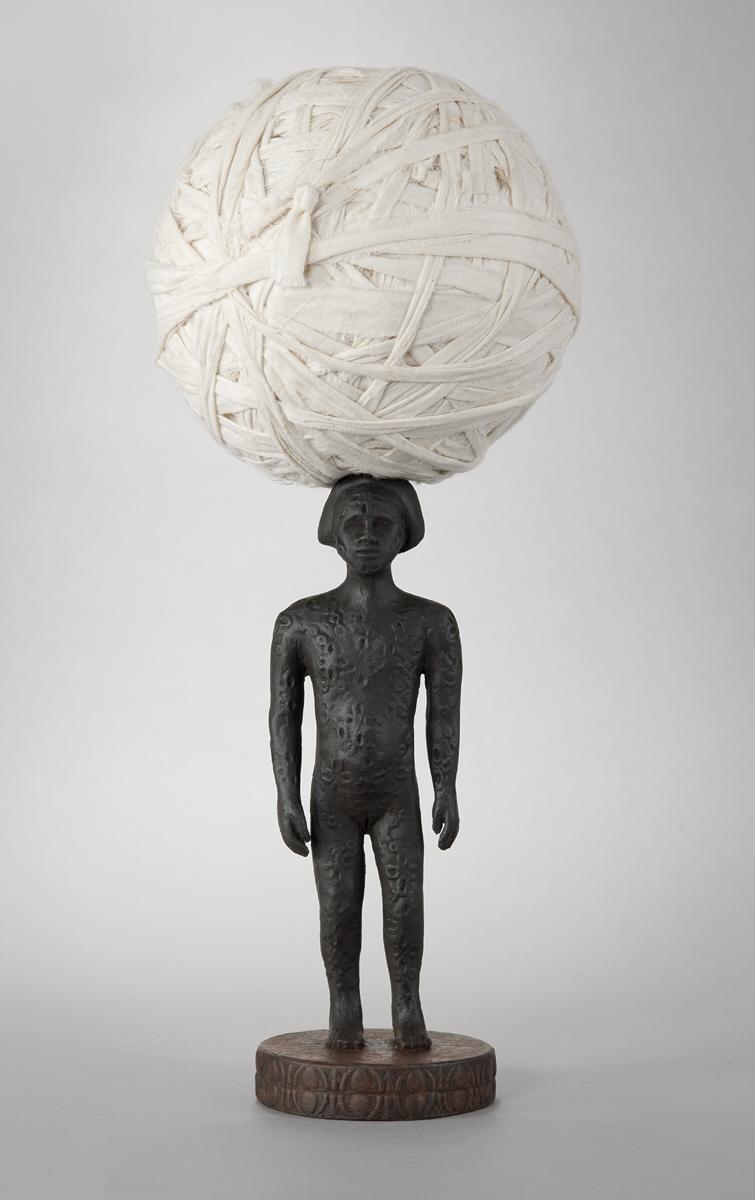 Alison Saar (American, b. 1956)
Inheritance, 2009
Bronze and cotton cloth 
Edition of 9, Santa Barbara City College Foundry
Westmont College Acquisition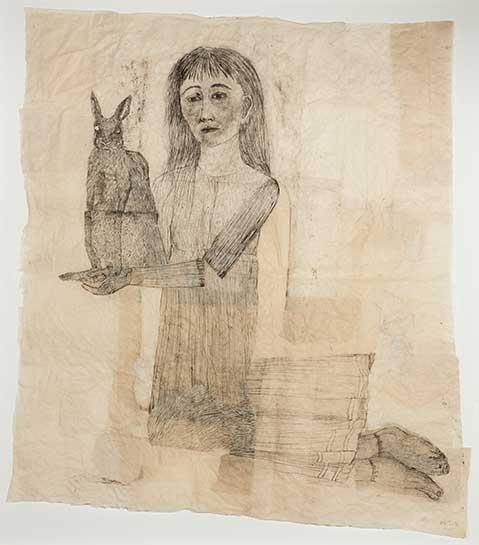 Kiki Smith (American, born in Germany, b. 1954)
Kneeling Woman with Rabbit, 2004
Collaged photo-lithographs and photo-etchings with pen and ink on Nepalese paper
Westmont Acquisition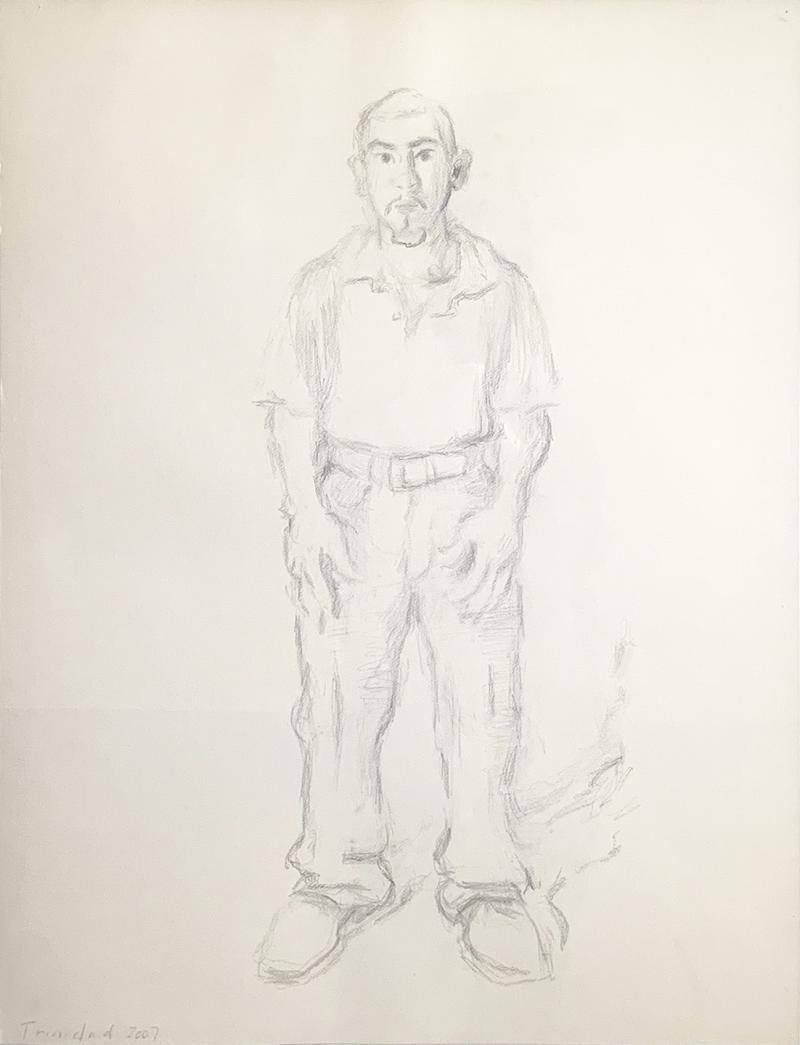 John Sonsini (American, b. 1950)
Trinidad, 2007
Pencil on Paper
Gift of Berkus Family Collection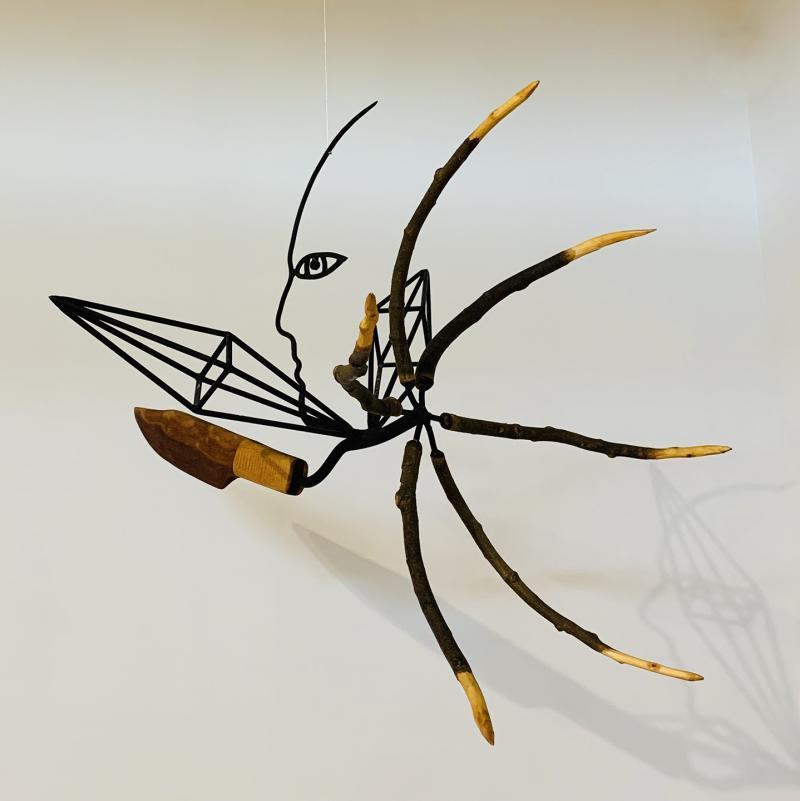 James Surls (American, b. 1943)
Me and She Looking, c. 2000
Aspen, ash, cherry, and steel 
Westmont Acquisition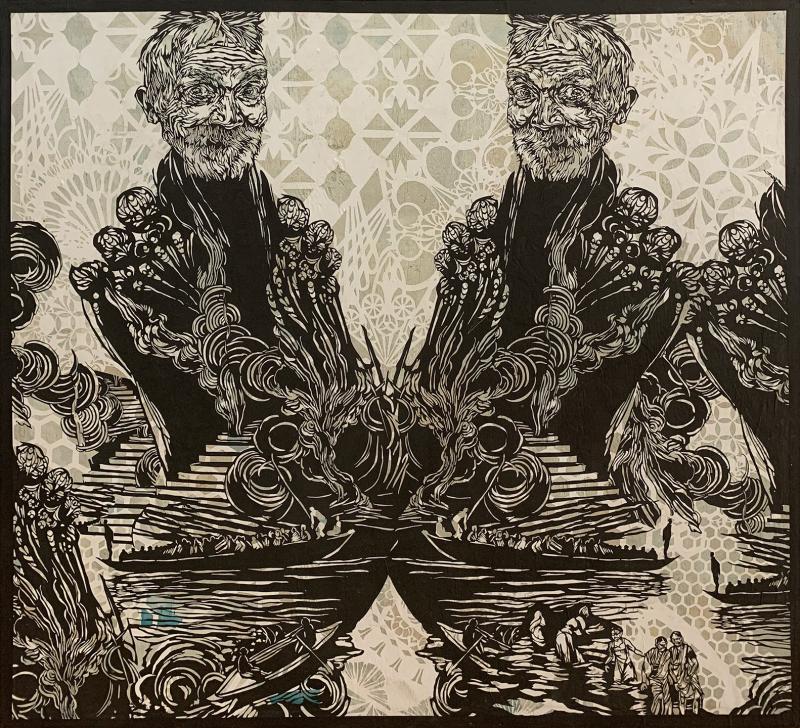 SWOON (American, b. 1977)    
Chopper 1977, 2015
Cut paper collage and acrylic on panel 
Westmont Acquisition
Dug Uyesaka (American, b. 1953)
guided by voices ll , 2010
Light bulb, artist wooden hand model, hardware, magnifying glass
Collection of Westmont Ridley-Tree Museum of Art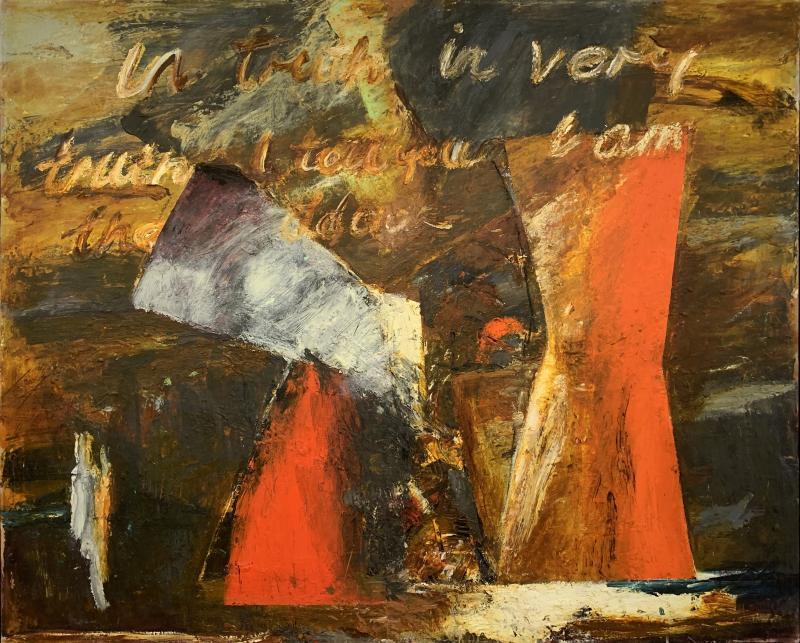 John Walker (English, b. 1939)
The Centre, #2, 1985
Oil on canvas
Gift of Berkus Family Collection