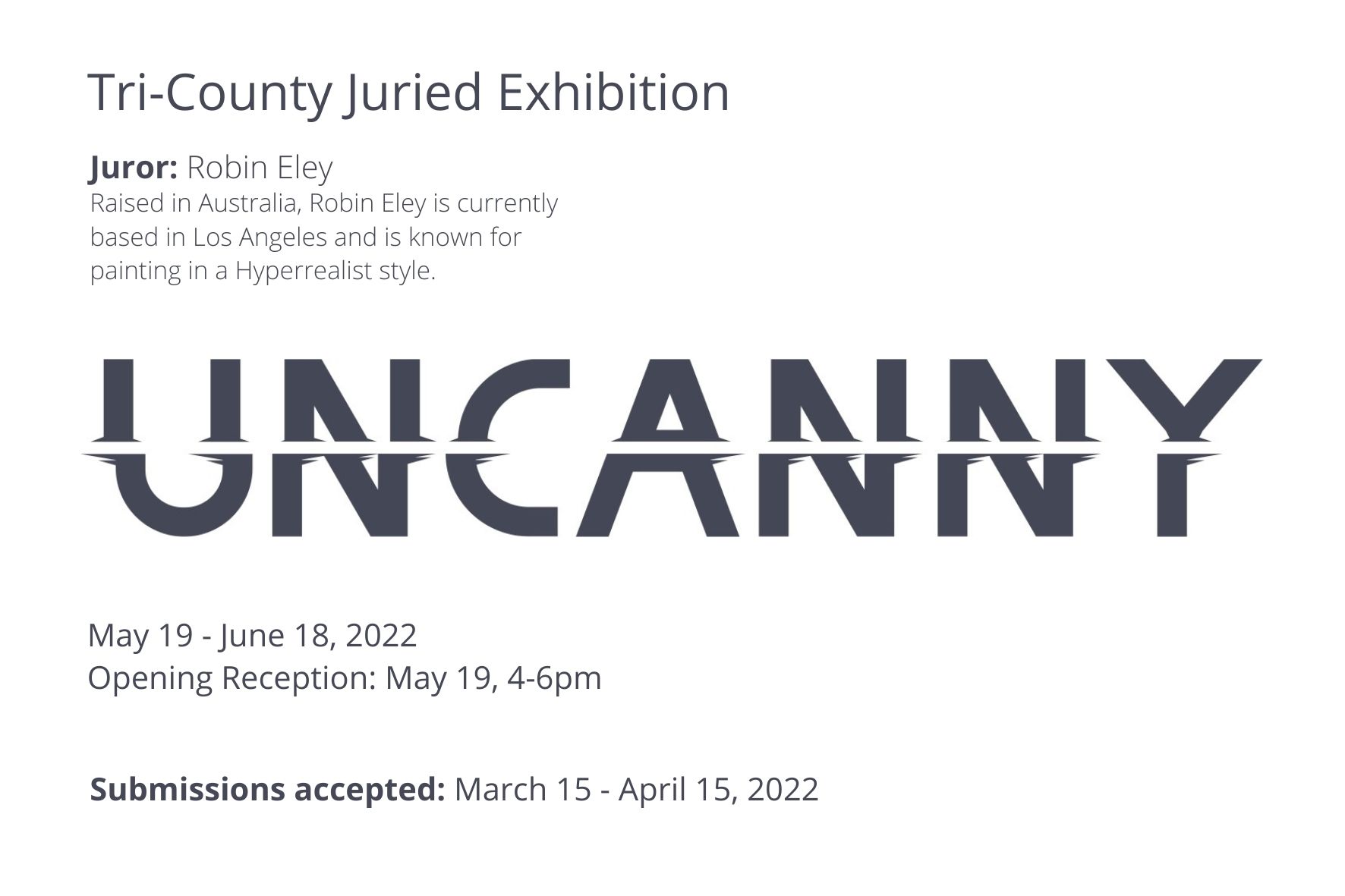 Submission Period is Closed.
Entrants will be notified of results
by Tuesday, April 26.
INFO:
Juror: Robin Eley, Hyperrealist Painter raised in Australia 
How to Submit Your Artwork: Artwork submissions will be accepted online March 15-April 15, 2022. On the submission form, all fields highlighted in yellow must be filled out. Entry fees must be paid online at the time of entry using a Visa or MasterCard through our secure site.
Submit your artwork here:  Look for the link for the 2022 Tri-County Juried Exhibition in March of 2022 posted here on March 15, 2022. 
Images: You will have the ability to upload a single digital image of each work entered.
Files must be submitted in a JPEG format with a maximum file size of 6 MB (smaller files are acceptable).
Final Deadline for Submission: Thursday, April 15 at 5 pm
Eligibility: This exhibition is ONLY open to artists living and working in the San Luis Obispo, Santa Barbara, and Ventura Counties.
Theme: This year the theme is 'UNCANNY.' This is up to your individual interpretation – you may choose to illustrate the theme literally, symbolically, etc.
Media: All media accepted, including video art and digital painting. No non-original reproductions. Work must be wired for hanging and ready to show in the gallery. 3D work must be "turn-key" and ready to install. Sorry, no installation art.
Size Restrictions: 36" maximum width, 84" maximum height, including frame. 3D works can be up to 3' x 3' x 7'. Works exceeding 36" in width will not be considered for the exhibition and will be excluded from the jury process.
Entry Fee: Artists may submit up to three works and the fees are as follows: $25 for the first entry, $10 for each additional entry. Fee for 2nd and 3rd entry is waived for 2021-22 Museum members. Artists who join the Museum with their submissions will be members for the 2021-22 season (Click here for more information about Museum membership).
Sales: All artwork must be available for sale. The Westmont Ridley-Tree Museum of Art will receive 30% of all sales.
Selection Notification: Applicants will be notified via email 3-5 days after the deadline whether or not they were successful.
Additional Questions? – email museum@westmont.edu or call the museum at (805)-565-6162.