Adolphe Appian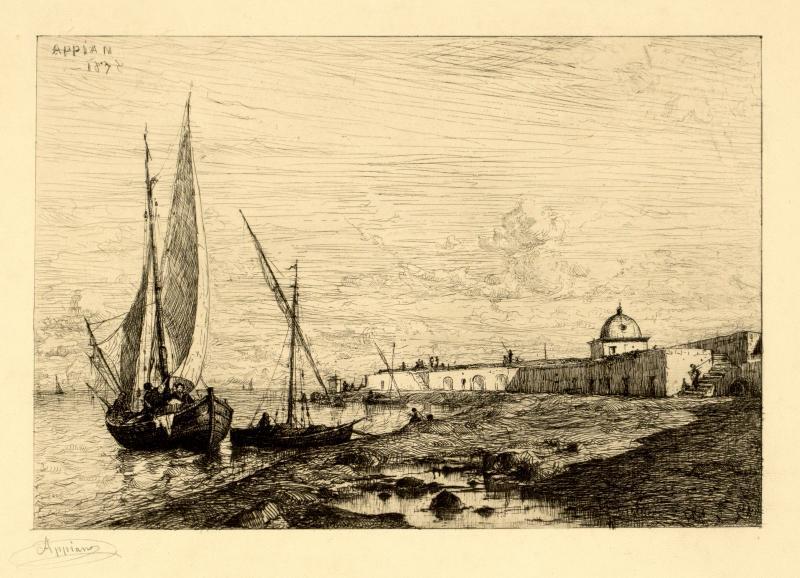 Adolphe Appian (French, 1818-1898)
Port de San Remo
1878
Etching

Curtis and Prouté, 52 (i/iii)
Inscription on recto u.l. "APPIAN/1878"; in margin l.l.  signed "Appian"; l.r. "Port de San Remo J48 P.52 : I(3) (R.R.)"
Watermarks on verso c.l. "MA" encircled in shield with crown atop; l.r. "C BLAUW"
Adolphe Appian was born and raised in Lyon, France, where he attended the École des Beaux-Arts to study fabric decoration, a skill sought after by the local silk production companies. In the nineteenth century, Paris was the center of the art world; Appian left Lyon for Paris seeking more artistic training. In Paris, he became friends with artists in the Barbizon School, notably Camille Corot (French, 1796-1875) and Charles-François Daubigny (French, 1817-1878). These artists valued painting en plein air and directly capturing the serenity of French landscapes. Appian already appreciated the beauty of nature from his training in Lyon, so he effortlessly adopted the Barbizon aesthetic.
 
Appian began his career as a landscape painter in 1851, and the critics were partial to his paintings, regularly accepting them into the Paris Salon. In 1852, he moved to a small French town called Crémieu, and found his subjects in the surrounding picturesque villages and country scenes, including the town of Optevoz, where Corot often painted. In 1854, he took his first trip to the Forêt de Fontainebleau, home to many of the Barbizon artists, and then returned to Fontainebleau often throughout the rest of his career.  
 
Appian enjoyed drawing and printmaking as well as painting, and in 1863, he joined the newly formed Société des Aquafortes, which was the creative initiative of artist and publisher, Alfred Cadart (French, 1828–1875). The Etching Revival was underway, and Cadart published prints by subscription, encouraging printmakers in France to experiment with etching, not as a reproductive media, rather as a means of expressing original and creative compositions. Appian always sought new and pleasing subjects for his paintings and prints. Beginning in 1871, he traveled to the French and Italian Riviera sketching the Mediterranean coastline. He was inspired by the scenery and returned several times over the next twenty years.
The etching, Port of San Remo, was made in 1878. Today the Port of San Remo is an active center for yachting, tourists, and nightlife. In 1878, however, Appian's depiction of the port is a small, quiet beach with fishing boats on the left and the old Meteorological Observatory in the background to the right.  Fishermen work on the decks of the two boats in the foreground. Appian renders the fading afternoon sunlight by inking and lightly wiping the plate to create the shade on shore and the shadows of dark silhouetted boats. Appian's more vigorous wiping of the background removed more ink, thus creating a clean, light-gray sky, in stark contrast to the foreground of shore and boats. As in so many Etching Revival prints of the nineteenth century, the landscapes selected by the artist were quaint and scenic, capturing the charms of an unspoiled landscape. Appian found many such sites along the Mediterranean coastline, which engaged his etching needle well into the 1890s.  
-JL