Alphonse Legros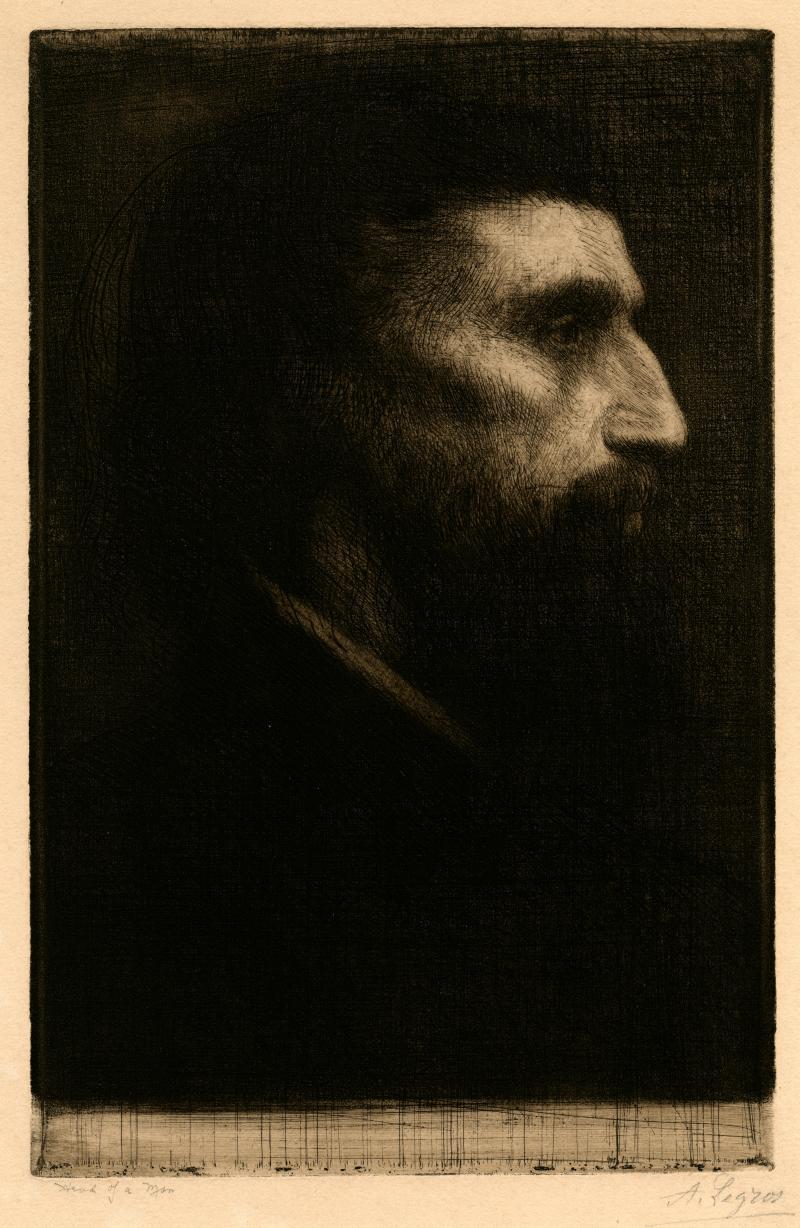 Alphonse Legros (French, 1837-1911)
Tête d'Homme (Head of a Man)
c. 1877
Etching, drypoint, and aquatint
Bliss 51; Legros, 207
Inscriptions in margin l.l. "Head of Man"; l.r. "A. Legros"  
On verso l.r. "[indecipherable mark] 1461"

Alphonse Legros was born in Dijon, France, but became a British citizen in 1881. His early works were decorative wall-paintings and scene paintings in the theatre. He moved to Paris and studied drawing with Horace Lecoq de Boisbaudran (French, 1802-1897) whose other students included Auguste Rodin (French, 1840-1917), Henri Fantin-Latour (French, 1836-1904), Jules Chéret (French, 1836-1932), Léon Augustin Lhermitte (French, 1844-1925), Jean-Charles Cazin (French, 1841-1901), and Jules Dalou  (French, 1838-1902). Legros also attended evening classes of the École des Beaux Arts.  
Legros moved to England in 1863 at the suggestion of his friend and fellow artist J.A.M. Whistler (American, 1834-1903). One year later, he married Frances Rosetta Hodgson, the only French speaker in his boarding house. He never became fluent in English, but earned a living by etching and teaching. He taught etching at the South Kensington School of Art, and then was named Slade Professor at University College London. In class, he became well known for doing demonstrations of portraiture where he would finish a work in less than an hour.
 
Portraits, both painted and etched, were a hallmark of his oeuvre. Among his well-known portrait etchings are fellow artists and literary figures including: Sir Seymour Hayden, Henry Wadsworth Longfellow, Alfred Tennyson, and Auguste Rodin. The unidentified man in Tête d'Homme is pictured in profile looking right. The etching and aquatint may also have drypoint, thus achieving the rich dark surface of the print. Legros' etchings were typically lighter and more detailed, but the opaque black surface is not without precedent in his etched work. 
-JL