Donald Shaw MacLaughlan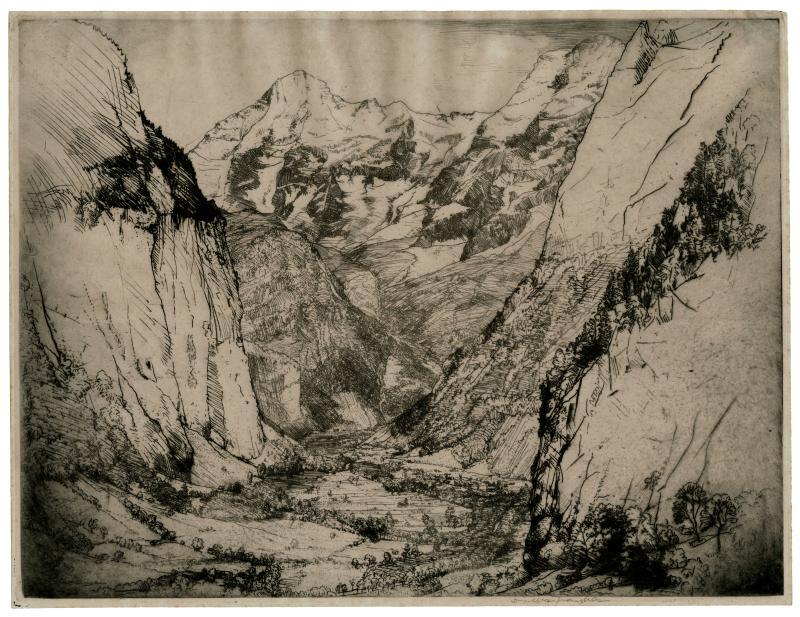 Donald Shaw MacLaughlan (Canadian/American, 1876-1938)
The Lauterbrunnen
1908
Etching and drypoint
Bruette 106; Beall 122
Inscription in margin l.r. artist's signature 
On verso l.l. "acc. 53"; l.c. "3566 / 90 / Lauterbrunnen"
In the mid-nineteenth century, the Etching Revival burst onto the French scene inspired by Charles Meryon's (French, 1821-1868) Paris etchings. In the previous century, the technique of etching had been used primarily as a reproductive medium, but there was suddenly renewed excitement for original etchings. During this new wave, the Gazette des Beaux Arts, a Paris-based publication, commissioned international etchers to create original art for the publication. Artists who contributed etchings included Francisco de Goya (Spanish, 1746-1828) and James Abbott McNeill Whistler (American, 1834-1903). In 1902, the Gazette des Beaux Arts asked Donald Shaw MacLaughlan to contribute his work, confirming his reputation as one of the prominent Canadian/American etchers of his time.
 
Though Canadian by birth, MacLaughlan is considered one of the finest early twentieth-century etchers in America. Before his family moved to Boston when he was fourteen, MacLaughlan had lived in Charlottetown, Prince Edward Island. It was at the Boston Public Library that the young artist developed a strong interest in printmaking as well as in the works of James Abbott McNeill Whistler and the Aesthetic Movement's emphasis on the idea of 'art for art's sake.'* 
MacLaughlan enjoyed the processes of printmaking, grinding and preparing the ink himself, to make sure the tint had the correct warmth and ink the correct stiffness for wiping the plate. In 1929, James Laver wrote about MacLaughlan: "Every process of etching technique, every stage in the production of the finished work, is treated by him almost as part of a religious rite. ... Most modern etchers know how to print, very many of them do their own printing, but few perhaps bestow upon the process the care and labour expended by MacLaughlan."**
 
In 1908, MacLaughlan was living in Asolo near Venice, Italy, and during a trip north to Switzerland, he created the etching, The Lauterbrunnen. This print depicts the Lauterbrunnen Valley, which is in the municipality of Lauterbrunnen in the Swiss Alps.
 
The Lauterbrunnen demonstrates MacLaughlan's skill as an artist and provides a clear example of the care and precision that MacLaughlan took in his etchings. There is a crispness in the foreground where he used ink liberally, while the background's restrained use of ink produces an atmospheric haziness. Furthermore, the landscape setting emphasizes MacLaughlan's interest in Whistler's Aesthetic Movement, highlighting visual qualities over moral, practical, or narrative intentions – art for art's sake. There were no ethical or pragmatic implications. The Lauterbrunnen was a work of art that the viewer could enjoy for its inspired beauty and exceptional artistry alone.
With many awards and recognitions throughout his career, Donald Shaw MacLaughlan continued to work 
until his death in 1938 in Marrakesh, Morocco.
-TV
*Weinberg, H. Barbara. "James McNeill Whistler (1834–1903)." In Heilbrunn Timeline of Art History. New York: The Metropolitan Museum of Art, 2000–www.metmuseum.org/toah/hd/whis/hd_whis.htm (April 2010).
** Laver, James, A History of British and American Etching (London: Ernest Benn Limited, 1929), 120.