Andrew Fairbairn Affleck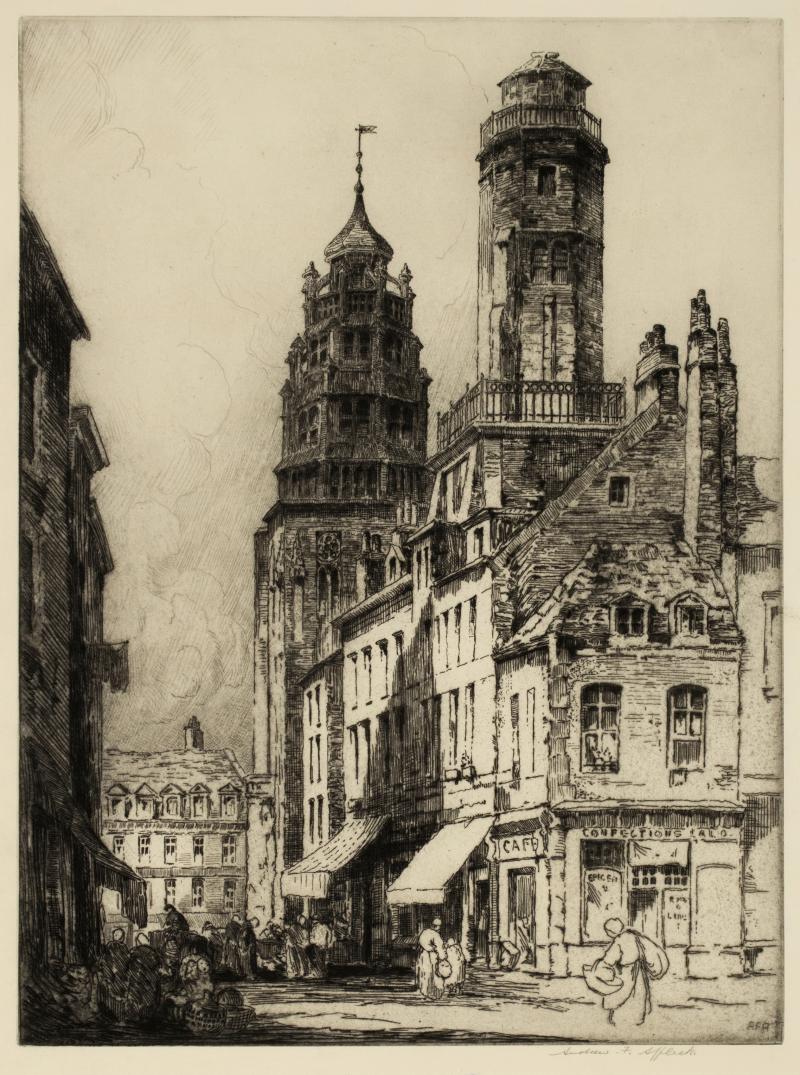 Andrew Fairbairn Affleck (British, c.1874-c.1935)
The Towers of Calais
1925
Etching and drypoint
Inscription on recto l.r. "AFA"; in margin l.l. "(10)"; l.c. "'Towers of Calais' 47565"; l.r. "Andrew F. Affleck"; "F / W4.96"
The Scottish born Andrew Fairbairn Affleck was an etcher who specialized in drawing architectural monuments throughout Europe. Affleck was part of the Etching Revival, which spread throughout Europe and the United States in the last part of the nineteenth century and into the early twentieth century. In Great Britain, it was Francis Seymour Haden (1818-1910) who was responsible for sparking a revival of etching as an expressive media in its own right -- not just a tool for making copies after other artists. The Etching Revival in England began around 1860; it drew to a close in the 1940s, just before World War II began. Affleck was active in the waning years of that revival. He was noted for providing distinctive qualities to each impression of his prints, usually through his unique wiping of the plate, which created light and dark tonal areas. Affleck lived and worked in London, but traveled in Italy, Belgium, Spain, and France in search of architectural monuments for his subjects. He preferred etching historic structures -- edifices that were visually attractive and conveyed a sense of nostalgia. Examples of places he etched include Westminster Abbey, Windsor Castle, Reims Cathedral, and the canals of Venice.
Affleck's etching depicts two famous towers in Calais, a city in the northernmost part of France. Both the Tour du Guet (Watchtower) and the belfry of the Hôtel de Ville are situated on the Place d'Armes, a gathering place or central square of Calais. The Tour de Guet, on the right, dates from 1229, when Philip I constructed it as an important part of the fortifications of Calais. The bell tower of City Hall stands to the left.* It was destroyed in World War II (1944) and reconstructed in a different style. Thus, Affleck's etching is a picturesque remembrance of the two towers from former times. The etching is a good example of the artist's tonal wiping of the plate as seen in the dark foreground to the left, the shadow cast on the building, and the bright, white sun reflected off the central building.

-JL
*J.M.W. Turner made a very similar composition of the two towers in a drawing c. 1826-1830, which is now in the collection of the Tate Museum, London.