Heinrich Aldegrever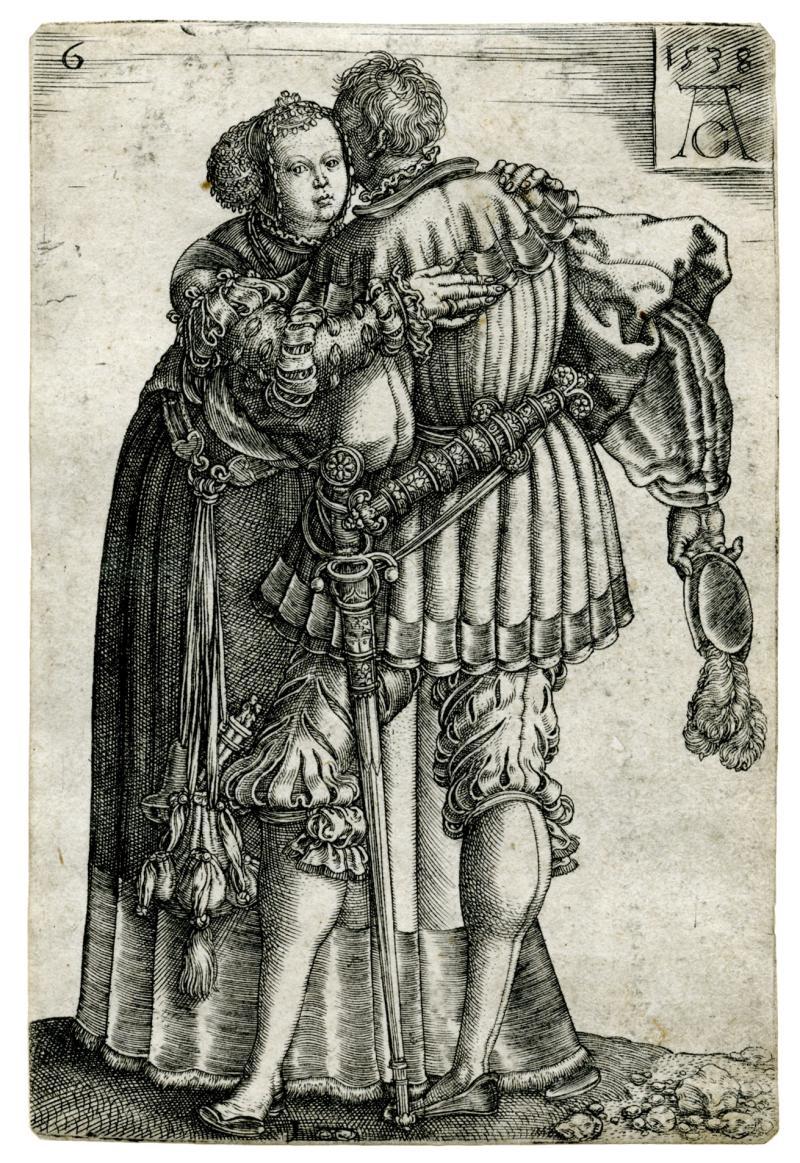 Heinrich Aldegrever (German, 1502–1555 or 1561)
The Large Wedding Dancers: A Couple Embracing (Plate six from series The Large Wedding-Dancers)
1538
Engraving

Bartsch 165; New Hollstein 165; Hollstein 165; Schmidt 167
Inscription on recto  u.l. "6"; u.r. "1538 / A / G"


Heinrich Aldegrever was a German engraver born in Westphalia and associated with the Klein Masters (Little Masters) who worked in a small format with meticulously detailed line engraving.* His training as a printmaker is not known, but he did work as a goldsmith making ornamentation for swords and sheaths, daggers and scabbards, as well as decorating jewelry and ironwork. 
Aldegrever signed his prints with a monogram that was a large "A" with a small "G" tucked under the bar of the "A." It was his own interpretation of Albrecht Dürer's similar monogram. Aldegrever would have been familiar with Dürer and influenced by his mastery of relief and intaglio printmaking. 
Decorative patterns and portraits, along with biblical, mythological and historical subjects were all included in Aldegrever's printed oeuvre. But, what is most interesting is his focus on contemporary life in sixteenth-century Germany. He made two series of prints in 1538 and 1551, depicting wedding guests celebrating a marriage. The larger series from 1538 has twelve plates beginning with the master of ceremonies, then the torch bearers, followed by seven couples embracing, kissing, or dancing. Finally, in plate twelve, musicians vigorously blow into their trombones and horns, providing the music for the festivities. When all twelve plates are viewed side by side, Aldegrever's series creates a wedding procession moving from right to left in festive observance of nuptials.
Embracing Couple is the sixth plate in The Large Wedding-Dancers series. The detailed rendering of the couple's costumes and accessories offers the viewer a glimpse into the lavish styles and customs of courtly life. The gentleman's metal scabbard, which holds his dagger, crosses his lower back exposing intricate decorative metal bands – something Aldegrever, as a trained goldsmith, might have designed himself. His costume includes breeches with puffed fabric at the knee, seamed stockings, and fine slippers on his feet. A heavily pleated jacket covers his hips and a large collar and billowy sleeves complete his costume. His partner wears an elaborate dress with a layered skirt and banded, bejeweled sleeves. Her hair is caught up in a decorative net, and a long fabric belt falls near her ankles terminating with a sumptuous tassel.   
What is noteworthy about all seven "dancers" are their elegant, attenuated bodies and small heads. It is obvious that Aldegrever was interested in exploring the details of costume, rather than creating specific portraits of wedding guests. 
The date of Aldegrever's death is unknown.** Often, it is cited as 1555, which is the year of his last dated engraving. Some scholars suggest it was six years later in 1561, where a record exists of Aldegrever's son praising his father as a stained-glass worker and panel painter.
-JL
*Other well-known Small Masters include Barthel Beham, Hans Sebald Beham, and Georg Pencz, (all from Nuremberg) and Albrecht Altdorfer (from Regensburg, Bavaria). Their subject matter varied, but regularly included erotic subjects. Collectors often created an album of small prints and viewed them one by one with a magnifying glass. Some prints were as small as a postage stamp.
**It is reported that Aldegrever was buried humbly and given a tombstone posthumously, at the request of an artist from Monster who searched for Aldegrever only to learn of his passing.