Bartolomeo Biscaino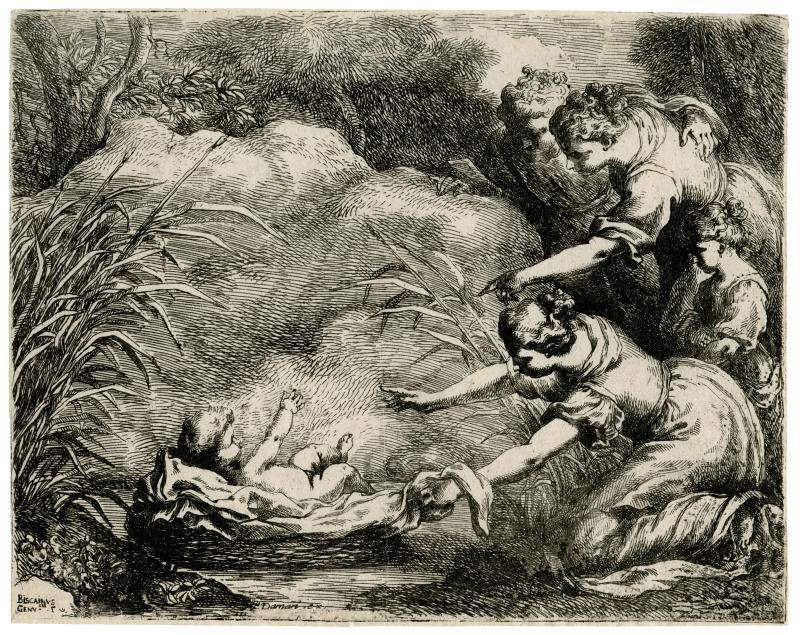 Bartolomeo Biscaino (Italian, 1629-1657)
The Finding of Moses (who is rescued from the Nile by the maidservants of Pharaoh's daughter) also titled Moses in the Bulrushes
1650–57
Etching; published by Daman (active 1640–60); Remondini (Bassano, Italy)
Bartsch 2
Inscription on recto l.l. "Biscainvs / Genusis. F."; l.c. "Damon. ex. / In. Bassano per il Remondini."
On verso u.c. "N.85 / Piece double. P.G. 21 P. 183. N. 2. / P / 32. N. 54."; l.l. "S(?) 178"; l.r. "x10" 

Bartolomeo Biscaino studied art with his father, Giovanni Andrea Biscaino (1605-1657), in Genoa. Likely in 1850, Biscaino left his father's workshop to study with Italian master, Valerio Castello (1624-1659). Giovanni Benedetto Castiglione (Italian, 1609-1664) was also an influence on the young Biscaino. Castiglione was a prolific printmaker in Genoa in the early seventeenth century and Biscaino likely studied his innovative prints, which were interesting both for his mannerist style and his groundbreaking technical advancements in printmaking. Biscaino produced several paintings and prints, but died in his late twenties when the plague came to Genoa. His father also died in the plague. 
 
Biscaino etched several plates, but noteworthy is The Finding of Moses also called Moses in the Bulrushes. Because of his short life, it is difficult to date his prints, but this work was probably done after he began his studies with Castello in 1650. It is technically skilled both in the lightness of his etched lines and his animated Baroque composition.* The baby Moses floats in a basket in the foreground among the bulrushes. Three women find the baby; one holds out her arms in astonishment, reaching for the infant; one leans in pointing at the baby; the third looks on, her arm around the pointing woman. Miriam, Moses' sister, who had been tasked with guarding the baby, holds back, arms crossed, waiting for the action to unfold. It is a story of God's protective hand on Moses' life. To control the Hebrew slave population, Egyptian rulers ordered all male Hebrew infants to be drowned. Moses' mother protects her son by hiding him on the Nile River in a waterproof basket, not knowing he would be found and raised by Pharaoh's daughter.
 
The publisher of Biscaino's Finding of Moses print is Daman, who was active 1640-60; Giovanni Antonio Remondini (1634-1711) from Padua is also listed on the print as a publisher. He owned a shop selling mostly fabrics, but expanded to selling prints after purchasing an old press and publishing works that he made for home decoration or for devotional purposes or publishing prints by other Italian artists. He was active 1650-57, and may have printed plates by Biscaino posthumously.
-JL
*A preparatory sketch with a similar composition to the Finding of Moses by Biscaino was sold at auction in 2004. The drawing is in red chalk heightened with white on red prepared paper and has a vertical composition.  See: www.mutualart.com/Artwork/The-Finding-of-Moses/9A79DFDE11918A98. The National Galleries of Scotland has a drawing by Biscaino in the permanent collection titled the Finding of Moses, but the composition is different from the print. Five women surround the infant who is resting in the basket held on the lap of Pharaoh's daughter. See: www.nationalgalleries.org/art-and-artists/13396/finding-moses