Canaletto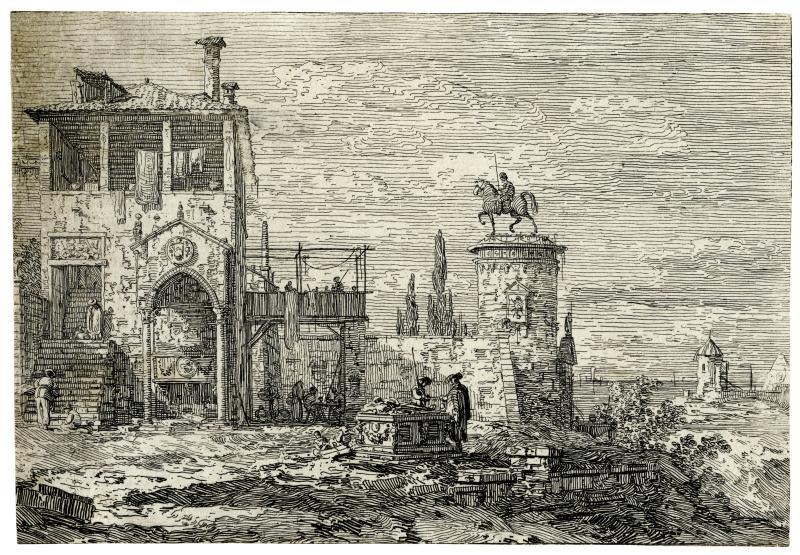 Canaletto (Giovanni Antonio Canal) (Italian, 1697–1768)
The Equestrian Monument from the series Vedute
1735-46
Etching
Only state; Bromberg 23; De Vesme 20; Pallucchini 23
Trimmed to plate mark
Giovanni Antonio Canal was born to a noble family* in Venice, Italy in 1697. He began painting at a young age, studying under his father, Bernardo Canal, who was a theatrical scene painter. To distinguish the father's art from that of the son, he became known as Canaletto, meaning "little Canal." During a visit to Rome, Canaletto was inspired by Giovanni Paolo Pannini's (Italian, 1691-1765) veduta, a highly detailed, large-scale painting or print on a cityscape or landscape. He adopted this practice, and upon his return to Venice, he developed his own topographical style, while apprenticing under Luca Carlevarijs (Italian, 1663-1730), a pioneer in the veduta. Canaletto absorbed all he could from his teacher, and his skill quickly surpassed Carlevarijs'.** His realistic details and atmospheric effects are what set his work apart, making Canaletto one of the most highly revered landscape painters of the eighteenth century. 
 
By the 1730s, Canaletto's work was in high demand. His early works were most sought after, likely because they seemed so closely painted from nature. In the eighteenth century, it was customary to create art in studios using other artists' prints or paintings as references. Canaletto, however, enjoyed painting what was directly in front of him, so he took art supplies out on location. Working this way was time consuming, but his paintings from this period are superior to his later works when he reverted to more traditional studio practices. 
 
Although best known for his paintings, Canaletto excelled in printmaking as well, using the technique of etching to create thin, clear lines. Etching, done on a metal plate, such as copper, zinc, or steel, begins with the artist putting a waxy, acid-resistant ground on the plate. After covering it in wax, the artist removes thin lines of the ground with an etching needle. The plate, still covered in waxy ground, is placed into an acid bath. The acid eats away at the metal exposed by the needle, which creates an intaglio (incised) design in the plate. The wax is fully removed and ink is applied to the surface, evenly spread, then wiped clean. Ink remains in the grooves and when it is pushed through a printing press onto paper it creates the reverse image of the plate.   
 
The Equestrian Monument is a good example of Canaletto's skill in etching. The lines are thin, soft, and undulating, lending a picturesque effect to the scene. It depicts the Renaissance equestrian statue of the condottieri, or military leader, Bartolomeo Colleoni*** (1395-1475), created by Andrea del Verrocchio (Italian, 1435-1488) between 1480-1488. The statue stands in the largest town square in Venice, known as Campo Santi Giovanni e Paolo, which now hosts two other notable landmarks, the Scuola Grande di San Marco and the San Giovanni e Paolo Basilica.
-OR
*Canaletto would often use his family's coat of arms as his signature in his various paintings and prints.
**Fellow painter and art dealer Alessandro Marchesini (1663-1738) was asked his opinions on the two artists, and replied: "Antonio Canale... is like Carlevaris, but you can see the sun shining in it." Link, J.G., Canaletto and His Patrons (London: Granada Publishing/Paul Elek Ltd., 1977), 1.
***For more information on Bartolomeo Colleoni, see: World Monument Fund. "Bartolomeo Colleoni Monument." wmf.org. www.wmf.org/project/bartolomeo-colleoni-monument Accessed April 17, 2020.