Christoffel Jegher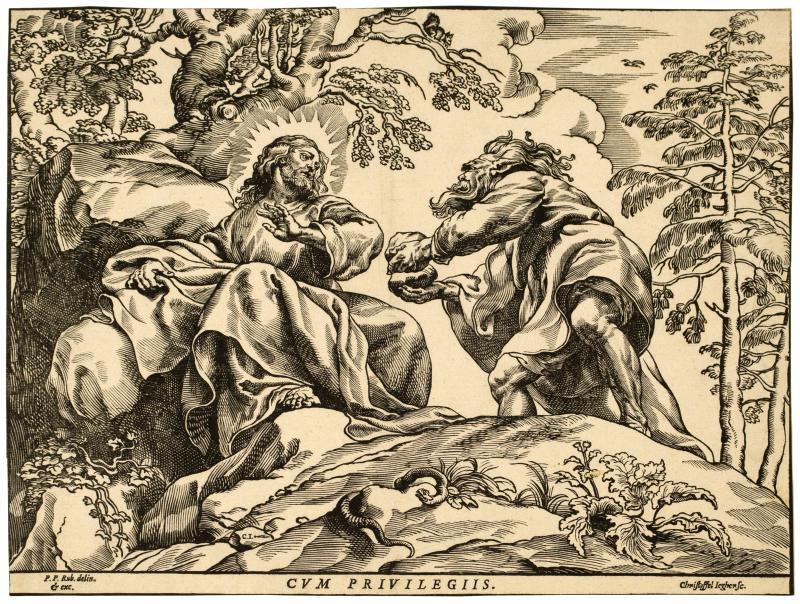 Christoffel Jegher (Flemish, 1596-1652/53)
The Temptation of Christ
1633; after Peter Paul Rubens (Flemish, 1577-1640)
Woodcut
Hollstein, 6 (ii/iii); Schneevoogt, 138; Nagler, 8; Le Blanc 6
Inscription on recto l.l. (on stone) "C.I."; in margin l.l. "P.P. Rub. Delin.& exc."; l.c. "CUM Privilegiis."; l.r. "Christoffel Jegher. Sc."
Learn more about Christoffel Jegher's work 
from Westmont Art Major, Abigail Stadtlander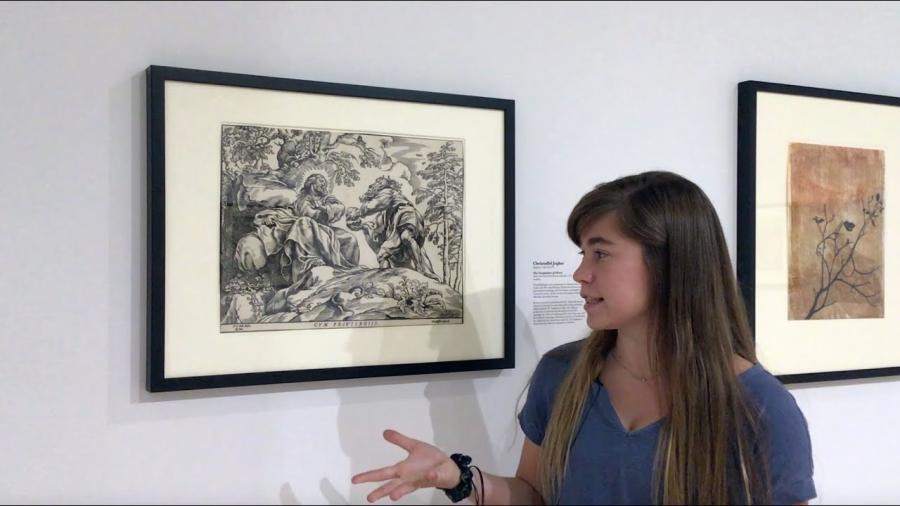 Christoffel Jegher was a printmaker born in Antwerp, Belgium who held a job at the Antwerp publishing house, Plantin-Moretus, where he worked closely with famed Flemish Baroque painter Peter Paul Rubens (1577-1640). Rubens focused on large, time-intensive paintings, and hired master printmakers to recreate his works as prints. Rubens' paintings typically adorned churches or private homes, with limited exposure to a global audience. Translating his paintings to prints enabled Rubens' fame to spread throughout Europe inexpensively and efficiently. Jegher worked closely with Rubens, translating many of the painter's works into prints.
 
Rubens received a commission from Jacobus Tirinus, the founder of St. Charles Borromeo Church in Antwerp, Belgium, to create thirty-nine ceiling paintings, including The Temptation of Christ. These commissioned pieces were massive, approximately 13 x 10 feet, and were affixed to the ceilings and side aisles on the ground and first floors. The series depicted saints and scenes from the Old and New Testaments. Rubens designed the thirty-nine modelli, or preparatory oil sketches, for the ceiling in 1620, and had his pupils execute the paintings. Tragically, in 1718, the church was struck by lightning causing a fire that destroyed the vault of the nave and all of Rubens' ceiling paintings. The church was rebuilt but the paintings were never recreated. Fortunately, because of Rubens' modelli, his designs for the church have survived.
 
The woodcut is based on Ruben's modello of The Temptation of Christ rather than the ceiling painting itself and is the reverse of the original.* Other changes and additions to the print give it a more dynamic feeling such as the addition of birds in the sky, a squirrel, and a larger and more defined tree behind Jesus. Christ's halo is far more prominent in the print than in the modello, unmistakably signifying his holiness. Rubens commissioned Jegher to reproduce his painting into a woodcut and oversaw these alterations. Through his carving, Jegher was able to skillfully communicate aspects of Rubens' original painting, especially evident in the heavy lines that convey the drama of the original modello.
 
Little is known about Jegher's career, but his professional relationship with Rubens throughout the 1630s secured his reputation as a woodcut artist.
-OR
* Ruben's original modello can be found at the Courtauld Institute of Art in London