Dirck Volckertsz Coornhert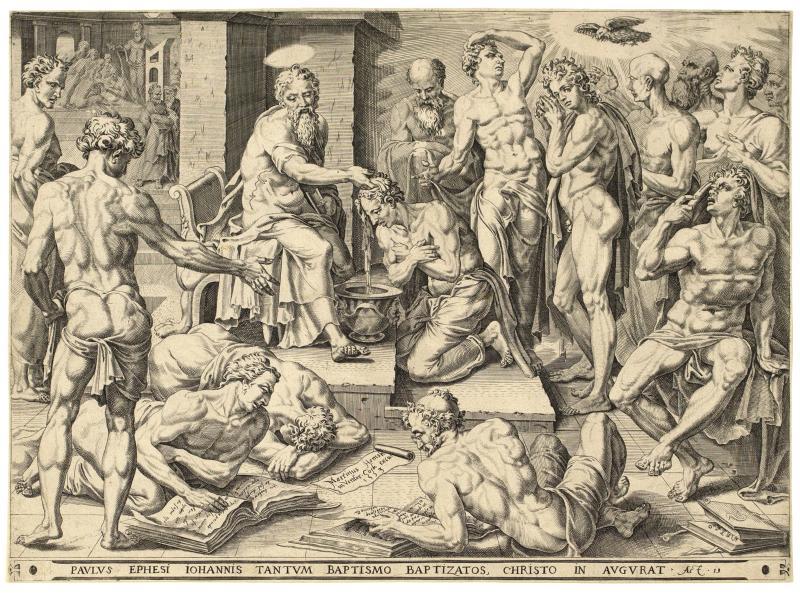 Dirck Volckertsz Coornhert (Dutch, 1522-1590)
St. Paul Baptizing in Ephesus
1553; after Maarten van Heemskerck (Dutch, 1498–1574)
Engraving

Bartsch, 42; Hollstein, 94; Hollstein 96; New Hollstein, 394; Riggs 113
Inscription on recto l.c. (on scroll) "Martinus Hemsk /  Inventor Cock Excut /  1553"; u.l. (on pillar) "MH"; in margin l.l. to l.r. "PAULUS EPHESI IOHANNIS TANTUM BAPTISMO BAPTIZATOS, CHRISTO IN AUGURAT. ACT. 19"
On verso l.l. (indistinguishable) "76923"
Dirck Volckertsz Coornhert was a Dutch artist, politician, writer, theologian, and philosopher. He was an early advocate for religious tolerance and is considered the founder of Dutch Renaissance scholarship. As the youngest son of a cloth merchant, he spent time abroad in Spain and Portugal with his father, but after he and his wife, Cornelia were married, they settled in her hometown of Haarlem. It was in Haarlem where Coornhert first met Maarten van Heemskerck. Coornhert was impressed by van Heemskerck's work and soon began to engrave many of the painter's designs. Their collaborative prints became widely popular throughout the Dutch community. Though many of the pairs' works were allegorical, they also focused on Gospels and the Old Testament, choosing scenes that were not often depicted in the art of medieval Christianity, such as the birth of Isaac and the Twelve Patriarchs. Coornhert and van Heemskerck parted ways in 1559, but it is clear in their later works that the two left a long-lasting impression on each other.
 
In 1562, Coornhert became the secretary to the city of Haarlem, and was a leading advocate for William of Orange's battle against Spanish rule. He was imprisoned in The Hague for his advocacy, and after his release in 1568, he moved to Cleves where he supported himself by his art. He began writing on theology, expressing controversial positions for both Protestants and Catholics. He advocated for tolerance among both sects of Christianity, calling for communion and agreement between the Catholic and Protestant churches. Coornhert continued his work as an engraver throughout his career, in part because it was the way he made his living, but he was also using engraved images to promote his moral, philosophical, and religious ideas..
 
The engraving, St. Paul Baptizing in Ephesus is a good example of van Heemskerck's interest in depicting religious stories not often found in the art of medieval Christianity. It also reveals Coornhert's desire for communion within the different sects of the Church. In this story, Paul stops in Ephesus, where he meets twelve disciples. He asks them if they have received the Holy Spirit, but they claim to have never heard of the Holy Spirit. The twelve followers of Christianity reveal that they had been baptized by John, and Paul explains that while John baptized with the baptism of repentance, they also need to believe in Christ Jesus. They agree, and all twelve men were baptized in the name of the Lord.* St. Paul Baptizing in Ephesus shows the moment where Paul baptizes the twelve men; a dove, representing the Holy Spirit, flies over the crowd towards the man being baptized. Van Heemskerck fills the scene with thirteen glorified male nude figures as they sit, stand, lie, and twist in different positions. The complex composition reveals Coornhert's mastery of depth and shading.
-Tamara Vaughan
 
* See Acts 19:1-7.