Victor Delhez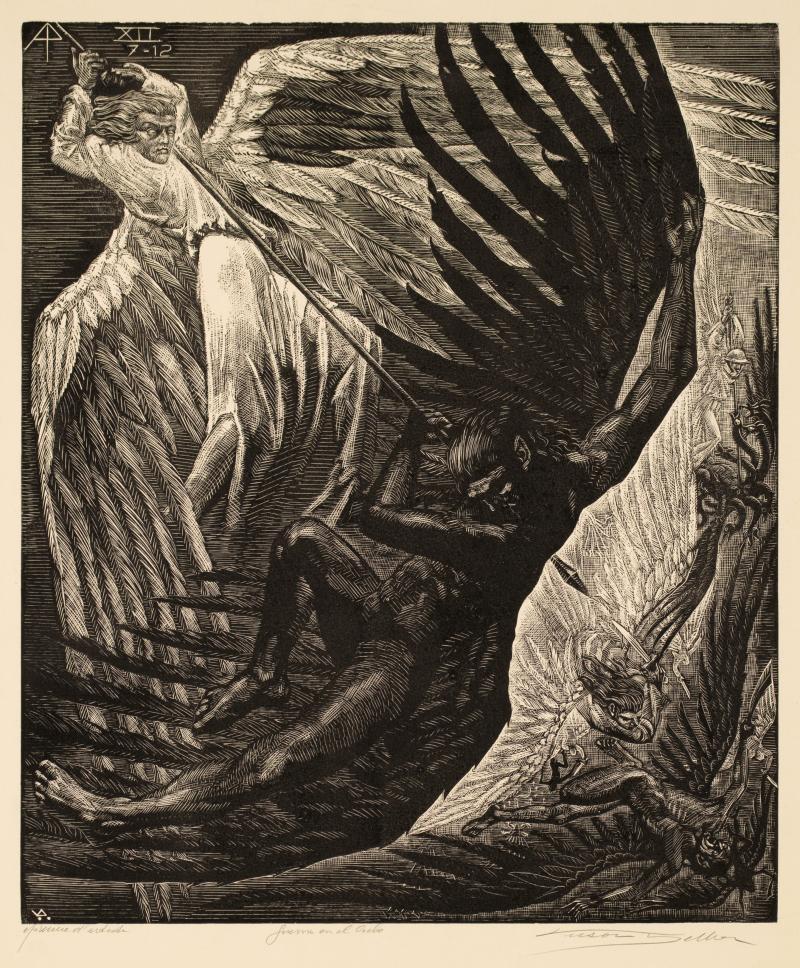 Victor Delhez (Belgian, 1902-1985)
War in Heaven from series Apocalypse (Book of Revelation)
1957
Wood engraving
Inscription on recto l.l. artist monogram; u.l. "XII/7-12"; in margin l.l. "épreuve d'artiste"; l.c. "Guerra en el Cielo"; l.r. signed "Victor Delhez" / "A24"
Learn more about Victor Delhez' work from
Westmont's Provost, Mark Sargent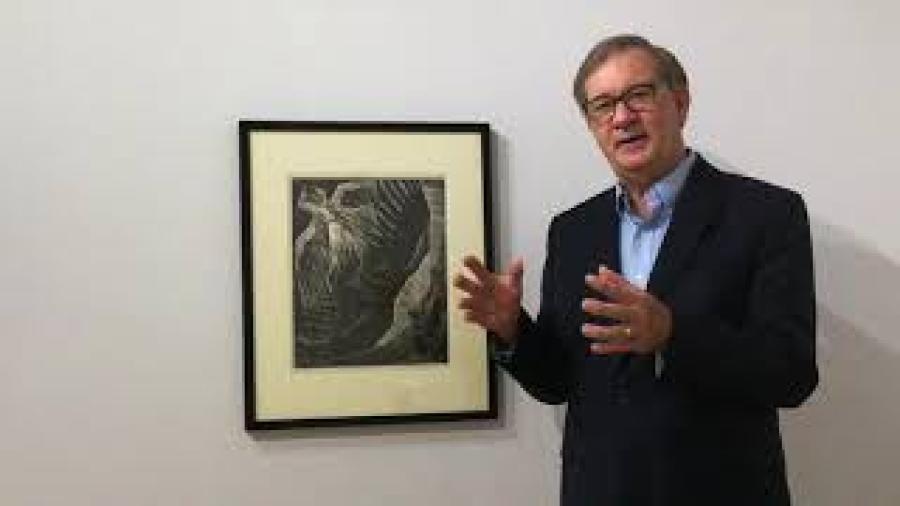 Victor Delhez was born into a wealthy family in Antwerp in 1902. He studied at the Royal Academy of Fine Art in Antwerp from 1916-1918, before attending the Faculty of Exact Sciences at the University of Louvain from 1918-1923. While studying to be an agronomist with a focus in chemistry, he began creating and exhibiting caricatures and surrealist works on paper. After graduation, Delhez worked as a manager of his father's motorcar company, but in 1925, his parents died in a car accident, and he left his job and moved to South America. From 1926-1933, he lived in Buenos Aires, Argentina working as a draftsperson, architect, and contractor. He then decided to pursue a career as an engraver, and moved to Bolivia before finally settling back in Argentina in 1940.
 
Delhez could masterfully integrate both the contemporary popularity of Surrealism with the long-held popularity of the German Renaissance. There is a clear connection to Albrecht Dürer's (German, 1471–1528) woodcuts, often focusing on biblical death and destruction, but Delhez pushed his works further into the surrealist style of dreamlike, almost ominous figures and shapes. With series like Architecture and Nostalgia, and Danse Macabre, Delhez created architectural forms similar to that of M.C. Escher (Dutch, 1898-1972), with aspects that felt like hallucinatory visions, similar to Salvador Dalí (Spanish, 1904-1989). By mixing both of these styles, Delhez created woodcuts that juxtaposed the Renaissance's fascination with apocalyptic Bible stories with the whimsical characteristics of Surrealism. Although printmaking was an efficiently prolific practice, Delhez chose to keep the quantity of his work small, and would normally only produce around eight impressions for each block. Delhez indicated that these impressions were a part of the original eight by signing the print with the reference "épreuve d'artiste."
 
War in Heaven is from Delhez's series, Apocalypse (Book of Revelation). This subject has been popular among artists for many decades, as Peter Paul Rubens (Flemish, 1577-1640), Hieronymus Bosch (c.1450-1516), and Albrecht Dürer have some of the most notable works on the subject. The War in Heaven* describes the war between the angels led by the Archangel Michael and the angels led by Satan. The Devil and his angels are defeated and thrown to earth. In his work, Delhez depicts Michael as a larger than life figure in white and the Devil as a fallen form in all black. The fighting between angels is represented below the two leaders, but the victor is clear. Though the print is dark and unnerving, the story is a celebration; Christianity has triumphed over evil, good conquered bad.
 
Delhez continued to refine his wood engraving skills, until his death in 1940. His legacy has continued; Pope Francis used Delhez's woodcut of the Nativity for the Vatican Christmas greeting card in 2014, and in the subsequent two years, four exhibitions were shown of Delhez's work in Argentina, Bolivia, and Belgium. 
-TV
* See Revelation 12:7-9.