Eugène Isabey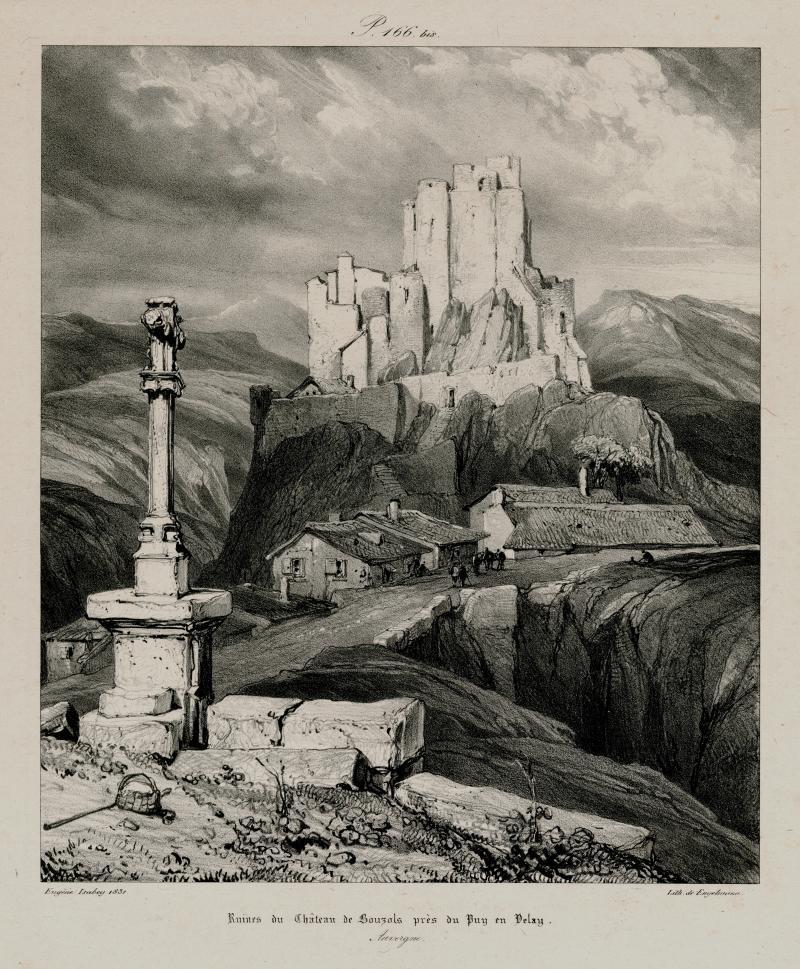 Eugène Isabey (French, 1803-1886)
Ruins de Château de Bouzols près Du Puy en Velay – Auvergne from portfolio Voyages Pittoresques et Romantiques dans l'Ancienne France, 1830-31
1831
Lithograph
Hediard 37; Curtis 40; B.N. 1
Inscription in margin l.l. "Eugène Isabey 1831."; l.r. "Lith. De Engelmann"; u.c. "P.166. bis."; l.c. "Ruines du Château de Bouzols Près du Puy en Delay [sic]/ Auvergne" 
On verso l.l.  "AP[indecipherable] 14335"


Eugène Isabey was largely known as a landscape painter, but was introduced to lithography in 1822 when he produced illustrations for his artist father's trip to Italy. Eugene Delacroix (French, 1798-1863) and Richard Parkes Bonington (born in Britain, lived in France, 1802-1828) were friends of Isabey and in 1825, the three artists traveled to England, where Isabey first saw the art of J. M. W. Turner (British,  1775-1851) and other British watercolorists. Isabey returned to France inspired to paint fresh, plein air landscapes. In 1830, he supplied illustrations for the Voyage Pittoresque et Romantiques de l'Ancienne France, which was published by Charles Nodier, Alphonse de Cailleux, and Isadore Taylor. The series included twenty-six volumes and was published between 1820 and 1863. Ruins of the Castle Bouzols was an illustration in one of the two volumes on Auvergne, France published in 1830-31.
An ambitious publication project, The Romantic and Picturesque Travels of Ancient France was begun in the early 1810s by Isadore Taylor (1789-1879), whose goal was to promote French history by documenting the ancient and medieval monuments, churches, castles, and landscapes in France. He believed that the French would value and preserve their history if they became "armchair travelers" through this multi-volume book. Informed by the Romantic era, the book contributed to a revival of interest in local heritage and historic traditions. The publishers matched artists with specific sites, and artists traveled to these places to make first-hand sketches. Until the invention of lithography, such extensive illustrations in etching or engraving would have been too costly. The great benefit of lithography is the ability to print thousands of quality illustrations.
 
The subject of the lithograph is the Castle Bouzols, close to Puy-en-Velay in Auvergne. The castle grew over time, forming a castle within a fortress. Isabey's composition in his original drawing reveals his sensitivity to lithography's ability to translate his pencil drawings into print. The artist ushers the viewer into the landscape through a light-drenched foreground leading us to a darker middle ground; the castle stands as a white beacon on a dramatic hilltop.
-JL