Franz Xaver Karl Palko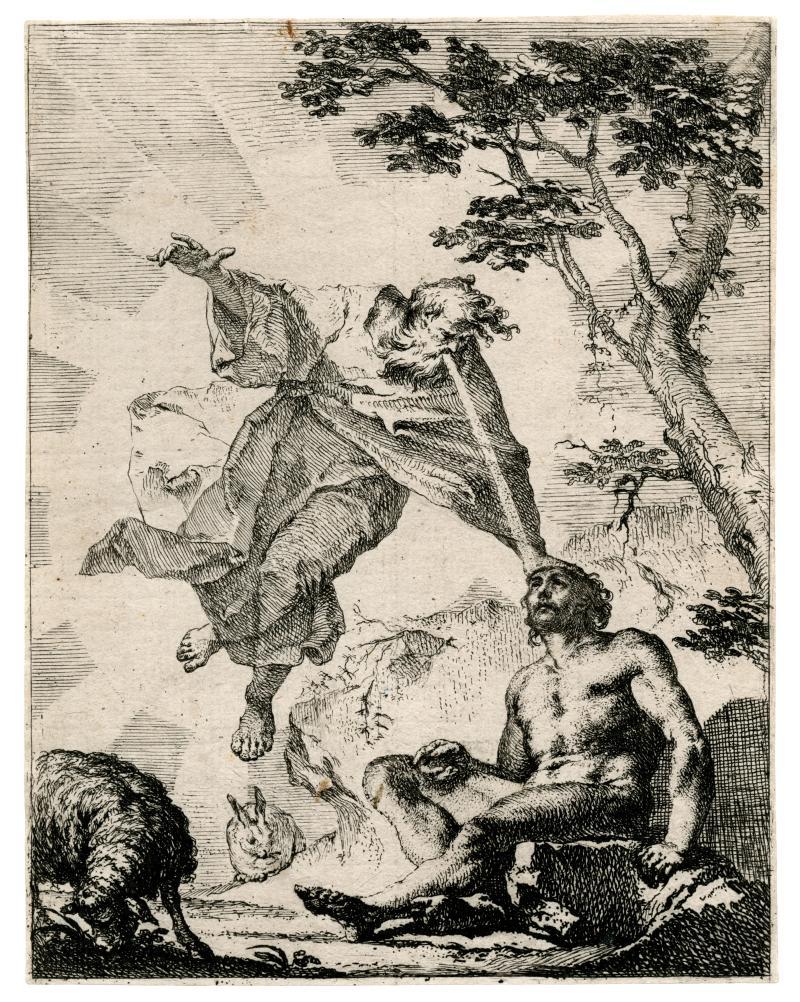 Franz Xaver Karl Palko  (Czech, 1724 – c. 1767)
God Breathing Life into Adam
c. 1760
Etching
Nagler 3
Trimmed to plate mark; lower margin trimmed; 
On verso l.l. collector's mark: 'FH' in oval
Franz Xaver Karl Palko was a Silesian painter, a region governed by the Prussians during Palko's lifetime that is now part of southern Poland and spilling over into parts of the current Czech Republic. Very little is known about Palko; he is best remembered for his portraits, history, and religious paintings.      
 
Palko began his studies with his father, a successful Breslau painter named Anton Palko and with his older brother, Bratislava. The younger son left his father's studio in the 1740s to go to Vienna to study at the Academy of Fine Arts where he worked under the painter Antonio Galli Bibiena (Italian, 1697-1774). In the 1740s Palko's name appears as a student at the Academy of Fine Art in Venice, where he came under the influence of Giuseppe Maria Crespi (Italian, 1665-1747). Palko then moved several times, usually following art commissions, before settling in Prague in 1752, where he was charged with painting frescos for the St. Nicholas Church. 
 
Palko was an accomplished etcher, who possibly learned printmaking techniques at the Drawing and Printmaking Academy in Vienna. Engraving is a technically difficult process and takes years to master, whereas etching is simply drawing with a needle and removing ground from the copperplate. Etched lines are unrestricted and more like a spontaneous drawing, which is likely why painters were attracted to the process. Palko's litany of etchings is short – four make up his complete list of graphic works.* God Breathing Life into Adam** is one of his four etchings as well as its companion piece of similar size and subject matter, God the Father warns Adam and Eve Not to Eat of the Tree of Knowledge. The subjects are taken from the Genesis Creation Story. They represent "bookends" of that narrative – in the first print, God gives life to Adam, resulting in their perfect communion in paradise and then in the second print, Palko represents Adam and Eve's separation from God and his disappointment at their disobedience. 
 
The first etching depicts the moment Adam becomes alive; it is an unusual subject in Western art. The composition in God Breathing Life into Adam shows God literally breathing a stream of air into Adam, a visual trope that dates back to Gothic mosaics and stained glass windows and old master German woodcuts.*' In the Renaissance, Michelangelo's famous Creation fresco on the Sistine Ceiling represents a "touch" between God and man; Michaelangelo seems more interested in the intimate relationship between God and humankind than in the actual first breath of Adam. In Palko's etching, a radiant God floats in the air above the seated Adam. God touches Adam's head with his hand and a white line, representing God's breath, connects the two characters. God breathes his own being, the "I AM," which Adam inhales, thus animating his body and soul. Palko's etching combines light etching lines in the sky and tree with heavier cross- hatched lines in the foreground and in the lines defining Adam's muscular legs. The sheep in the foreground and the rabbit in the middle-ground set the location of the story in the Garden of Eden.
Financial trouble plagued Palko in his later years. He went to Munich in hopes that the court would offer him commissions. Some scholars believe he was not successful in Munich and think he returned to Prague where he died in 1767; others say he died penniless in Munich in 1770.
-JL
*German art dealer, Nicolaas Teeuwisse found four etchings, 2016 (www.teeuwisse.de); Suzanne Boorsch identifies six etchings by Palko in her essay: Boorsch, Suzanne, John Marciari, John and Mable Ringling Museum of Art, Blanton Museum of Art, and Yale University Art Gallery. Master Drawings from the Yale University Art Gallery. Yale University Art Gallery Series. New Haven, CT: Yale University Art Gallery, in association with Yale University Press, 2006.
**The original print was lettered in lower margin: Formavit igitur Dominus Deus hominem de limo terrae, et in- / spiravit in faciem ejus spiraculum vitae, et factus est homo in / aminam vivenem. Genes. C. 2. V. 7. [translation: Lord God formed man of the dust of the earth, and then- / breathed into his nostrils the breath of life and man became / amino alive.]. This print has been trimmed to plate marks.
*'Examples of medieval and early Renaissance images of God breathing a streak of breath into Adam are as follows: 12th century mosaic in the Cappella Palatina, Palermo; 12th century mosaic in Norman cathedral in Monreale, Sicily; Chartres stained glass window: God Giving Adam Breath of Life, 12th or 13th century; a German woodcut of the Creation of Adam, c 1530.