Fritz Eichenberg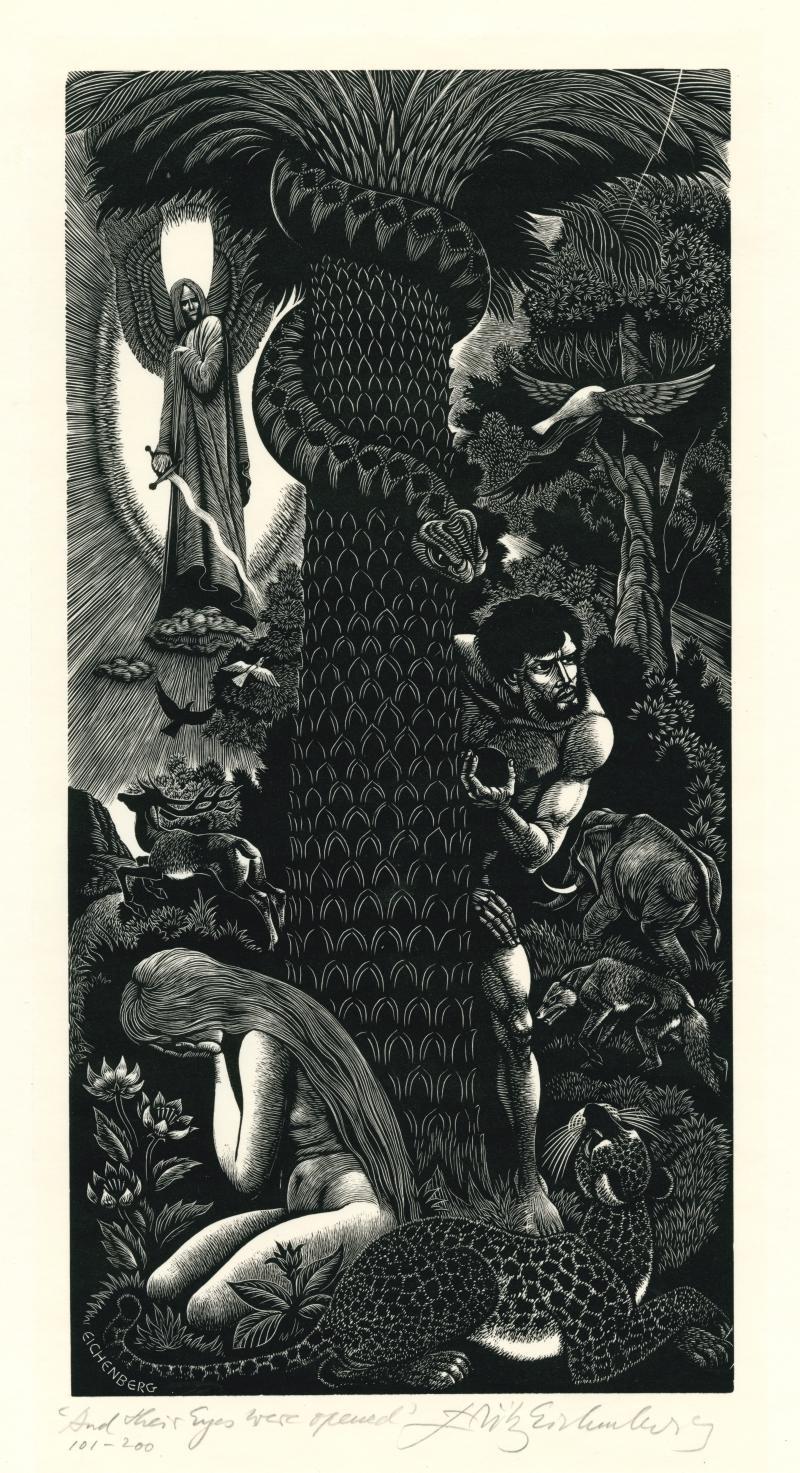 Fritz Eichenberg (German/American, 1901-1990)
And their Eyes were Opened page 2 from the portfolio: Ten Wood-engravings from the Old Testament
1955
Wood engraving
Inscription on recto l.l. "EICHENBERG"; in margin l.l. to l.r. in pencil "'And their Eyes were opened' Fritz Eichenberg"; l.l.  "101-200" 
On verso l.c. "46275c"
Fritz Eichenberg was a master of wood engraving, especially adept at making detailed and fastidious white-line wood engravings. When a wooden plank is carved by an artist, inked and printed, it is called a relief print – what is inked, stands in relief from the crevices and gaps that have been removed with knives and gouges. Woodcuts are identified by thick, heavy lines, but wood engravings differ insofar as they are made up of more delicate lines. To make a wood engraving, an artist carves into hard, end-grain woods like boxwood, which enables them to make thinner, more meticulous lines. A variation of wood engraving is the white-line engraving technique, which is also carved into hard, wooden panels; when inked, it is the recesses or crevices that hold the ink, not the relief lines. The contours and definition of the composition appear as white lines, thus the name, white-line engravings. Eichenberg used the technique with very dramatic results; a good example of white-line engraving is his biblical print: And Their Eyes were Opened from 1955.
Eichenberg was born in Cologne, Germany to a Jewish family who did not practice Judaism. The young Eichenberg learned lithography, etching, and wood engraving at art schools in Cologne and Leipzig, which resulted in employment illustrating the classics of literature.* He settled in Berlin in 1923 and also found work publishing cartoons mocking the government and military of the Weimar Republic. With the rise of the Third Reich and the threat of war in Europe, Eichenberg decided to move his wife and daughter to the United States in 1933. He found work making graphic illustrations for various publications and also took on projects with the Works Progress Administration (WPA).
His beloved wife died unexpectedly in 1937, and Eichenberg fell into a period of deep mourning and introspection. He converted to Quakerism, inspired by the belief that God can be found everywhere and in everyone. His conversion had a profound impact on the subjects he chose to create. In an avant-garde era of experimentation and radical shifts toward abstraction in art, Eichenberg held fast to a belief that art should be representational and that the artist's primary responsibility was to convey a message that would draw viewers closer to God. Eichenberg was also an anti-war, Christian activist, joining forces with the Catholic reformer Dorothy Day and creating images for her Catholic Worker newspaper. Many of Eichenberg's images depict contemporary individuals who are suffering or poor.  
Eichenberg's highly-crafted wood engravings cover a broad range of topics including biblical subjects, which were an important inspiration for his art. In 1955, he created ten wood engravings for a portfolio of subjects taken from the Old Testament. And Their Eyes were Opened is the second in that series.** Each print in the series has a vertical composition. In Eichenberg's depiction of the Fall, he renders Eve, sitting under the Tree of Good and Evil, covering her face in disgrace. Adam peers around the tree on the right, the forbidden fruit still in his hand. The tree is a palm tree, and a coiled serpent slides down the tall trunk. A leopard, a fox, an elephant, a stag, and other animals run from the serpent in fear. An angel wielding a sword stands in a radiant mandala of light in the left background watching as Adam and Eve's eyes are opened to sin and separation from God.
Eichenberg enjoyed a distinguished graphic career. In 1947, he was elected into the National Academy of Design and elevated to a full Academician in 1949. He was the director of Graphic Arts Center in Brooklyn and taught graphics at New York's Pratt Institute. At the end of his career, he was the Chairman of the Art Department at the University of Rhode Island. He died in Peace Dale, Rhode Island at age 89.
-JL
*Eichenberg illustrated literary master works by Shakespeare, Jonathan Swift, Hans Jakob von Grimmelshausen, Fyodor Dostoyevsky, Desiderius Erasmus, Charlotte, Emily, and Anne Bronte, Edgar Allen Poe, Leo Tolstoy, and Ivan Turgenev.
**The ten Old Testament images depict: The First Seven Days; And their Eyes Were Opened; And in Her Mouth an Olive Branch; And She Became a Pillar of Salt; The Lamination of Jeremiah; The Book of Job; The Book of Jonah; Peaceable Kingdom; And David Took a Harp; And His Strength Went From Him.