Henri Fantin-Latour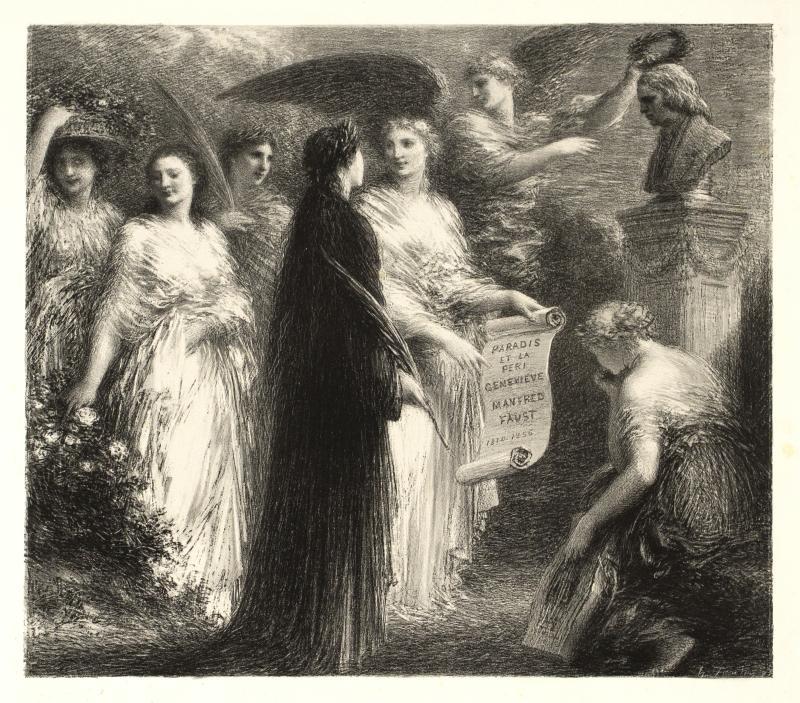 Henri Fantin-Latour (French, 1836 - 1904)
À Robert Schumann (To Robert Schumann)
1893
Lithograph (chine appliqué)
Hédiard, 109 (i/i)
Inscription on recto: l.r. signed "H. Fantin 93" c. (on scroll) "PARADIS / ET LA / PERI / GENEVIEVE / MANFRED / FAUST / 1820-1855"; in margin u.r. "H-109"; l.l. "159(?)"
On verso l.r. "A Robert Schumann (2e planche) / tear a 25 ep."; "22.210 / sgee" 
 
Henri Fantin-Latour was a nineteenth-century French painter who, late in his career, turned to lithography. He was born in Grenoble, France and learned to draw from his father who was an artist. He studied at the École des Beaux-Arts in Paris, but much of his time was spent copying paintings in the Musée du Louvre, where he became a thoughtful student of old master techniques. His circle of friends included modern artists, experimenting with new trends like James Abbott McNeill Whistler (American, 1834-1903), Jean-Baptiste-Camille Corot (French, 1796 - 1875), Eugène Delacroix (French, 1798-1863), Gustave Courbet (French, 1819-1877) and Édouard Manet (French,1832-1883), yet his own manner of painting and his choice of subjects remained very conventional.  
Fantin-Latour's friend, Whistler, invited him to England in 1859, where the artist discovered a market for his exquisitely painted floral still lives. It was also in England that the artist encountered German Romantic composers like Robert Schumann, Hector Berlioz, and Richard Wagner. Music stirred a deep and romantic passion in Fantin-Latour. His first music-inspired lithograph was published in 1862, but it was in the Salon of 1876, where he exhibited a lithograph honoring Hector Berlioz, that the popularity for his prints grew. He created many lithographs honoring music, literature, and opera. His subjects include nymphs, beautiful women, allegorical figures, and mythological scenes, as well as compositions that pay tribute to Romantic composers.
In 1893, the artist painted À Robert Schumann* (To Robert Schumann) and then made a lithographic reproduction of that work. His composition presents six female figures wearing gossamer gowns, pushed close to the picture plane; hovering above is an angel who crowns a marble bust of Schumann with a floral garland. In nineteenth-century France, lithography was still associated with commercial projects, but many artists were experimenting with the artistic possibilities of lithography. Fantin-Latour would have seen a variety of methods that artists achieved in lithography, including works by well-known lithographers: Édouard Manet (French, 1832-1883), Edgar Degas (French, 1834-1917), Odilon Redon (French, 1840-1916) and Eugène Delacroix (French, 1798-1863). Most artists retained a master printer to help with the complex task of printing from a stone. Fantin-Latour, however, printed his own lithographs. His style of lithography was painterly. Known for his paintings' precise and careful style, Fantin-Latour's desired effects in printmaking were dreamy, soft, tonal surfaces. He drew his composition first on a grainy lithographic transfer paper, which was then placed on the stone; often, he would scrape parts of the stone away with a razor blade to achieve different textures on his prints.** In À Robert Schumann, the opaque quality of his lithograph was enhanced by printing on a thin sheet of China paper and then applying it to a heavier paper. Chine appliqué, also called chine collé, gives a silvery atmosphere to the print.
Fantin-Latour considered his lithographic oeuvre as the crowning achievement of his artistic career.
-JL
* The painting is in the collection of the Addison Gallery of American Art, Andover, Massachusetts.
**The artist's lithographic technique is described in an article published by the Cleveland Museum of Art in 1920: McK, W. McC. "Fantin-Latour Lithographs." (The Bulletin of the Cleveland Museum of Art 7, no. 9 1920): 135–38.