Philips Galle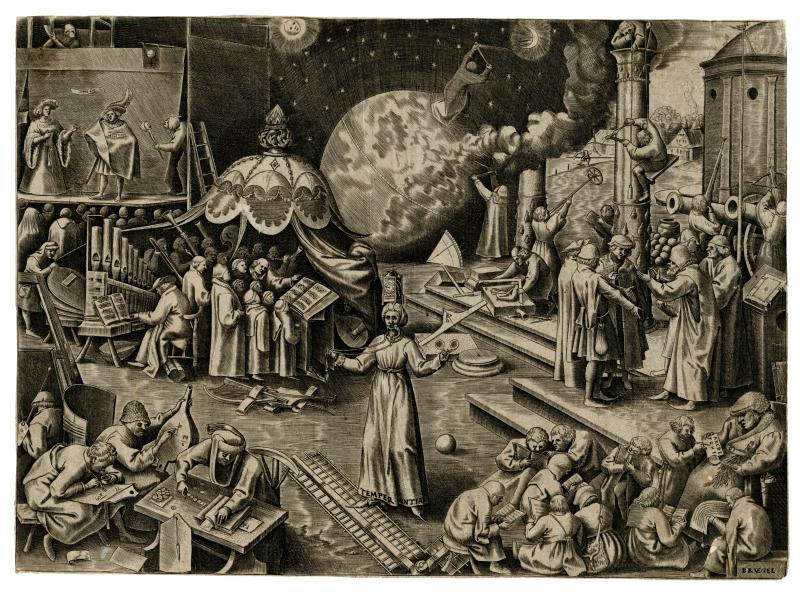 Philips Galle (Flemish, 1537-1612)
Temperance from series Seven Virtues
c. 1559; after Pieter Bruegel the Elder (Flemish, c.1525-1569)
Engraving
New Hollstein (Bruegel) 19; New Hollstein (Galle) 315; Riggs 32; Lebeer 37; Klein 54; Mielke 51; Van Bastelaer 138
Trimmed to plate marks
Inscription on recto l.r. "BRUEGEL"; l.c. "TEMPERANTIA"
 
From his scenes of daily rural life to his exaggerated allegorical works, Pieter Bruegel* is a key figure in the history of Flemish art. Though little is known of his upbringing, it is believed that he was born between 1525 and 1530 near Breda, on the border of Holland and Belgium. Growing up, Bruegel would have seen paintings by Hieronymus Bosch (Dutch, c.1450-1516) in surrounding churches and was undoubtedly influenced by the fifteenth-century painter's fanciful style. Bruegel is most well-known for his paintings on the daily lives of ordinary Flemish people, but he also used his multifaceted talents on the more extraordinary themes of Heaven, Hell, and allegorical subjects.
Though Bruegel etched one landscape himself, the rest of his long series of prints were done by professional engravers. He had a long-established relationship with the Antwerp publisher, Hieronymus Cock, who commissioned engravers for Bruegel, including Pieter van der Heyden (Flemish, 1530-1572), Frans Huys (Flemish, c. 1522-1562), and Philips Galle.
 
Born in Haarlem, Netherlands, Galle studied under Dirck Volckertsz Coornhert** (Dutch, 1522-1590) and worked for Hieronymus Cock while also taking jobs as an independent printer starting in 1563. He moved to Antwerp around 1570, where he designed and engraved for many old master artists. While in Antwerp, Galle continued to take commissions from Cock until the publisher's death in 1570.
 
Temperance is a part of Bruegel's series on the Seven Virtues,*' all engraved by Galle. Before this series, Bruegel hired Pieter van der Heyden to engrave The Seven Deadly Sins.*'* Van der Heyden's engravings remained similar to Bruegel's original drawings, but Galle deviated from the originals in form, taking Bruegel's simpler, almost stubby figures and elongating them. Galle also developed a tonal style, where he used cross- and parallel-hatching to produce shades of gray and black. This practice gave his engravings a dark and velvety look, almost like a mezzotint. 
Bruegel's interpretation of temperance is made up of intricately detailed figural groups depicting the virtues of moderation. Temperance, identified through the label Temperantia on the bottom of her robe, stands in the center, balancing a clock on her head, while the encircling groups busy themselves with work. Choir singers and actors perform. Cosmographers fruitlessly try to measure a billow of smoke, and surveyors evaluate weapons and battlements. In the left foreground, there are moneylenders working to balance their books, and to the right, students frantically studying. Galle's use of cross-hatching to create depth is most evident in the tent under which the singers stand, subtly dissolving into the background. The parallel- and cross-hatching on the floor below Temperance creates a moiré pattern that gives the entire setting a mystical undertone.
 
After Pieter Bruegel's death in 1569, his son, Jan Bruegel, erected a memorial for his father in the church of Notre-Dame de la Chapelle in Brussels. Philips Galle worked with many Dutch and Flemish artists until his death in Antwerp in 1612.
-TV
* Commonly referred to as Peter Bruegel the Elder
**In some versions there is a note in Latin at the bottom of the print stating, VIDENDVM, VT NEC VOLVPTATI DEDITI PRODIGI ET LVXVRIOSI | APPAREAMVS, NEC AVARA TENACITATI SORDIDI AVT OBSCVRI EXISTAVMS. This can be translated as "We must look to it that, in the devotion to sensual pleasures, we do not become wasteful and luxurian, but also that we do not, because of miserly greed, live in filth and ignorance." (Translation by Nadine Orenstein) The text is reminiscent of Dirck Coornhert's writings, and it's plausible that Coornhert contributed this to the series.
*' The virtues are charity, faith, fortitude, hope, justice, prudence, and temperance.
*'* The sins are anger, avarice, envy, gluttony, lust, pride, and sloth.