Jacob Matham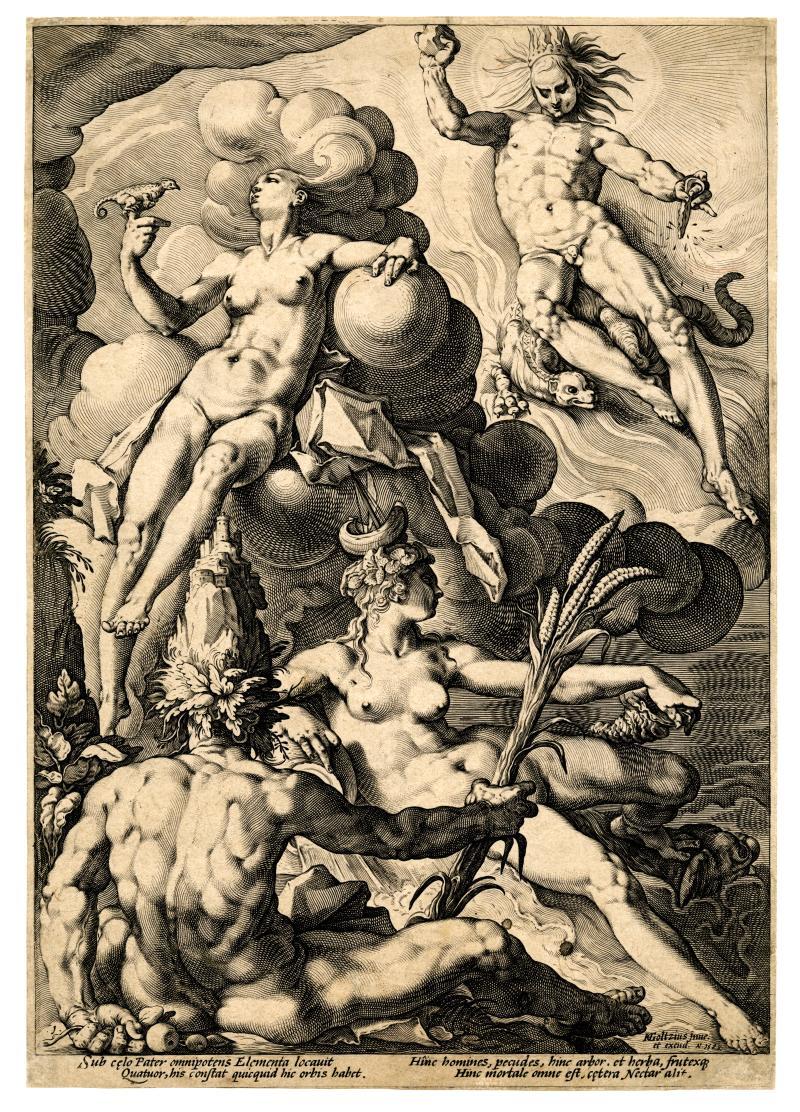 Jacob Matham (Dutch, 1571-1631)
The Four Elements, plate 1 from series Mythological and Allegorical Subjects
1588; after Hendrick Goltzius (Dutch, 1558-1617)
Engraving
State i/iii; Hollstein (Matham) 266; Hollstein (Goltzius) 237; New Hollstein (Matham) 348; New Hollstein (Goltzius) 641
Inscription on recto l.r.  "HGoltzius Inve. / et excud. Ao1588"; in margin l.l. to l.r. : Sub celo Pater…Nectar alit."
On verso u.r: "Henr Gotlz / 1558-1615"; l.r: "800 €"
 
Jacob Matham was born in Haarlem in 1571. After his father's death, Matham's mother married famed Dutch artist, Hendrick Goltzius, who soon adopted Matham and began training him in his workshop. Matham's first signed engraving was printed in 1589, but it is believed that he began working on Goltzius' prints a year prior. He worked primarily for his stepfather until 1600, when Goltzius decided to focus entirely on painting. Matham then took over the workshop, engraving and publishing engravings by other artists.
 
Hendrick Goltzius apprenticed under the printmaker, Dirck Volckertsz Coornhert (Netherlandish, 1522-1590) and moved with his teacher to Haarlem around 1576, marrying Matham's mother three years later. Stylistically, Goltzius' early work reflects the influence of Mannerism as seen in his long, exaggerated figures and highly dynamic compositions. After a trip to Rome in 1590, where he studied Roman antique sculptures, Goltzius began adding classical elements to his figures and compositions.
 
The Four Elements is the first plate from a series titled Mythological and Allegorical Subjects. The interpretations and subjects of the series are ambiguous, but each print depicts a group of allegorical or mythological figures. The eight plates include the five senses, the three fates, and the seven virtues. Designed by Goltzius and engraved by Matham, this is the only dated print in the series, as well as the only print that cites Goltzius as the publisher. Created before his 1590 trip to Rome, it is indicative of Goltzius' mannerist influences; the composition is relief-like, revealing a two-dimensional quality. In the top, right corner, "Fire" appears as a man, seated on a salamander (an attribute of fire) with a flaming crown on his head and flints in each hand. "Air" floats to the left of "Fire," depicted as a woman, seated in billowing clouds, holding a chameleon, which according to legend, was believed to subsist on air. In the bottom left sits "Earth," a man with his back turned to the viewer, holding vegetables and fruit with a headdress of vegetation, topped with a walled tower. Finally, "Water" reclines in the center of the composition, depicted as a woman, with her foot resting on a sea creature. She is holding a conch shell and wearing a crown fastened with a model ship atop her head.
 
Matham continued running the workshop after Goltzius' death in 1617, training both his own sons as well as many other artists. He died in 1631, leaving his sons to continue the artistic family legacy.
-TV