Jan Pieterszoon Saenredam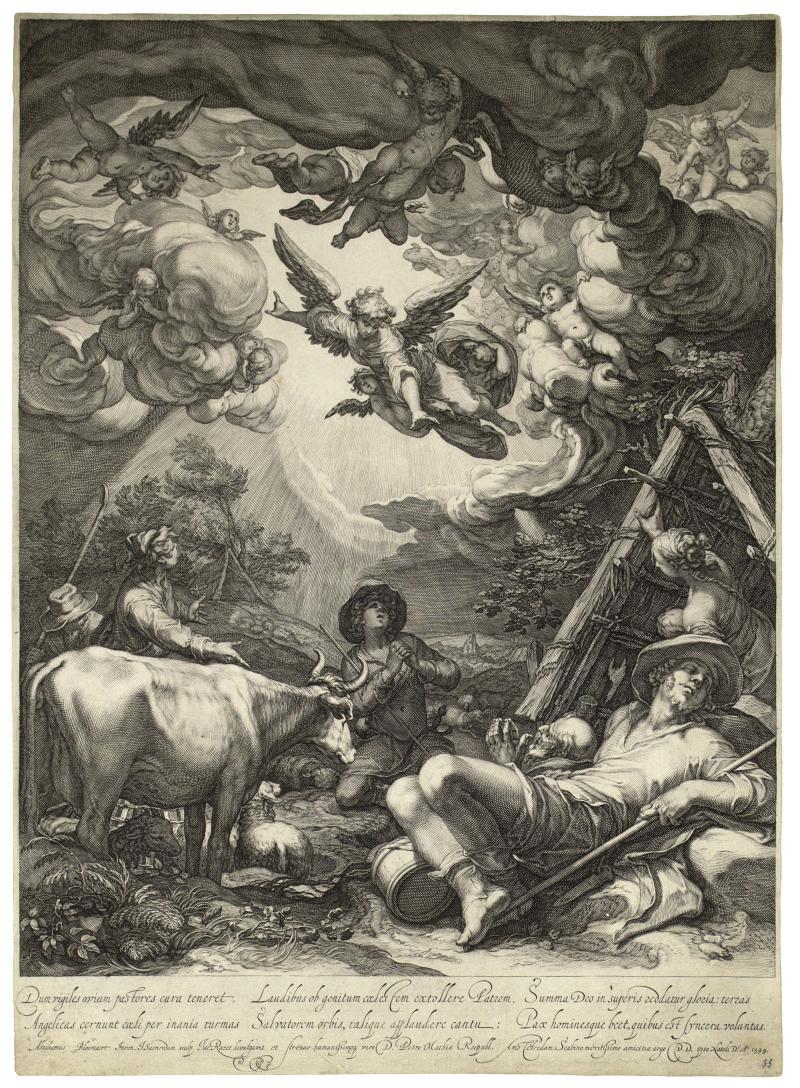 Jan Pieterszoon Saenredam  (Dutch, 1565 - 1607)
The Annunciation to the Shepherds 
1599; after Abraham Bloemaert (Dutch, 1566-1651)
Engraving
Bartsch 24; Hollstein 24 (i/ii); Roethlisberger 51; Wurzbach, 24
Inscription in margin l.l. "Dum vigiles ovium pastores cura teneret, / Angelicas cernunt caeli per inania turmas"; l.c. "Laudibus ob genitum caeles tem extollere Patrem. / Salvatorem orbis, talique applandere cantu:"; l.r. "Summa Deo in superis reddatur gloria: terras / Pax hominesque beet, quibus est syncera voluntas."; l.l. to l.r. "Abrahamus Bloemaert Inven. I. Saenredam sculp.  Iac. Razet divulgavit et strenuo humanijsimoque viro D. Petro Mathiae Reipubl. Amsterredam. Scabino meritijsimo amicitiae ergo D. D. ipso Natali Di. Ao. 1599"; l.r. Monogram
On verso c. in pen "Wake(?) / 1766"


Most famous for his allegorical work inspired by biblical narratives and classical mythology, Jan Pietersz Saenredam was a Dutch Mannerist painter, printmaker, and cartographer. Born in Zaandam in 1565, Saenredam was orphaned at a young age and sent to live with his uncle in Assendelft. After an apprenticeship with a cartographer, he took his artistic skill further by traveling to Haarlem to learn drawing from the Dutch artist, Hendrick Goltzius (1558-1617). After his time with Goltzius, Saenredam worked in Amsterdam before returning to Assendelft where he set up his own workshop. During this time, he produced prints of his own design as well as copies after Dutch artists such as Cornelis van Haarlem (1562-1638), Paulus Moreelse (1571-1638), and Abraham Bloemaert.
 
Abraham Bloemaert was born in 1566 in Gorinchem to a highly respected sculptor, Cornelis Bloemaert I. In the early 1580s, he traveled to Paris and worked there for three years before returning to Utrecht  to work in his father's studio. Bloemaert spent two years in Amsterdam producing his first major works, but in 1593, he returned permanently to Utrecht to raise eight children, four of whom became skilled artists. Along with training his own children, Bloemaert founded a drawing academy with Paulus Moreelse around 1612.
 
As a devout Catholic, Bloemaert painted numerous altarpieces and worked for many churches in Utrecht. His work most often depicts religious and mythological scenes set in dramatic landscapes. The Annunciation to the Shepherds is one of Bloemaert's most frequently painted subjects. Recorded in the Gospel of Luke,* a group of angels appeared to shepherds who were in the field watching over their sheep. The angels announced the birth of Christ, and told the shepherds where to find the child. With billowing clouds and a dramatic pastoral scene, Bloemaert creates a dynamic composition depicting the very moment the angels appeared to the shepherds. Four shepherds look toward heaven in astonishment. Humorously, the shepherd in the foreground sleeps as angels proclaim the newborn child. An unusual addition to the Annunciation is a woman with a baby at her chest who peers from a thatched tent-like structure.
 
Bloemaert continued his highly-praised, productive career, remaining active in his work until his death in 1651. Saenredam continued his work as an engraver until he died of typhus in 1607.
-TV 
 
* See Luke 2:8-15.