Johann Adam Schweikart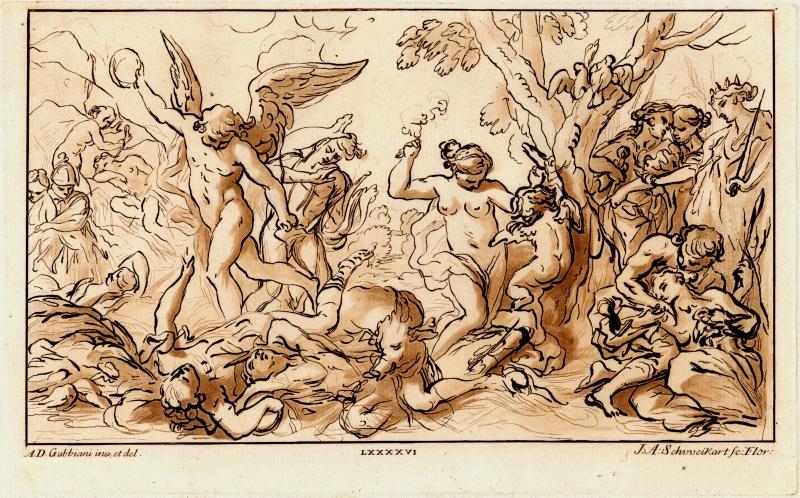 Johann Adam Schweikart (German 1722 – 1787)
Venus Chastises Cupid
1762; after Antonio Domenico Gabbiani (Italian, 1652 –1726)
Etching and aquatint
Le Blanc 14; Weigel 2648; Weigel 61
Inscriptions in margin l.l. "A.D. Gabbiani inv; et del."; l.c. "LXXXXVI"; l.r. "J.A. Schweikart: Sc: Flor:"
On verso l.l. "80"

Johann Adam Schweikart was a printmaker born in Nuremberg, but active in Florence in the early 1740s through the early 1760s. His interest in printmaking came from his father Wolfgang Schweikart, a book publisher, and his godfather, Johann Adam Delsenbach, a well-known engraver in Nuremberg. He was apprenticed to Georg Daniel Heumann (German, 1691-1759) for five years before studying printmaking with Georg Martin Preissler (German, 1700-1754). In 1742, Schweikart moved to Florence where Baron Philipp von Stosch (1691-1757), an avid Prussian art collector living in Florence, commissioned him to make prints after the ancient engraved gems in his collection.
 
Schweikart is best remembered as the inventor of aquatint, a method for printing tonal gradations. Others had experimented with a technique called "lavis" or open-bite etching, whereby acid was brushed onto a copper plate to randomly bite the copper and produce tones. Anthony Griffiths, scholar on aquatints, credits Schweikart with bringing control to the technique. The essential ingredient that Schweikart introduced for making wash tones "was a type of acidic paste."* That paste could be applied with a brush to areas of the copper plate with precision. Schweikart's particular variation of aquatint was popular in Florence from the late 1750s.
 
Antonio Domenico Gabbiani was a painter and fresco artist born in Florence and trained in the late-Baroque style. Schweikart was one of several printmakers who reproduced Gabbiani's drawings in etching and aquatint.** The punishment of Cupid was a popular mythological subject with Baroque painters. Gabbiani creates a complex, writhing composition of lovers -- embracing, caressing, and kissing – pushing the amorous action close to the picture plane as though staging a theatrical scene. To the right of center, Venus (mother of Cupid) raises her hand ready to slap the bottom of Cupid, who is pictured from behind, squirming against a tree. Cupid has dropped his bow and quiver of arrows and his small wings are visible. A rascal and prankster, Cupid is likely responsible for agitating the impassioned hubbub depicted in the print by rashly flinging his arrows of love with no thought of the consequences. Even two doves on a branch revel under the influence of Cupid's sharp "prick of love."
 
Schweikart's heavy etched lines are printed in a rich, dark brown in contrast to the light brown and tan inks of the aquatint tones. Aquatint was intended to reproduce the subtle shades and tones of a pen and ink wash drawing, and Schweikart uses the technique convincingly. Prints, like this one, must have been astonishing to eighteenth century viewers for whom the technique was new.
 
Shortly after Schweikart completed this print, he returned to Nuremberg. He died there in 1787.
-JL
* Anthony Griffiths, "Notes on Early Aquatint in England and France" Print Quarterly Vol 4 #3 (September 1987), 257.
**Schweikart did etching and aquatint reproductions of at least two of Gabbiana's drawings; other reproductive etchings and aquatints after Gabbiani were done by Andrea Scacciati, Giovanni Galli, Santi Pacini, Vincenzo Vangelisti, and Giovanni Battista Cipriani.