Joseph Mallord William Turner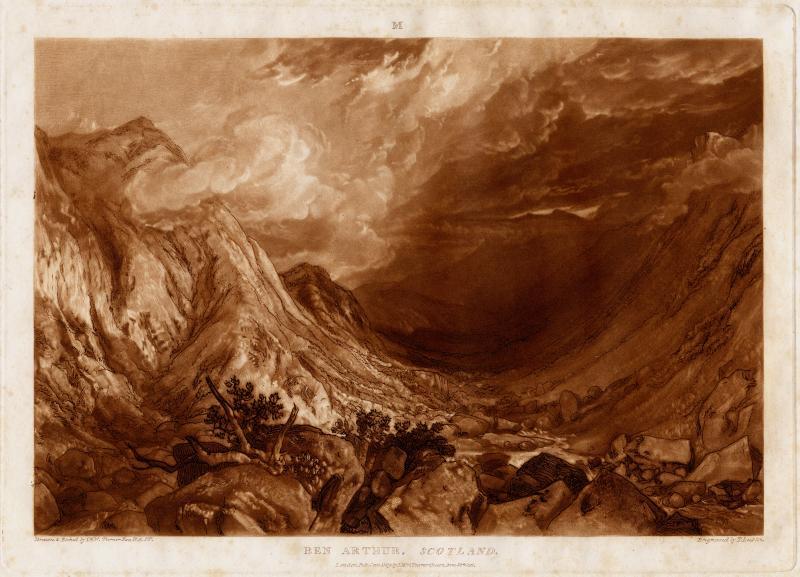 Joseph Mallord William Turner (British, 1775-1851)
Ben Arthur from series Liber Studiorum
1819; mezzotinter: Thomas Goff Lupton (British, 1791–1873)
Etching and mezzotint
Finberg 69i/iii; Rawlinson 69 ii/iv
Inscriptions in margin l.l. "Drawn & Etched by I. M. W. Turner Esq. R.A.P.P."; l.r. "Engraved by T. Lupton"; l.c. "BEN ARTHUR, SCOTLAND. / London. Pub. Jan 1. 1819, by I. M. W. Turner Queen Anne Str West"; u.c. "M"
On verso c. stamp: "Duplicate" encircled by "Museum of Fine Art Boston Mass"; l.c. "M.F.A. H.D.P.Coll. No 3648"
Learn more about Joseph Mallord William Turner's work from
the Museum's Education/Outreach Coordinator, Tamara Vaughan

In 1775, Joseph Mallord William Turner was born in Covent Garden, London. At age fourteen, he entered the Royal Academy School, while also working with architectural draughtspeople and drawing landscapes and antiquarian topographies. As Turner's work matured, he began experimenting with scenes filled with lofty sentiments and grand emotions, most notably with The Burning of the Houses of Parliament (1835) and Slave Ship (1840). His scumbled and broad brushstrokes, along with his swirling and churning compositions, are often considered precursors to modernist abstraction. He intentionally used agitated, staccato brushstrokes to evoke a powerful feeling rather than define a specific time and place. Although he had critics throughout his career, his experimentation with abstracted compositions and his prolific body of work secured his prestigious legacy in the history of art.
 
Turner embraced Romanticism, a movement that rejected the primacy of the rational and the precise, instead placing value on emotions and imagination. Landscapes provided a way for him to explore these expressions in broad and diverse forms. From the mid-1790s and for most of Turner's life, he traveled in the summer, making sketches, and in the winter, he would work in the studio, creating paintings and engraving from those sketches. He chose dramatic subjects, which he expertly translated into formidable landscapes, focusing on the power and intense beauty of the natural world.
 
Ben Arthur is an etching and mezzotint that depicts one of the most noteworthy peaks in the Scottish Highlands. It was created for Turner's book Liber Studiorum (Book of Studies), a series of seventy landscapes and seascapes inspired by the artist's travels, which was critical to understanding Turner's artistic development in his philosophy of the sublime. Turner categorized the book into six themes - pastoral, marine, mountainous, historical, architectural, and epic pastoral. The "M'' in the middle of the upper margin of Ben Arthur indicates that the work was categorized under mountainous. He began his process by creating a sepia-toned watercolor drawing as his guide. Under Turner's direction, professional engravers would then include tones by adding mezzotint onto the plate. After sealing the plate with ground, Turner would etch the outlines of the composition into the ground. In this print, the mezzotinting was done by Thomas Goff Lupton and adds a velvety depth to the steep ravine. The etching and mezzotint was printed with sepia-colored inks, which convey a sense of depth and warmth. The drama is underscored in the dark clouds roiling above the lochs, and the rapidly changing weather, with dramatic shifts in light, impart the overwhelming power of nature.
 
Turner died of cholera in 1851. He is buried in St. Paul's Cathedral in London.
-TV