Lucas Vorsterman I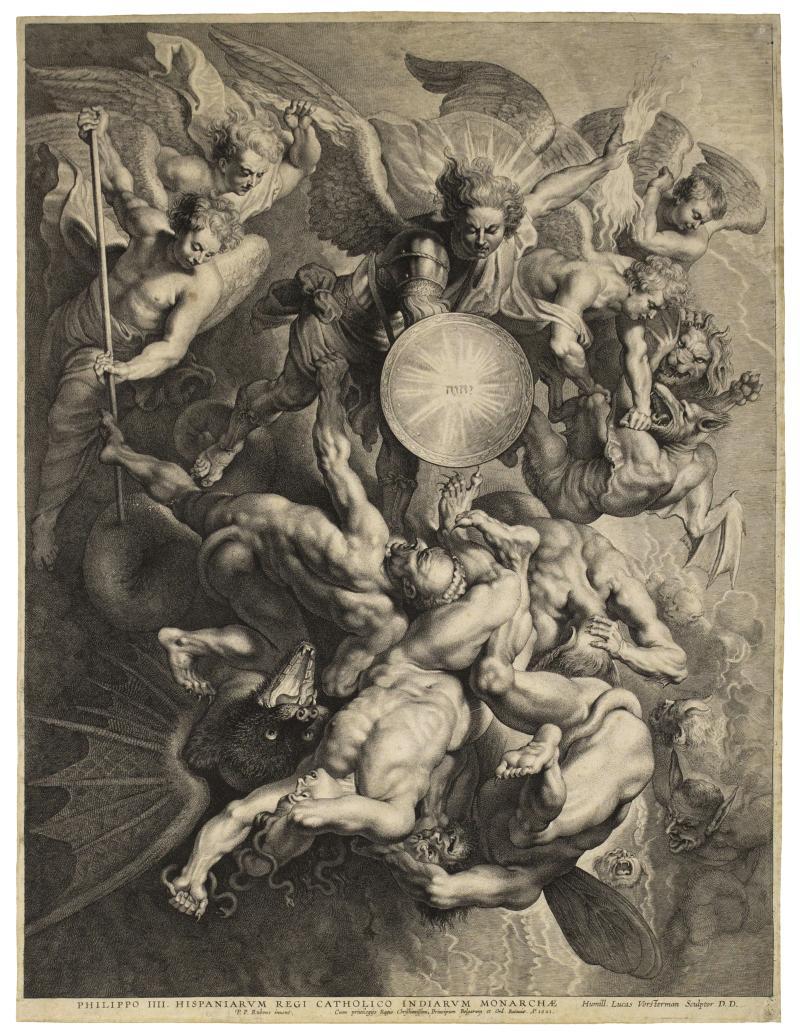 Lucas Vorsterman I (Dutch, 1595- 1675)
St. Michael Striking Down the Rebellious Angels
1621; after Peter Paul Rubens (Flemish, 1577-1640).
Engraving
Hollstein.92; Basan 1; Schneevoogt 1; Dutuit 1; Hymans 84; Wijngaert 707; Corpus Rubenianum 134
Inscribed in margin l.l. "P. P. Rubens invent";  l.r. "Humill. Lucas Vorsterman Sculptor D. D."; l.c. "Cum Privilegijs Regis Chriftianiffimi, Principum  Belgarum et Ord. Bataui. Ao 1621."; l.l. to l.r. "PHILIPPO IIII. HISPANIARUM REGI CATHOLICO INDIARUM MONARCHAE"
Vorsterman the Elder was a skilled engraver, etcher, draftsperson, and art dealer. He moved to Antwerp, Belgium around 1618 and worked as an engraver in the workshop of renowned Flemish, Baroque painter, Peter Paul Rubens (1577-1640). Though not an expert in printmaking, Rubens was an entrepreneurial businessman who recognized its value. He worked with engravers and etchers, such as Vorsterman, to recreate his paintings as prints. Rubens revolutionized the print industry, creating a new, popular graphic art form that increased his celebrity as his prints circulated around Europe.
 
Vorsterman engraved St. Michael Striking Down the Rebellious Angels about three years after he began working for Rubens. It depicts an event from the New Testament book of Revelation where a war in heaven began between the Archangel, Michael with his army of angels and the Dragon, or Devil, with his army of angels.* A regular subject for the painter, it is posited that Vorsterman's engraving is copied from Rubens' painting for the Jesuit church in Lille. Unfortunately, a fire in 1740 destroyed the painting. Although the book of Revelation is noteworthy for its symbolism, this painting depicts the conflict quite literally. The battle takes place in the heavens, and Rubens creates a swirling composition of muscular angels pushing down rogue angels and monsters towards Earth. Written on Michael's shield, is the Hebrew word for the God of Israel, Yahweh. Vorsterman's skill as a reproductive engraver is revealed in his innovative process, which incorporated different tools to create unique patterns. He also skillfully used the burnisher to create highlights on the muscular bodies of the warrior angels so that when the plate was inked, the lights and darks add dramatic effects.  
 
Vorsterman became Rubens sole engraver due to his skill and speed. The two got along and developed a close friendship. Vorsterman was known for his volatile temperament and notoriously got into a serious fight with Rubens, which caused a rift between them. It is unknown what the argument was regarding but is generally assumed over an issue of the rights to prints engraved by Vorsterman after Rubens' designs. The fight was severe enough for Rubens to be granted a protection order by the authorities. 
 
In 1658, with his eyesight deteriorating, Vorsterman fell into poverty. He died in 1675 in such poverty, there were no funds to pay his funerary expenses. 
-OR 
* See Revelation 12:7.