Marcantonio Raimondi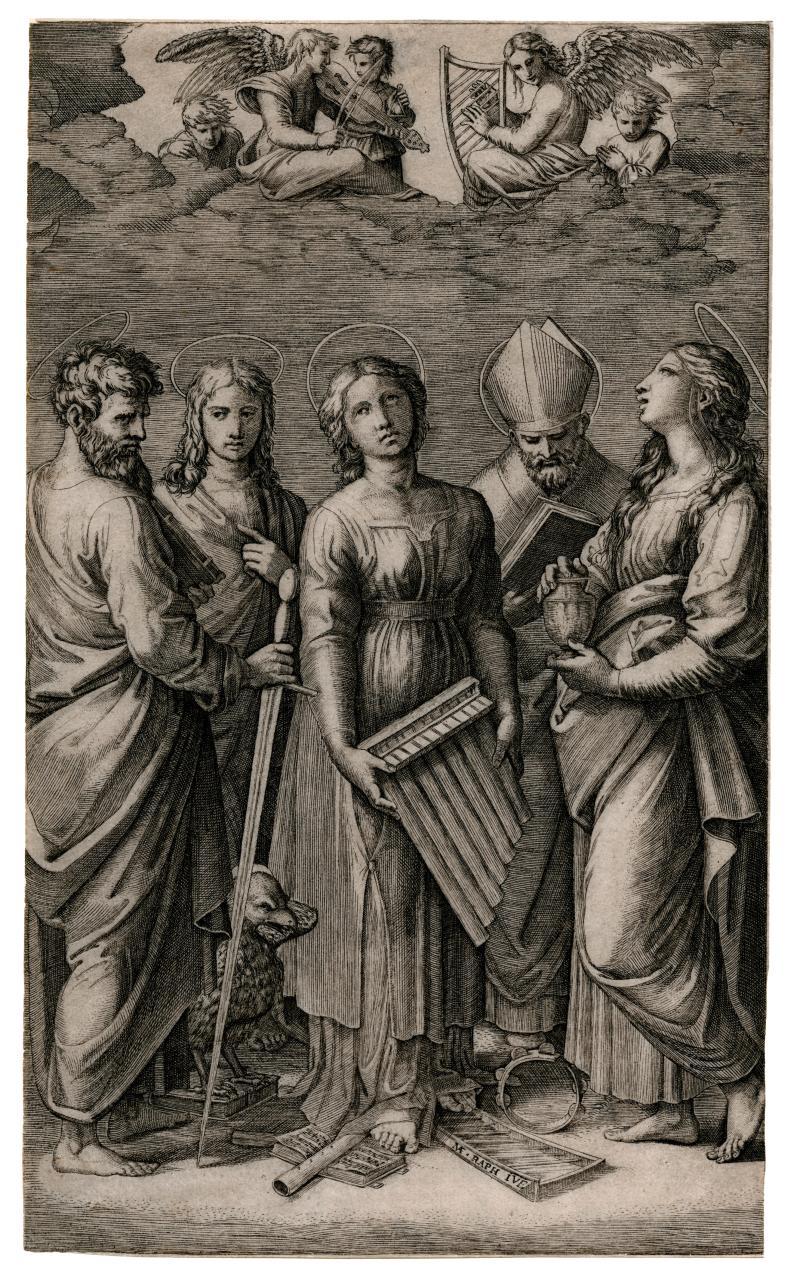 Marcantonio Raimondi (Italian, 1480-1534)
Saint Cecilia, Saint Paul, Saint John, Saint Augustin, and Saint Magdalene
1515-16; after Raffaello Santi (Raphael) (Italian, 1483-1520)
Engraving

Bartsch 116; Delaborde.92; Shoemaker and Broun 28
Inscription on recto l.c. (on harp): "MAF RAPH IVE"
On verso l.c. encircled "030883(?)3"; l.l. to l.r. "Marc Antonio(?) / Aft. Raphael B.116   [indecipherable] Rare 259"
Marcantonio Raimondi, simply called Marcantonio, was one of the first Italian engravers whose graphic work was copied solely from paintings. Little is known of his early life, but he is believed to have been born around 1482, possibly in Arginine, near Bologna, Italy. He apprenticed under the goldsmith, Francesco Francia (Italian, 1447-1517), but quickly surpassed his teacher. Marcantonio is the only engraver included in art historian, Giorgio Vasari's Lives of the Artists, substantiating the engraver's artistic prowess in printmaking. Over three hundred prints after various artists are attributed to Marcantonio, and he had a successful career until his imprisonment in Rome in the mid-1520's for the publication of a series of erotic prints titled I Modi (The Ways) (also known as the Sixteen Pleasures).
Around 1510, Marcantonio moved to Rome where he met famed High Renaissance artist, Raphael. Unsolicited, Marcantonio reproduced one of Raphael's paintings titled Lucretia, and the painter was so impressed that he personally trained Marcantonio. Eventually, the two started a successful printing establishment that rapidly expanded into an engraving school, headed by Marcantonio. The collaboration between Raphael and Marcantonio, produced some of the most renowned prints of their time.

The engraving Saint Cecilia, Saint Paul, Saint John, Saint Augustin, and Saint Magdalene interprets an altarpiece by Raphael that was commissioned by Elena dell'Oglio in 1514, for a church in Bologna. Saint Cecilia, the patron saint of musicians and church music, is represented holding an organetto and surrounded by St. Paul, St. John the Evangelist, Mary Magdalene and St. Augustine. She listens to a choir of angels above her in the clouds, three with musical instruments -- a viola, a triangle, and a harp – and two clapping. At Cecilia's feet is a music book, a flute, a harp, and a tambourine.

Saint Cecilia's legend begins with her parents forcing her marriage to a pagan nobleman named Valerian, despite her vow of virginity. During her wedding, she sat by herself, singing in her heart to God, thus becoming the patron saint of musicians. When it was time to consummate her marriage, she told Valerian that an angel of the Lord was protecting her. If he violated her, he would be punished, but if he respected her virginity, he would be loved by the angel. Valerian chose to be baptized, and afterwards, he looked up to see the angel crowning Cecilia with a chaplet of roses and lilies. Both Cecilia and Valerian were beheaded by the Emperor Severus Alexander (208-235), becoming martyrs for their faith.
-OR