Rembrandt van Rijn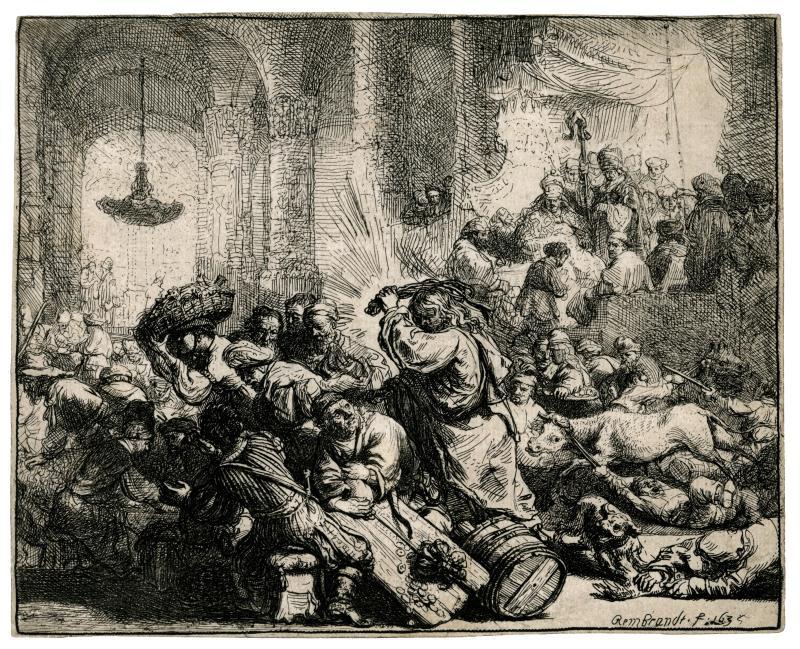 Rembrandt van Rijn (Dutch, 1606-1669)
Christ Driving the Money Changers from the Temple
1635
Etching with touches of drypoint
Bartsch 69; Hollstein 126; New Holstein 139; Hind 126; Middleton 198; Munz 206; Biorklund 35-B; White & Boon 69
Inscriptions on recto l.r. "Rembrandt f. 1635"
On verso c.l. encircled double "M's"
Learn more about Rembrandt's work 
from Westmont Art Instructor, Pecos Pryor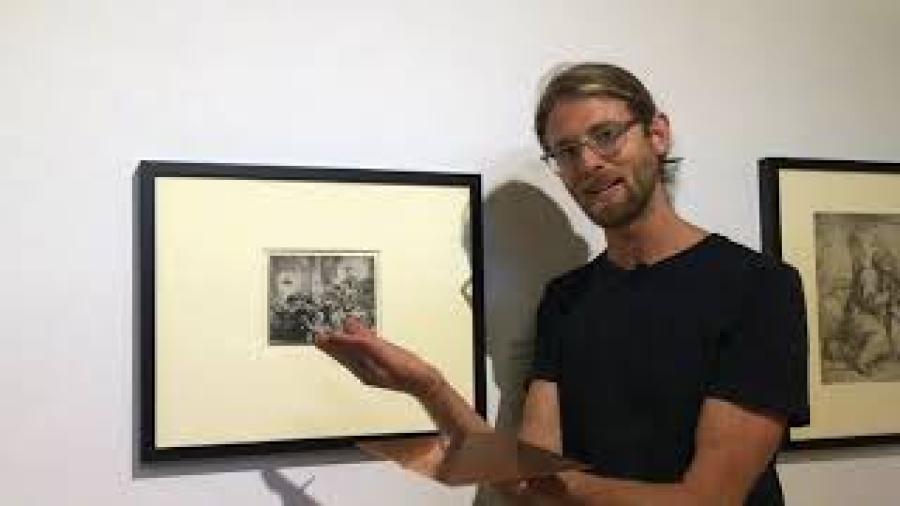 The most prominent artist in the seventeenth-century Dutch Golden Age was Rembrandt van Rijn. He was skilled as a painter and etcher, but his celebrity rests upon his brilliant storytelling in paint and in ink. The intense drama of the New Testament narrative of Christ purging the Temple of money changers and merchants who were selling animals for sacrifices would have appealed to the artist. The story is told in all four Gospels and was a popular subject of old master painters and printmakers. Rembrandt borrowed the basis composition from the 1511 woodcut of the Temple Purge by Albrecht Dürer in his series, The Small Passion. Both compositions place Christ at the center wielding coiled cords as a whip to drive out the animals and clean the Temple floor of commerce. 
What makes Rembrandt's composition so compelling are the details he adds to the story. Christ occupies the center of the print with his arm raised in righteous indignation; rays of divine light emanate from his hand. A crude table is overturned in front of Christ and a portly man seated at that table grabs a pouch of money to his chest, coins spilling down the table. Behind Christ to the right a man is dragged by an escaping ox; in the lower right corner, another man scrambles across the floor to catch a flailing pigeon while a dog at Christ's feet barks at the chaos of the scene. Merchants dash left and right, one with a basket of hens on his head. In the background to the right, the Priest is giving a blessing with no notice of the din below, but participants in the ritual turn their heads in surprise to watch the confusion below.
Theologians have written extensively on the meaning and significance of the story. In the narrative, Christ declares: My house shall be called the house of prayer; but ye have made it a den of thieves.* Christ was anointed on earth to preach the gospel to the poor.** and not only did he scorn those who turned the Temple into a place of business, but recoiled at the money changers and merchants who were cheating their poor clients, thus acting like thieves in a sanctified and holy place. It is likely that the Purge of the Temple took place in Jerusalem only a week before Christ was crucified. Jesus Christ's body is linked to the Temple. As Christ proclaimed: Destroy this temple, and in three days I will raise it up.*' It was a confusing statement to most, but Christ was referencing his own death and resurrection. As he drove the animals to be sacrificed out of the Temple, he was also proclaiming Himself as the ultimate, once-and-for-all-times sacrifice. Christ was ushering in a new order where His body and blood would be the only redemption for sinners.
-JL
*Matthew 21:13 (KJV).
**Luke 4:18 (KJV).
*'John 2:19 (KJV).