Maria Katharina Prestel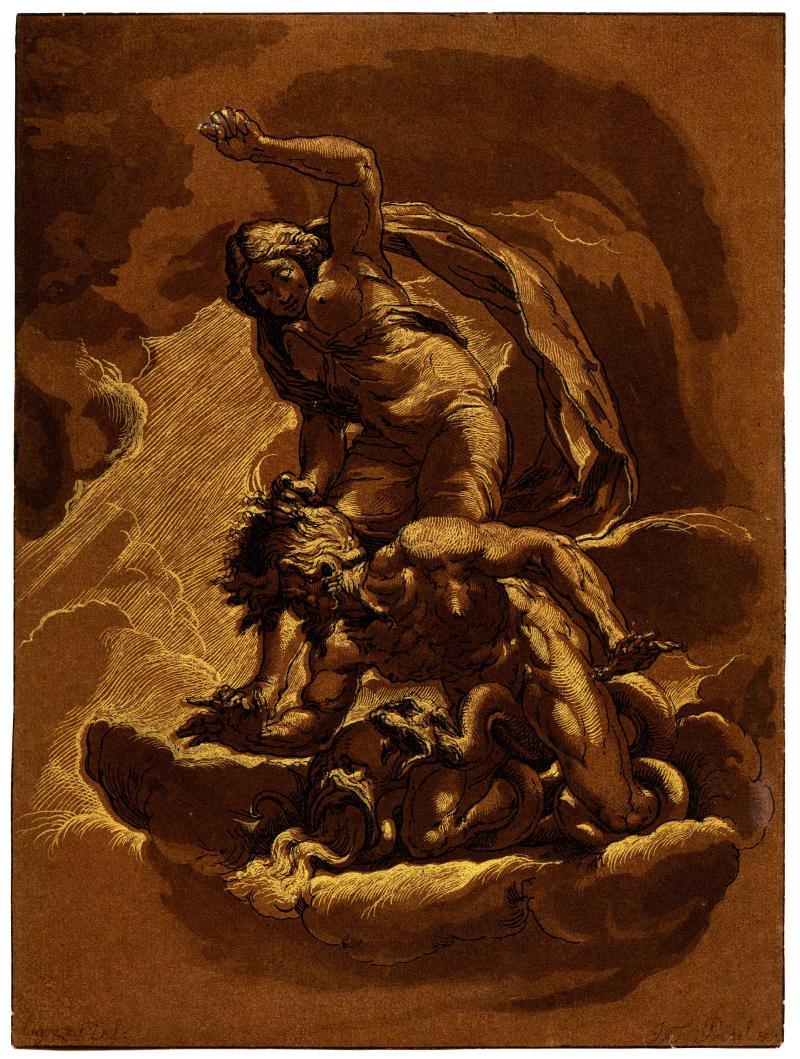 Maria Katharina Prestel (German, 1747–1794)
Die Wahrheit triumphiert über den Neid (Truth Triumphs over Envy also titled Virtue Overcoming Vice) Plate 24 from series Divers Cabinets
c. 1780; after Jacopo Ligozzi (Italian, 1547-1627)
Etching and aquatint in brown and ochre ink, touched with gold leaf
Le Blanc 61; Nagler 59; Schwaighofer 36; Husgen 24
Inscription on recto l.l. "Ligozzi Del."; l.r. "J.T. Prestel. Sc."
Learn more about Maria Katharina Prestel's work 
from Museum Director, Judy L. Larson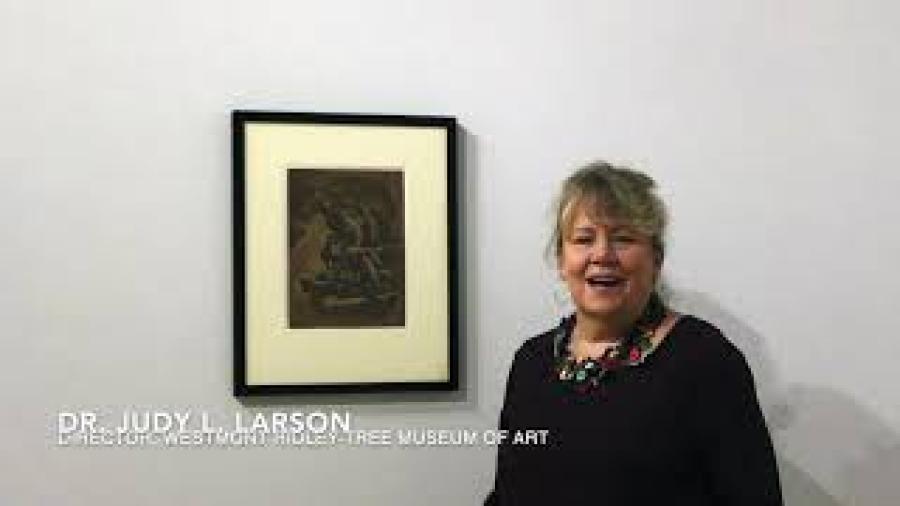 Maria Katharina Prestel (originally Maria Katharina Höll) was born in Nuremberg, Germany. She studied art with Johann Gottlieb Theophilus Amadeus Prestel (German, 1739-1808), and the two married in 1769. Together, they operated a publishing establishment for etchings and aquatints, most often copying paintings or drawings of old masters. Paul de Praun was a noted German collector of German, Dutch, and Italian old master drawings, many of which he purchased when his business travels took him from Germany to Italy. The collection was eventually housed in Nuremberg and Johann and Maria Katharine Prestel made several print copies after Praun's old master drawings. Truth Triumphs over Envy is likely copied from a drawing in the Praun collection,* which had other drawings by the Italian artist Jacopo Ligozzi.
The marriage between Johann and Maria Katharina was not a happy one; they declared bankruptcy, and she left him in 1786 moving with their four children to London. Here, she supported herself working for the publisher, John Boydell, making aquatints. Boydell's printing firm flourished in the 1780s due to a popular trend he had created in Europe for collecting facsimile prints of old masters' works. While other print publishers diversified with books, maps, and more, Boydell almost exclusively made reproductive prints, and was well known for printing beautiful aquatints. Prestel with her skills in aquatint would have been an asset to his business.   
The etching and aquatint Truth Triumphs over Envy was created around 1780, just before Maria Katharina Prestel left Germany. Johann's signature appears on the bottom of the print, but scholars have recently re-attributed it to Maria Katharina. The medium is unusual -- etching and aquatint printed in brown and yellow-brown ink with gold leaf enhancements. The print was made from two plates, one printed in brown the other in tawny yellow. Gold leaf has been applied to parts of the background and on the bodies adding an opulent, shimmery surface. The original design is after Jacopo Ligozzi, who was born in Verona and lived in Florence where he was one of the court artists to the Medici family. The original drawing is now in the collection of the Albertina Museum in Vienna. The composition is set among billowing clouds, which envelop a female and male. The character of "Envy" is epitomized as a bearded male on his knees; a hissing serpent is entwined around his legs and a mythical monster, mouth open, nestles next to him. "Truth" is represented as a female wearing a flowing garment; she steps on the male's hand while grasping his hair in her right hand; her left arm is raised as if to strike him. 
Maria Katharina Prestel's work as a printmaker was both successful and prolific. Scholars can identify more than seventy-three etchings of reproduced works by Dutch, German, and Italian masters. Her daughter, Ursula Magdalena Prestel, also became a successful artist; she lived and worked in Belgium.
Maria Katharina Prestel died in London in 1794.
-JL
*Praun's collection is described in Achilles-Syndram, Katrin and Stadtarchiv Nürnberg, Die Kunstsammlung des Paulus Praun (Nuremberg: Im Selbstverlag des Stadtrats zu Nürnberg, 1994).