Martha Ensign Johnson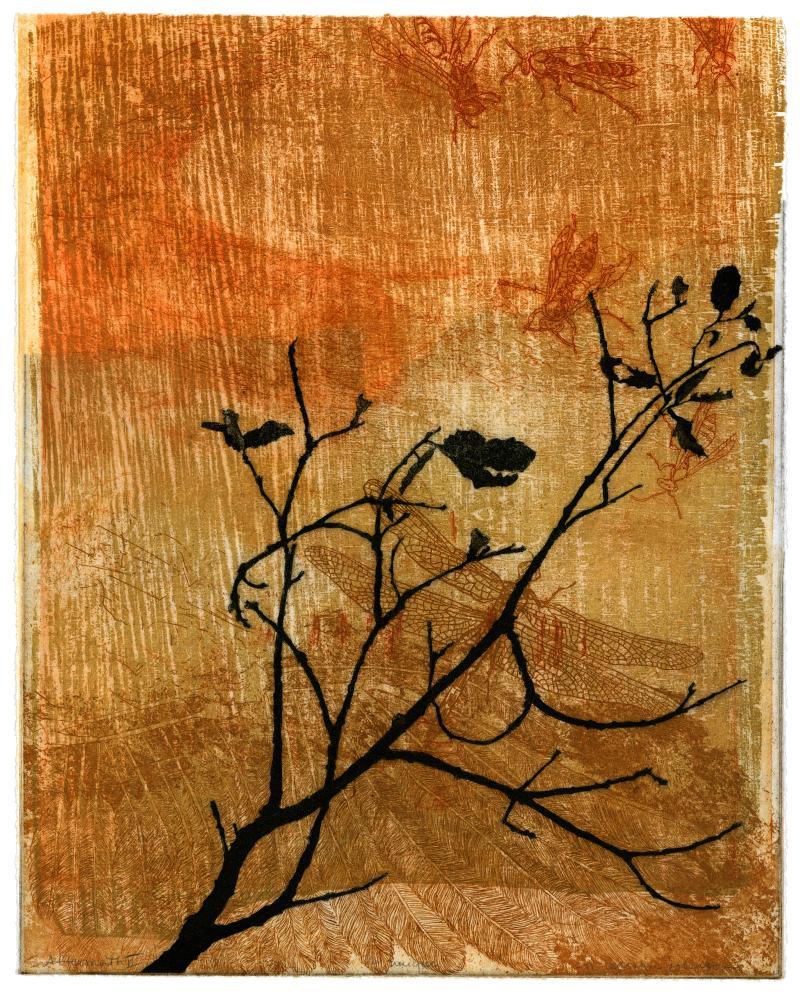 Martha Ensign Johnson (American, b. 1954)
Aftermath II
2012
Two plate etching on top of a wood block print
Inscription on recto l.l. "Aftermath II"; l.c. "1/4 unique"; l.r. "M. Ensign-Johnson"
 

Learn more about Martha Ensign Johnson's work 
from Westmont Art Instructor, Pecos Pryor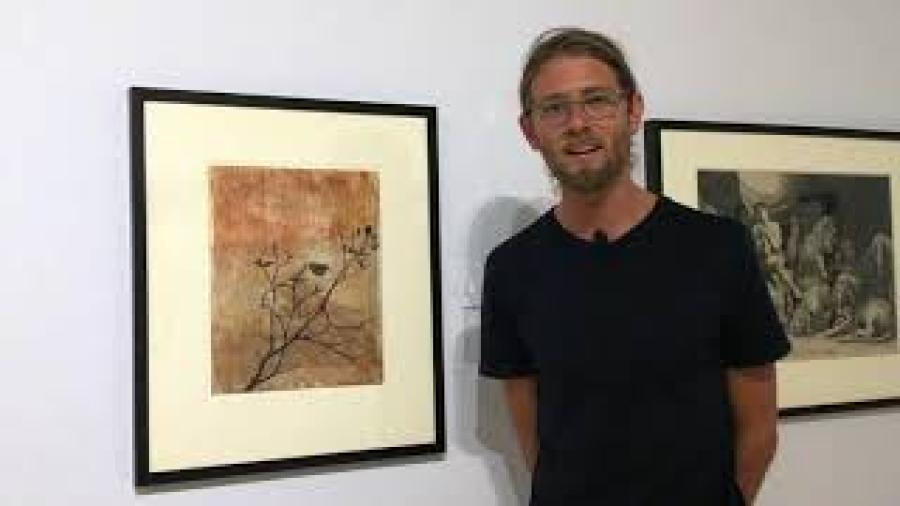 On November 13, 2008, a fire swept through the foothills of Montecito, California and into neighborhoods destroying homes and vegetation in over 1,900 acres of land. Martha Ensign Johnson's home and studio were in the path of destruction, but luckily, when the fire was only feet away from her home, the wind shifted direction. Her house, belongings, and artwork-filled studio were safe. Westmont College, a short five-minute walk from Johnson's house, was not as lucky, losing buildings, landscaping and fifteen professors' houses. Johnson was teaching at Westmont College at the time and in the months and years following the fire, she began to pick up bits and pieces of nature as she walked to her classroom. She was curious about how fire affects flora and fauna, claiming: "It was like a big kiln had been lit! Everything has dehydrated." The artist also noticed how quickly vegetation reappeared and birds and insects came back to the area. This restoration is what inspired Aftermath II.
Johnson drew the wings of a dead bird she had found; she drew bugs and insects, leaves and branches. She found a charred log…burned on the outside but still whole on the inside. A local mill cut a slab of that log and Johnson raised the grain in order to print the background of Aftermath II. She translated her drawings into etchings and printed ghosts – or lightly inked images of birds and bugs atop the wood block print. The graceful branch that falls across her print is more heavily inked and printed with full pressure. A quiet, contemplative attitude pervades the print as we, the viewers, meditate on what it is to experience a renaissance. The idea of regeneration has lingered in Johnson's work today. When Johnson retired from teaching, she moved from California to North Carolina and now studies the environmental impact of the human presence in her newly adopted state.  
Johnson grew up the daughter of a printmaker and her mother, Ruth S. Ensign, certainly was an inspiration for Johnson's own prowess in her much-loved mediums of etching and relief cuts. Johnson studied visual arts at Florida Presbyterian College (now Eckerd College), in St. Petersburg, Florida, but her most valued experience was an apprenticeship she did at Santa Reparata Graphic Art Center in Florence, Italy, with master printer, Giuseppe Gattuso (Italian, 1937-1985). Johnson taught at Northwestern College St. Paul (now University of Northwestern St. Paul) before coming to Westmont College. She works in etchings, relief woodcuts, and collagraphs.
-JL