Schelte Adamsz Bolswert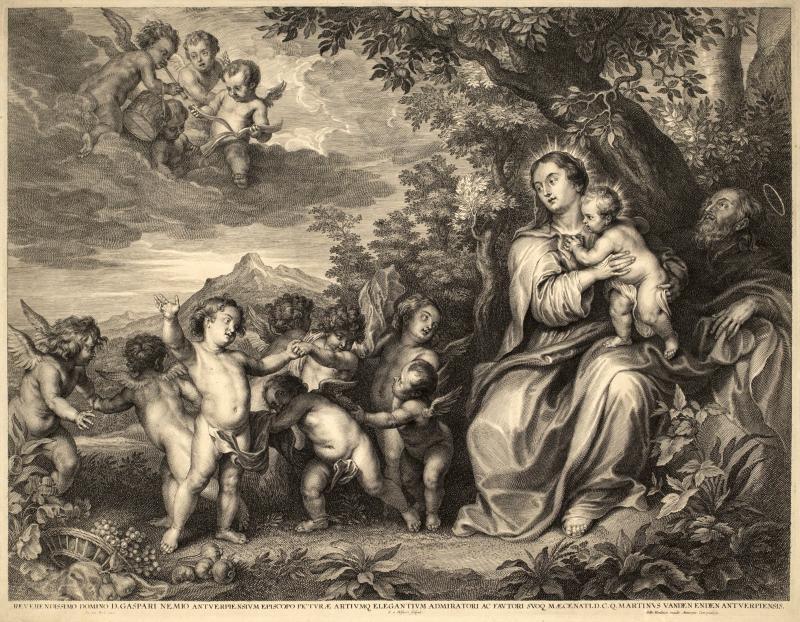 Schelte Adamsz Bolswert (Dutch, 1581-1659)
Rest on the Flight into Egypt
1650-59; after Anthony van Dyck (Flemish, 1599-1641)
Engraving
New Hollstein (Bolswert) 168; New Hollstein (van Dyck) 11
Inscription in margin l.l. to l.r. "REVERENDISSIMO DOMINO D. GASPARI NEMIO ANTVERPIENSIUM EPISCOPO PICTURAE ARTIUMQ ELEGANTIUM ADMIRATORI AC FAVTORI SVOQ MAECENATI.D.C.Q. MARTINUS VANDEN ENDEN ANTVERPIENSIS." l.l. "Ant. van Dyck pinxit."; l.c. "S. à Bolswert sculpsit."; l.r. "Gillis Hendricx excudit Antuerpiae Cum privilegio."
On verso l.c. collector's stamp: encircled "HB"
Schelte Adamsz Bolswert was a celebrated seventeenth-century Dutch engraver, who worked closely with both Peter Paul Rubens (Flemish, 1577-1640) and Anthony van Dyck. His older brother, Boetius Adamsz Bolswert, was also a well-known engraver, and the brothers worked closely throughout their careers. They began working in Amsterdam and Haarlem, before settling in Antwerp to evade persecution as Catholics. In the last five years of his life, Boetius exclusively worked on engravings after Rubens. Schelte took his brother's place in Ruben's studio, after Boetius' death in 1633. He continued to work solely with Rubens until the Flemish master's death in 1640.
 
Anthony van Dyck was Rubens' most capable student, and the two worked closely in the Flemish Master's workshop. Unlike his teacher, whose oeuvre varied between many different subjects, van Dyck dedicated the majority of his works to landscapes. His style was unlike most of his Northern contemporaries as he was partial to broad sweeps of paint and a free-wheeling treatment of line and wash. Bolswert was able to capture van Dyck's loose and unrestrained painting style in his engravings.
 
In Rest on the Flight into Egypt, van Dyck adds an expansive landscape to the composition while also demonstrating his skill with figures. Bolswert expertly creates a sharp linear structure and understated modeling, which give a meditative atmosphere to the print. His use of shading draws the eye to the Virgin and Child and the active cherubs. Joseph stands behind Mary, surrounded by the shadow of the tree.
 
In 1641, Anthony van Dyck died in London and was buried in the city's St. Paul's Cathedral. Schelte Adamsz Bolswert died in 1659 in Antwerp.
-TV