Sir Anthony van Dyck &
Lucas Vorsterman I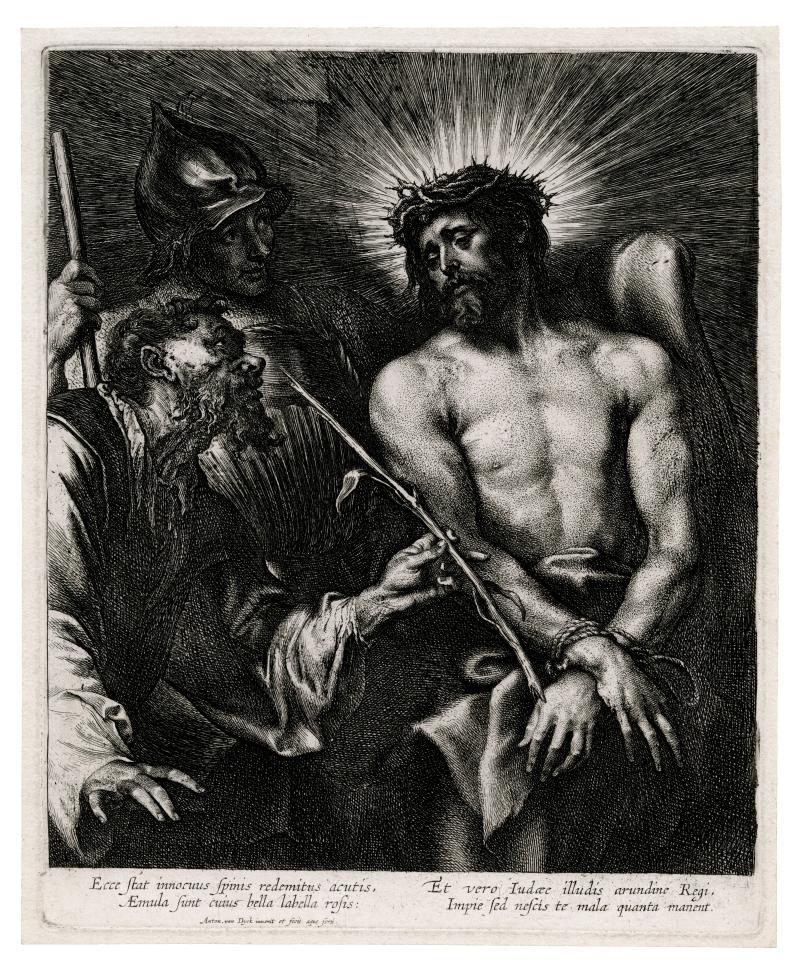 Sir Anthony van Dyck (Flemish, 1599-1641) and Lucas Vorsterman I (Dutch, 1595-1675)
Christ Crowned with Thorns -- The Mocking of Christ 
c. 1630
Etching and engraving
Hollstein 28; New Hollstein 519; Wibiral 68A; Mauquoy-Hendrickx 116A
Inscription in margin l.l. to l.r. "Ecce stat innocuus...mala quanta manent."; l.l. "Anton. van Dyck invenit et fecit aqua forti." 
On verso l.l. "50037"
Sir Anthony van Dyck was born in Antwerp, Belgium, the seventh child of a wealthy silk merchant, Frans van Dyck and his wife, the famous embroiderer Maria Cuypers. Van Dyck began painting at an early age, and by his late teens, he began working with Flemish master, Peter Paul Rubens (1577-1640). Van Dyck's artistic skills were so accomplished that many art historians consider Rubens and van Dyck collaborators rather than pupil and teacher.  
 
Lucas Vorsterman the Elder was a skilled engraver as well as an art dealer. He moved to Antwerp, Belgium, sometime before 1618 and began working as an engraver in Rubens' workshop where they developed a relationship so close that Rubens was the godfather of Vorsterman's eldest son. In 1622, their friendship came to a sudden end. The exact incident is shrouded in mystery and speculation, but Vorsterman left Rubens' studio and moved to England.
 
After Vorsterman and Rubens severed ties, van Dyck reached out to the engraver to collaborate with him on prints. The two worked as a team on many reproductive prints with van Dyck as the designer and etcher and Vorsterman the engraver. The two created many well-known prints, most recognizably, the portrait series, Iconography created in the late 1620s.*
 
Christ Crowned with Thorns -- The Mocking of Christ, is an example of van Dyck and Vorsterman's successful collaboration. The first state of four was a light outline by van Dyck.** The next three states have additional engravings by Vorsterman, which add detail and darken the plate with deeply incised, rich lines. 
Christ Crowned With Thorns -- The Mocking of Christ depicts a scene from the New Testament story of the Passion of Christ.*' A soldier and executioner share the scene with Christ as he wears a crown of thorns and is handed a reed, a mocking reference to his scepter as King of the Jews. The two men cruelly laugh at the sorrowful Jesus. The chiaroscuro technique is used to reveal the holiness of Jesus, as he is depicted in lighter tones with a white halo around his head.
 
The original painting of Christ Crowned With Thorns -- The Mocking of Christ is currently in the collection of the Art Museum at Princeton University. 
-OR
*Van Dyck's Iconography publication contains a series of portraits of one hundred famous nobles, scholars, and artists. Fifteen plates were done by van Dyck and the rest by nine other printmakers. The plates were often reprinted over the following 400 years. 
**The first state with pure etchings by Anthony van Dyck is known in only two impressions -- one at the British Museum, the other is at Chatsworth.
*' See Matthew 27:27-30.