Westmont Initiative for Public Dialogue and Deliberation
Mission
We are a Westmont College initiative that works with neighbors to speak and listen well together about challenges facing the Santa Barbara community for our common good and human flourishing.
Vision
The Westmont Initiative for Public Dialogue will:
Equip students to effectively facilitate community dialogues that invite greater understanding. 
Promote the Common Good, especially in the Civic Square, via Dialogue and Public Discussion
Support Citizens Seeking to Participate in Our Democracy
Facilitate Discussion to Tackle "Wicked Problems"
Engage Community Partners in Framing Issues Well
Cultivate Human Community Through Healthy Conversation and Careful Listening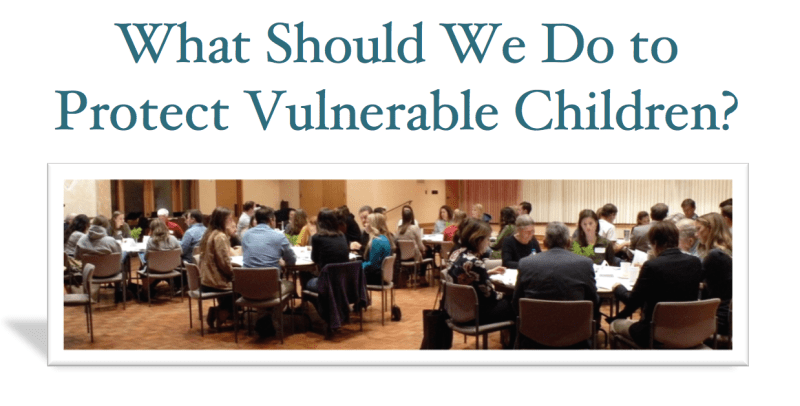 In April 2018, nearly 50 community members gathered to discuss what we might do to protect vulnerable children in our community, focusing on children in need of foster care.  We worked to gather a cross-section of community members with interest in this topic and asked participants to discuss priorities in helping vulnerable children. Here is some of this group learned, expressed, and concluded.
Many participants felt that California, in general, has a better system for helping vulnerable children than many other states, although there were key areas that community members felt needed work to better care for vulnerable children and their caregivers in Santa Barbara County. 
The most often mentioned areas needing attention and improvement included the need to support resource parents and families materially, emotionally, and spiritually; the need to educate the community more broadly as to the nature and needs of the foster care system; the need to increase inter-organizational cooperation and reduce silos, such that non-profits, faith communities, and county agencies coordinate their work and share information; the need to make an overall strategic plan to best serve the needs of vulnerable children, incorporating the various organizations already working on different ends of this issue; and recruit more resource parents and families to care for vulnerable children.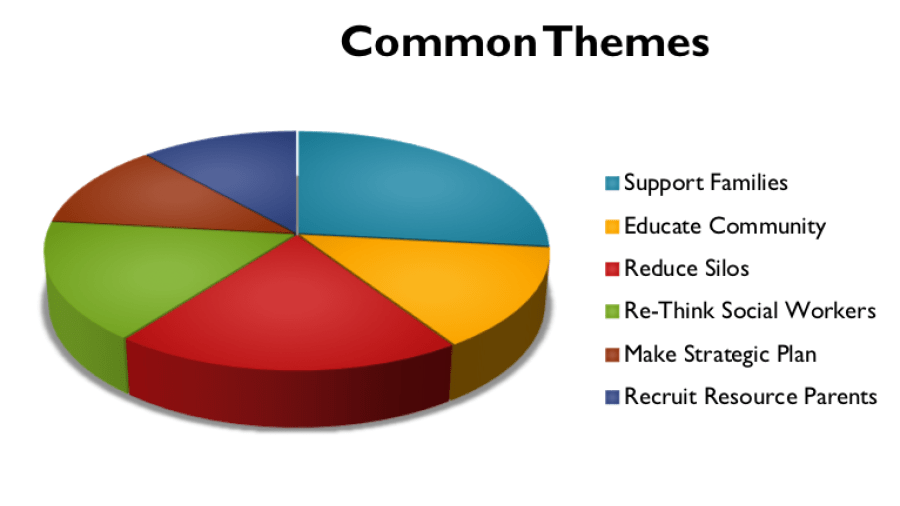 When asked to identify the way forward, several participants mentioned the need to recognize that many issues facing Santa Barbara County are interconnected, including homelessness, addiction, vulnerable children, special education in classrooms, Headstart programs, and county and city budgets.  Participants seemed to agree that supporting children in loving homes and transitioning well into adulthood reduces adult homelessness, addiction, and chronic unemployment.  Perhaps more importantly, participants emphasized the need to provide children with care as the fundamental job of communities.  Participants also recognized the inherent tensions in trying to best serve the needs of children, birth parents, kinship parents, resource parents, and the larger community.  What is best for one may not be best for another.  Nevertheless, most participants agreed that all family members need greater support to reduce trauma and provide for needs that go beyond food and shelter, ranging from special education to specialized training.  Finally, participants noted that there are roles to play for the County, for faith groups, for nonprofit agencies, and voluntary organizations.  For the sake of our children as well as our overall community health and fiscal responsibility, all need to come together for master planning, moving beyond isolated silos.

Our fall event for the Westmont Initiative for Public Dialogue and Deliberation (WIPDD) focused on the issue of immigration in Santa Barbara County. Using the National Issues Forum guide "Coming to America: Who should we welcome, what should we do?," WIPDD facilitated a unique civic discussion about the state of immigration in our region. We chose to feature immigration due to its current political resonance and because our region hosts a significant Latin American immigrant population. Sixty people participated in the November 1 deliberation, hosted at the Karpeles Manuscript Library in downtown Santa Barbara.
Westmont students served as facilitators and notetakers at eight-person tables. By creating space for citizens and neighbors to reflect diverse perspectives, to rank things they held valuable differently, and to forge some common ground out of political shrapnel, students put what they learned into practice. As one student sagely observed, "No matter how book prepared and experienced we were with practice runs, being with real people who have real stakes in the issue was a completely different experience."
Indeed, the conversations certainly weren't easy. The challenge of bridging divides between discrete values systems was immediately apparent, even as the purpose "was not to solve the wicked problem of immigration, but to hear one another," in the words of one student facilitator. The subject matter added intensity; we expected that the vast majority of our participants would bring a pre-existing opinion of some sort to the conversation. As expected, many of the tables hosted people with entrenched political views and alliances. Some even came with vivid personal stories that informed their sense of the best way forward. This event uniquely demonstrated the benefits of the deliberative model, especially when considering the ways in which participants worked to cross barriers of race, class, and political orientation to listen intently to each others' views.
Dr. Deborah Dunn - Director
Deborah Dunn earned her Ph.D. and M.A. in communication arts and sciences from the University of Southern California. Her BA is in speech and communication with an emphasis on social movements from San Francisco State.  She came to Westmont in the Fall of 1997, was awarded Teacher of the Year in 2008, and has led seven summer study abroad programs on conflict, memory, and pilgrimage to Northern Ireland, South Africa, Germany, Israel/Palestine, and the Camino de Santiago in Spain.  Her research and teaching focuses on grassroots peacemaking organizations, dialogue, and transforming conflict. She also co-directs the Westmont Initiative for Public Dialogue and Deliberation.
Dr. Rachel Winslow - Director
Rachel Rains Winslow is Associate Professor of History at Westmont College, Director of Westmont's Center for Social Entrepreneurship, and Co-Director of Westmont's Initiative for Public Dialogue. She is the author of The Best Possible Immigrants: International Adoption and the American Family (University of Pennsylvania Press, 2017). Her current research explores the political culture of bureaucracy in the transnational United States throughout the nineteenth and twentieth centuries. Dr. Winslow also serves as a fellow with the Kettering Foundation, working on the intersection between historical deliberation and civic participation as a way to engage students in democracy. Her teaching, research, and community work bring together her interest in U.S. social policy, social change practices, and American political culture. 
Dr. Elizabeth Gardner - Faculty Fellow
Elizabeth Gardner graduated from Houghton College and earned a master's degree and doctorate in communication at the University of Maryland, where she was the managing director of the Oral Communication Program for three years before joining the Westmont faculty in fall 2016. In 2017 she received the American Society for the History of Rhetoric's Outstanding Dissertation Award. Her dissertation research examines the process of social change in an anti-child labor campaign in the early 1900s.
Kayla Petersen - Program Coordinator
Kayla is a recent graduate of Westmont, earning a BA in Social Science in May of 2020. As a student, Kayla participated in Westmont Downtown the Fall of her junior year. Senior year, Kayla participated in WestHUB to develop her Major Honors project:  a deliberative approach to discussing abortion in church contexts. As the Program Coordinator for Westmont Initiative for Public Dialogue and Deliberation, Kayla helps cultivate relationships with Executive Partners, and assists Dr. Winslow in the development of course materials.