Westmont Magazine New Programs in Music, Film Studies and Writing Give Students More Choices
Westmont continues to innovate and respond to students' interests by adding new programs and more choices that fit well with the liberal arts and prepare graduates for a variety of careers.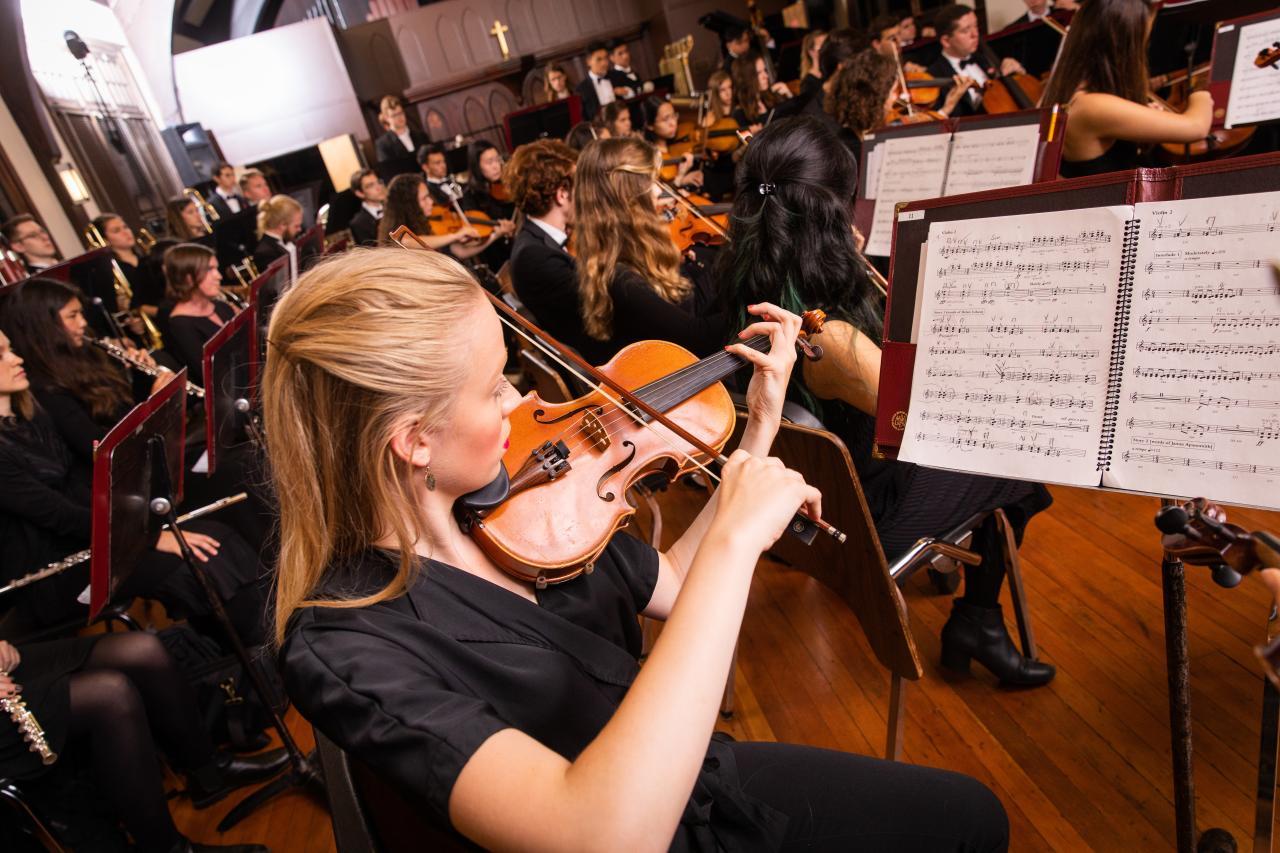 Music students focused on performing can earn a Bachelor of Music once the National Association of Schools of Music approves the program. Beginning in fall 2019, two new minors, film studies and writing, will allow students to expand their studies and develop the digital, visual and communication skills required in the workplace. 
The music degree builds upon six years of significant improvements in the curriculum, including new programs in music education and worship leadership. "Students in the Bachelor of Music program will likely focus on performance, and their presence will enhance the choir, orchestra and other ensembles that represent the college to the public," says Westmont Provost Mark Sargent. "These ensembles have risen to significant new heights in the last decade." The substantial requirements for the major (80 credits) include units from a variety of disciplines—modern languages, theater, kinesiology, physics and mathematics— to help musicians develop as well-rounded people. 
The film studies minor will appeal to students interested in creating film as well as those who seek to study it. "Film is one of the foremost art forms of our time and part of a global language that teaches us about other peoples and cultures," Sargent says. "I can envision some students completing the minor and pursuing work in the film industry; I can just as readily see others pursuing the minor because filmmaking skills and visual literacy are assets in many careers. And I hope some take it because of their genuine love of cinema as art." 
Students will work collaboratively on concepts, storyboarding, storytelling, pre- and post-production, and public presentation of their work. A variety of departments, including theater arts, communication studies, English, religious studies, and political science, will offer courses. 
"The film studies minor will strengthen Westmont's presence in the Santa Barbara community and with our global initiatives," Sargent says. "Our students are extraordinary and of high caliber, and we expect that many of them will learn new ways to bring their stories and Christian liberal arts visions to a broader audience locally, nationally and globally. Santa Barbara has a rich historical connection to the film industry, including the annual Santa Barbara International Film Festival, and I look forward to regularly showcasing Westmont's talents and sensibilities in this highly visible locale." 
The new minor in writing will appeal to a wide variety of students who desire to supplement their major by cultivating writing skills. The 20-unit program requires work in language study and advanced composition and grammar with electives drawn from art, communication studies, English, history and theatre arts. Practica include work on the Horizon, the student newspaper, the Phoenix, the student literary, art, and music publication, or an internship. Students may also receive credit for undertaking a Major Honors writing project in their field.