Guiding Low-Income Students to College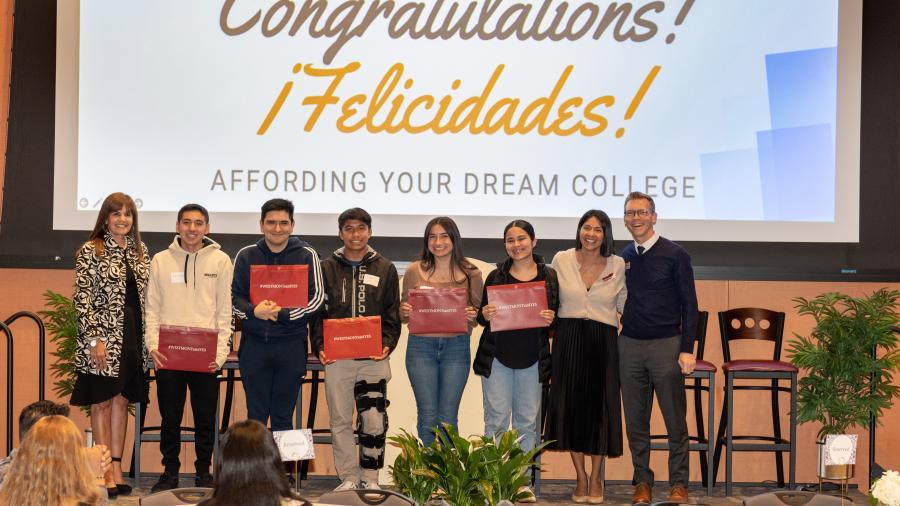 Westmont hosted a community event with education and financial representatives exploring the best ways low-income students can fund a college education on Nov. 15. About 100 underprivileged high school students and their families attended "Affording Your Dream College," which was held in partnership with several county education initiatives.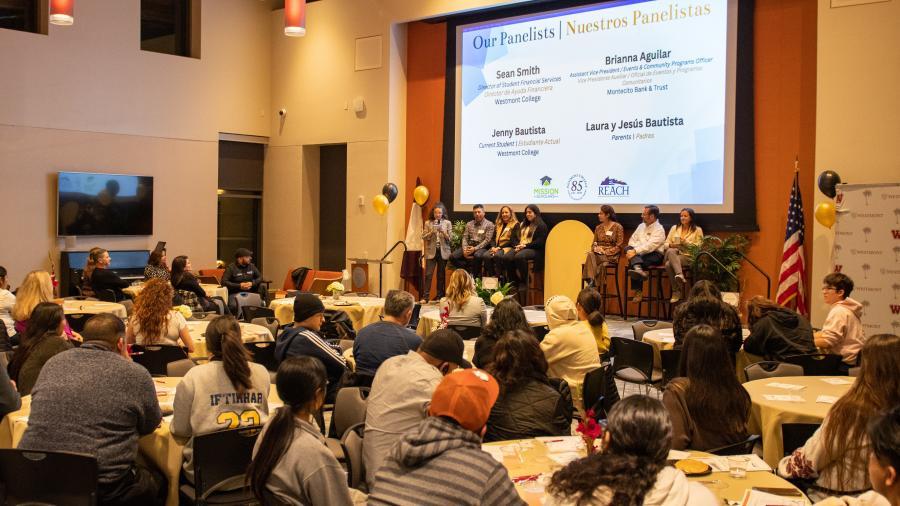 "Education is the most powerful and transformative tool that helps shape the future and change the lives of communities," says Irene Neller, vice president for enrollment, marketing and communication. "Formal education is about gaining the knowledge and life skills to become a better person, which then creates a better society. We all want to become the better versions of ourselves and education is the means of life-changing experiences. But we also know that for many local families, affording a college degree can seem daunting. This partnership addresses affordability, opportunity, so we can inspire students to dream big with great hopeful realities."
Speakers included Sean Smith, Westmont director of financial aid, Brianna Aguilar from Montecito Bank and Trust. Both offered expertise and advise on the many ways one can pay for college. The evening included representatives from Resilience, Education, Adventure, Community and Health (REACH), Program for Effective Access to College (PEAC), and Mission Scholars.
REACH is a two-and-a-half-year fellowship for students in Santa Barbara County that prepares students to take control of their future. REACH is able to work with students as they transition from high school to college and provide resources and community partner connections to make the best informed decisions. By combining academic and outdoor components, REACH supports students through the SAT/ACT process, college applications and the transition of their first year of college. They also get the opportunity to learn life skills through outdoor activities.
PEAC is a college readiness and access program to help close the achievement gap and change the trajectory of low-income, first-generation college students. PEAC provides a system of academic and social-emotional support to guarantee students are prepared to enter a university.
Mission Scholars uses comprehensive college admissions guidance, mentorship, and career development training to help low income students reach their full potential and become a change in their communities.
During the event, five students received their admission to Westmont, including four Augustinian candidates, a select group of students from around the world who will compete for scholarships worth 85 percent of tuition.
"I loved seeing our local families gather together for a night organized for their students in mind," says Araceli Espinoza, Westmont guest and campus relations manager. "This type of event helps students and parents with financial college preparation to establish a strong financial foundation.  A strong foundation is crucial for our students to reach academic success that can establish a generational change for many of these families.  The entire event was filled with purpose, but admitting five students to Westmont, and seeing the smiles and tears from the audience made the event a night to remember."