High Schoolers Compete at Math Field Day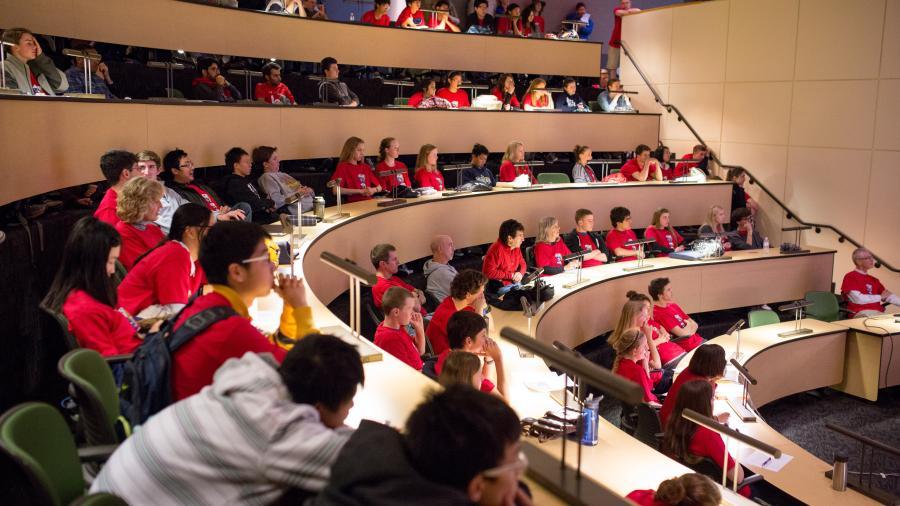 Westmont's 33rd annual Mathematics Field Day, featuring seven Southern California high schools, is Saturday, Feb. 12 from 1-5:15 p.m. in Winter Hall. The awards banquet begins at 5:30 p.m. in the Global Leadership Center. The event, co-directed by Westmont mathematics professors Anna Aboud and Russell Howell, features student teams from Cate, Dos Pueblos, La Cañada, Oaks Christian, Providence, San Marcos and Santa Barbara.
This year the Chalk Talk, a 10-12-minute presentation, is about recursion relations, an equation that expresses each element of a sequence as a function of the preceding ones.
"Communication is an important part of mathematics," Howell says. "Each school selects a student to prepare their talk beforehand. We hope that this event will be viewed as an opportunity for learning by all the students, regardless of whether they are the presenters. It should also be a lot of fun!"
The Field Day also features the annual College Bowl competition complete with buzzers, modeled after the 1960's TV show, College Bowl.
Howell will also be giving a short presentation at the awards banquet with a prize given to the first five students who can correctly identify the meaning of the acronym RAM in the title of his talk, "RAM and Recursion."
About 20 Westmont students will help run the various activities. Outside guests are welcome to attend if they have had a negative COVID-19 test within three days of the event.
For more information, please visit: https://classic.westmont.edu/_academics/departments/mathematics/mathematics-field-day/
---
Filed under
Press Releases
,
Student Stars
,
Faculty and Staff
,
Campus Events