'Kitty Hawk' Ushers a Return to Live Theater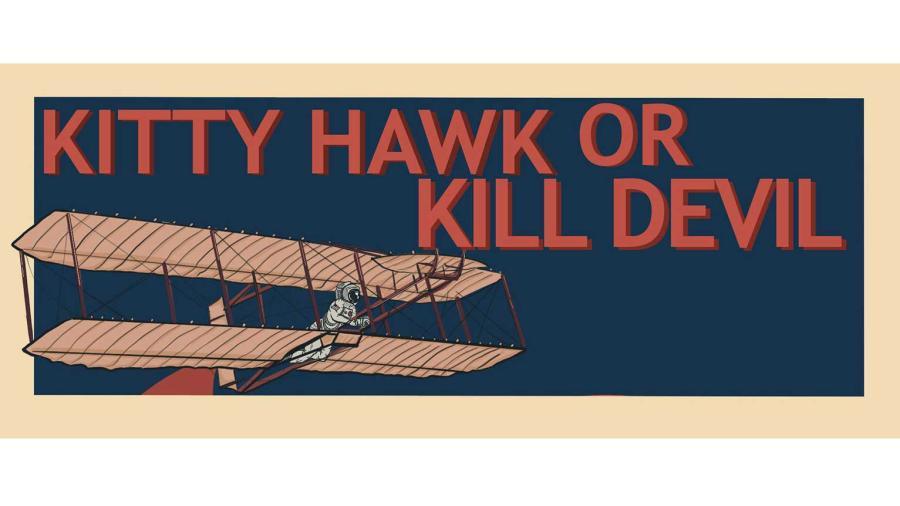 The Westmont Festival Theatre returns for the first time since March 2020 to stage a new play, "Kitty Hawk or Kill Devil," which explores what it means to live in proximity to greatness, October 22-23, 28- 29, 30 at 7:30 p.m., and Saturday, October 30 at 2 p.m., all in Westmont's Porter Theatre. Tickets, which cost $15 general admission and $10 for students, are available online at westmont.edu/boxoffice. The play contains passionate language by Ohioans about Ohio. Suitable for ages 13 and up.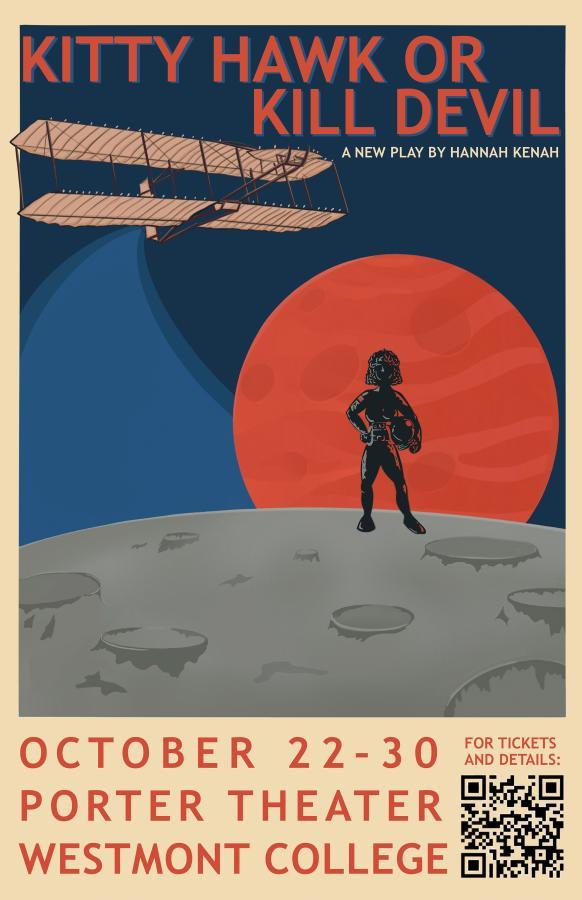 The theater is requiring evidence of COVID-19 vaccination or a negative test within 72 hours of the show for all patrons who are not current students, faculty or staff. All guests will be required to wear masks at all times when inside campus buildings. All performers will be unmasked for the performance and are taking part in approved county-mandated vaccination and testing protocols for performance.
Hannah Kenah wrote the new play, a comedic foray into the history of flight, featuring the Wright Brothers, the crew of Apollo 11, and a semi-fictional multi-generational family from Ohio where aviation was born. Diana Small, Westmont adjunct professor of theater, directs the production.
Small was in the audience when Kenah read a portion of "Kitty Hawk or Kill Devil" at her graduation from the Michener Center for Writers (MCW) at the University of Texas, Austin, in 2019.
"She's an incredible actor and director as well as a writer," Small says. "She silenced the room with her reading of a speech by astronaut Michael Collins. She filled the room with the sadness that comes from honest hope because to hope in something incredible will require loss. We must leave behind some things each time we forge ahead. We're all always forging ahead, and we've all felt that especially during this global pandemic."
When Collins died in April, Small introduced the play to her students at Westmont in her Writing for Performance class. "I invited my students to read a scene in honor of this great astronaut," Small says. "It then became clear how many of the themes in this play speak to our present moment and would be the richest opportunity to welcome our students and audiences back into this theater."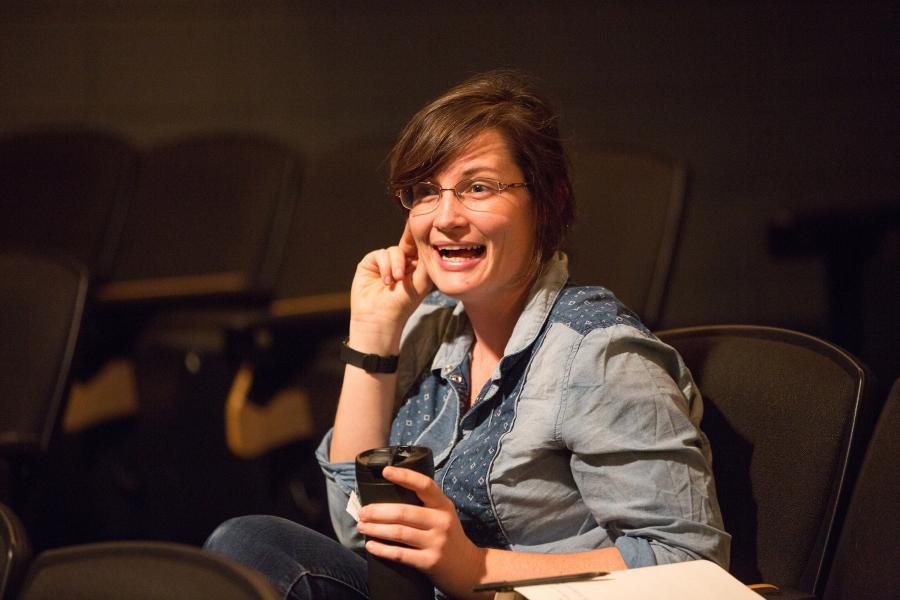 Small, who graduated from Westmont in 2009, earned a Master of Fine Arts in playwriting from the MCW and a Master of Divinity from Austin Presbyterian Theological Seminary. She is a company member of Salvage Vanguard Theater (SVT) in Austin and served as an interim artistic director from 2017 to 2019. During the 2018-19 SVT season, she directed the world premiere of "Tryouts" by Adara Meyers and the regional premiere of Anne Carson's "Antigonick," which earned six Austin Critics Table Award nominations.  Her new play "Oh, Thank You" was developed at Berkeley Rep's The Ground Floor in 2017 and premiered in Santa Barbara in September 2021.
The play features student cast members Emiliana Brewer, Megan Bowman, Bella Chiolero, Alaina Dean, Annika Hauser, Rachel Herriges, Landon Moir, Maegan Randolph, Luke Spicer, and Ashley Vanyo.
"Every student has had the opportunity to stretch themselves and take ownership of the work," Small says. "It has been a buffet of opportunities to explore the range of human experience: love, betrayal, curiosity, loyalty, rejection, compassion and courage."
Kenah, a playwright, performer, director and devised theater artist, has been developing original theatrical performance for two decades, primarily with Rude Mechs and Salvage Vanguard Theater. She wrote "Field Guide," which premiered at Yale Repertory Theatre, and "Now Now Oh Now," which toured nationally. She performed in the national and international tours of "The Method Gun." Many of her plays have been finalists and semifinalists for national and regional awards. She graduated from Dartmouth College, earned an MFA from MCW and a certificate of physical theater from Dell'Arte International.
---
Filed under
Featured
,
Arts at Westmont
,
Press Releases