Westmont Becomes an All-Steinway School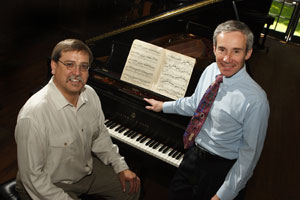 Westmont has joined a very select group of colleges and universities dedicated to providing the finest equipment for its musicians. The college purchased 20 new Steinway pianos through an anonymous $350,000 gift, making Westmont one of only two four-year liberal arts colleges in California to be an All-Steinway School.
"This makes a real physical statement about how serious we are about the music program at Westmont," says Michael Shasberger, Adams professor of music and worship. "We are committed long range, because this investment is a lifetime investment. With this program we will never have anything but the finest quality instruments for our students to practice on."
Shasberger is in his first year in the Adams chair, established to enhance the music program at Westmont and increase its impact on the Santa Barbara community. The Santa Barbara Symphony plans on using Westmont's concert grand piano during its 2006-2007 season.
"My hat is off to Westmont and its visionary leaders and supporters for making this ambitious statement about the vitality of the performing arts in our special community," says John Robinson, executive director of the Santa Barbara Symphony. "This news makes me wish I could be a high school senior again, looking for a perfect college with a great faculty and lots of Steinways."
Westmont also has a $1 million commitment for music scholarships. The 20 new Steinways will arrive in June, joining the two Steinways already in use on campus.
"For a music student, it's every bit as important as having a world class telescope for astronomers to look through," says Shasberger, referring to Westmont's new state-of-the-art telescope expected to arrive in mid-June. "If you have a great instrument to play, you have a chance to achieve excellence."
On its Web site, Steinway describes All-Steinway Schools as those which "demonstrate a commitment to excellence by providing their students and faculties with the best equipment possible for the study of music."
Pomona College in Claremont is the only other four-year liberal arts college in California to be an All-Steinway School. Two California community colleges, De Anza College in Cupertino and West Valley College in Saratoga, are also on the list.
"Westmont can now be identified as a college that can offer its students and faculty the finest piano equipment made and insure that future generations will also enjoy this gift for many, many years," says Steve Likens, general manager of Fields Pianos, Home of Steinway. "Westmont has created a legacy for the study of piano that will outlive us all."
Westmont will be selling its 22 non-Steinway pianos to make room for the new pianos. The general public will have an opportunity to purchase the pianos beginning Monday, May 8.
For more information about the sale of the pianos, please contact Karna Humbert at (805) 565-6040.
---
Filed under
Arts at Westmont