Degrees & Programs Biology
Dig deeper into the natural world as you explore living systems and human life in the lab and the field.
Work closely with Christian professors who introduce you to creative and rigorous scientific investigation in a classroom that includes the mountains, the coast and the Channel Islands. Through coursework and independent research, you learn laboratory techniques and field methods. You may even conduct advanced research with faculty and fellow students. Professors integrate biology and faith and discuss issues related to science, ethics and culture. Rigorous study combined with personal attention prepares you for rewarding and challenging work in the lab and the environmental, biotech and health fields.
Biology Faculty Highlights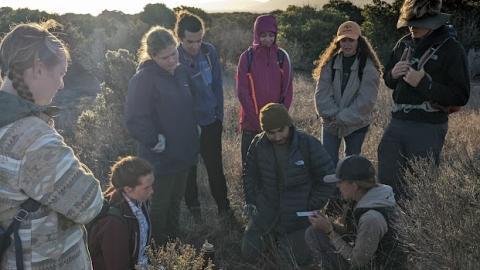 Students Conduct Research on Santa Rosa Island
On a field trip to Santa Rosa Island in October students in Environmental Ethics and General Ecology classes conducted research, and worked to support the Cloud Forest Restoration Project.
Staying at the CSU Channel Islands Research Station, the students (and faculty Amanda Sparkman and Stephen Zylstra) researched dwarf alligator lizards, and assisted the Cloud Forest project by gathering toyon seeds, and by making "fog hats" that help plants capture moisture when the island's cloud cover rolls in.
Students also explored the island, and enjoyed a dark night sky, far from city lights and complete with Milky Way!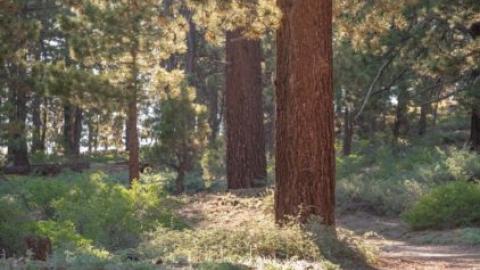 A Call to Defend Los Padres National Forest: TBA, November '22.
The Los Padres National Forest spans nearly two million acres of California's central coast region. It's a haven for wildlife, outdoor recreation, clean water, and diverse forests that sequester carbon, but it's facing a grave and imminent threat: planned logging and chaparral removal across 238,000 acres of forest land.
                       Come and hear how you can get involved in this epic struggle                          Lecture is to be rescheduled - new date will be announced shortly.
Los Padres ForestWatch is rallying local organizations and residents to defend this vital element of our region's ecosystem. Executive Director Jeff Kuyper will share stories from the front lines of one of the leading conservation organizations in our region, and talk about what you can do to help.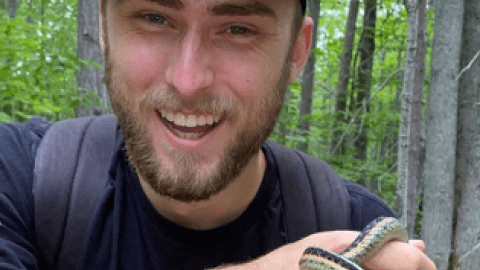 Biology Senior Named First Author in Publication
Ever wonder where your studies might take you?  For Senior Biology major Alex Rurik and his fellow researchers, their studies took them wherever snakes and lizards might be hanging out. And one exciting result of their fieldwork is an article now published in the journal Diversity, on which Alex is named first author! Kendra Dayton '21 and Seth Wilmoth '21 are co-authors, as is Dr. Amanda Sparkman.
The article focuses on the impact of urbanization on reptiles such as the Western Fence Lizard. It's a timely subject, given the challenges to ecosystems posed by rising human populations and climate change. One of the study's findings is that urban-dwelling lizard populations do well in parks, low-density residential areas, and areas with rock cover. So, the next time a lizard darts across your path, check out what cover they're making use of. Start your own research!
Meanwhile, congratulations to all these published researchers, and especially to first author Alex Rurik!
Article linked here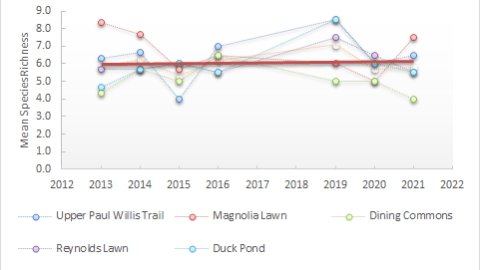 Bird Species Richness is Holding Steady at Westmont
Almost every Autumn since 2012, Dr. Amanda Sparkman and her General Ecology students have been investigating Westmont's bird populations, by conducting bird surveys at five different locations across campus. At dawn. 
And unlike so much that we hear about the environment these days, this news is good: Westmont's birds seem to be doing pretty well, with no evidence of declines in species richness (number of species).
The students have benefited as well: they've encountered 38 of Westmont's 110 documented bird species, and learned fundamental methods for analyzing changes in species richness and diversity over time.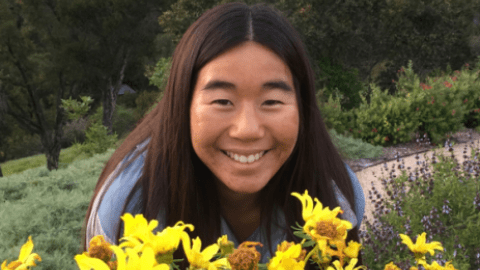 Local Restoration Ecologist studies the plight of California wetlands
Restoration Ecologist Joanna Tang shared research on California's critically important vernal pool wetlands.
With only 5% of vernal pool habitat remaining, restoration will play the primary role in preventing the extinction of these wetlands. Despite this need, fundamental studies of their restoration ecology are limited, especially in SoCal. Do we understand ecosystem composition, mechanics, and dynamics well enough to conserve and reconstruct this vital part of our local ecosystem? Tang's research uses Southern California vernal pools as a case study for testing and expanding our knowledge of ecological theory, addressing the urgent need that confronts us.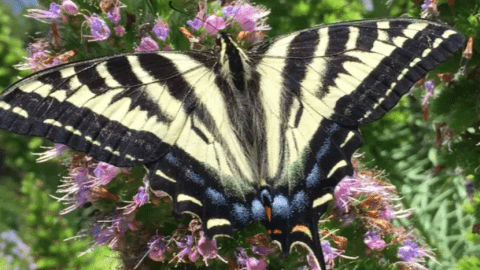 Bio Department Launches Biodiversity Website
The human population of Westmont comes and goes with the academic calendar, but the campus is a year-round home to countless other occupants, and many of them go unnoticed. Once you know where to look, however, the fascinating array of Westmont's wildlife is there to be discovered. 
In celebration of these wild neighbors of ours, the Biology department has launched the Westmont Biodiversity website, housing a growing collection of photos, videos and audio recordings. Watch a bobcat creep along the edge of campus...learn what a Phoebe sounds like and where you might see one...see how small a Small Pointed Snail actually is!
See Westmont through new eyes at www.westmontbiodiversity.com!  If you have material to contribute to the website, contact Dr. Amanda Sparkman.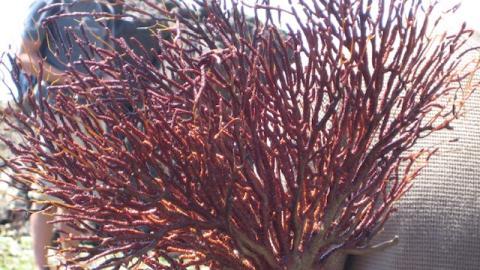 Professor publishes monograph on Gorgonian Corals
Beth Horvath has seen the publication of her large monograph on Gorgonian corals. It was published by ZooKeys as a Special Issue, #860, comprised of three separate articles in the one issue, and went public and on-line on July 4th—a unique form of Independence Day! As a result of this work, Beth is also listed as a co-author on the 2019 revised NOAA West Coast Deep-Sea species list.
Career Paths
Teaching (primary, secondary and college)
Health sciences (M.D., P.A., nurse practitioner, D.O., dentist, chiropractor, pharmacist)
Public health (epidemiology, policy, education, research)
Forensics
Museum sciences
Wildlife biologist
Park ranger
Ecology and conservation biology
Biotechnology
Genetic counseling
Environmental policy and law
Sustainable development
Veterinary medicine
Pharmaceutical industry
Agriculture
Environmental consulting
Environmental education
Intellectual property/technology law (J.D., L.L.M.)
See career paths for graduates who majored or minored in biology at Westmont.
Biology Alumni
Anthony Waldrup '11 works as a Watershed Restoration Project Manager in SW Washington state. "I absolutely love it" he says. "I'm able to collaborate with farmers, timber owners, local community members and others on projects that improve watershed health & function." Such projects include  planting native riparian trees and shrubs, installing engineered log jams in rivers for fish habitat, and implementing beaver dam analogues to improve water/sediment retention. "I feel like my liberal arts education at Westmont really helped prepare me for this role that involves dialogue across multiple industries with a wide diversity of stakeholders."
Aaron Wilk '16 graduated with a triple major in chemistry, biology and music. He writes "I'm currently an MD/PhD student at Stanford, studying Immunology. This year my work has pivoted completely to studying COVID: specifically what makes a good vs. bad immune response to COVID, and developing ways to turn a bad one into a good one. Still pursuing a career as a physician-scientist, I'm hoping to run a research lab in academic medicine while also seeing patients."
Mari Freitas '18 is currently working at the University of Minnesota while studying for her Masters in Public Health in Epidemiology. A TA at the University, she has also been hired at the Minnesota Dept. of Health to work on infectious disease studies. She says: "I wouldn't be here without the support of my professors at Westmont, especially Dr Julio and Dr McQuade, who inspired me to pursue a degree in epidemiology."
Katie West '18 graduated from Idaho State with a Masters degree as a Physician Assistant. She is now living in Boise and working in Dermatology.
Stephen Howe '15 defended his PhD in Biomimicry and Biomechanics this year - over Zoom! - at the University of Akron. "I studied fish swimming behaviors; specifically how fish turn."
Clare Moore '16 is doing her Family Medicine residency at Loma Linda University. "I'm working with people of all ages, from newborns to elderly. I love it!" She'd love to talk to college students who are interested in medicine.
A specialist in the narrow field of radiation oncology, David Bush '86 treats cancer patients from around the country. He works as a physician and professor at Loma Linda University Medical Center in Loma Linda, Calif., which has pioneered the promising technology of proton radiation therapy. He contributes valuable research about this form of treatment, seeking ways to help heal people with cancer.
Sarah Bryan '13 completed medical school at St. George's University in the Caribbean, and is now doing her residency in internal medicine at MountainView hospital in Las Vegas. "I'm likely going on to pursue an emergency medicine fellowship after this," she says.
After finishing medical school at Loma Linda, Ben West '15 came back to Cottage Hospital in SB for internship and is now an Ophthalmology resident at UC Davis. "One of the highlights of the past few years was getting to go back to Ensenada with Potters Clay and help out the Med/Dent team! I am still so grateful for my time at Westmont and I hope everyone in the Bio department is doing well."
Kaitlyn Lewis '14 graduated with her Masters in Medical Science and is currently working in LA as a Physician Assistant, engaged in COVID testing among low-income city residents. 
After graduation, Brandon Coble '14 taught with Catalina Environmental Education Program (CELP) and with LA County Arboretum & Botanical Gardens. "With CELP I took students of all ages on ecological adventures, to teach them about the environment and how they could live more sustainably. Many had never been in the ocean before, so it was a fun challenge for me and them to go snorkeling, kayaking, and see what God's creation holds." Nowadays Brandon uses his chemistry and general science background in his work at CalPortland Cement, where he manages a lab. He & his team are developing specialty concrete mix designs for high-profile projects in the LA metro area (think LACMA and LAX). Brandon adds: "I am thankful daily for the well-rounded education I received at Westmont, which gave me the tools to grow."
Erin LeVoir '15  is completing her third year of medical school in New Orleans, having done years 1 and 2 in Queensland, Australia. "I moved to New Orleans at the beginning of 2020, just in time to escape the Australian fires and jump right into the COVID-19 pandemic," she says. "Navigating a pandemic from this perspective has been fascinating and challenging." After discovering a love for "all things brain-related", she will apply for residencies in neurology after getting her MD in 2021.
Mark Duncan '10 works as a hospitalist at the University of Colorado Hospital, where he is now an Assistant Professor. "I get to do a fair amount of teaching," he's glad to say. 
Stephen Avila '14 hopes to complete his MD and business concentration in May 2021, at which time he'll head from Indiana U back to Santa Barbara to get married! "I'm going into neurology and currently doing some Moyamoya disease research and some business consulting for ENT clinics on the side." He hopes to do his residency in California so as to be near his father who has made a full recovery from invasive Stage IV cancer. Currently  enrolled in pharmacy school at USC,
Macy Gipson '19 plans to earn her doctorate in Pharmacology over the next four years.   She is concurrently working on her Ph.D. in pharmacogenetics, which will take an additional three years, so she can practice as both a pharmacist and a scientist.
Mary Elizabeth Heard '18 is working on a women-focused social enterprise that she started in a small southern village in India.  She is also researching different sustainable agricultural methods that have been used to create job opportunities for village people there.  She has spent time in Dehradun where an organization is doing research on how sustainable farming can alleviate poverty. 
Torin Shaikh '14 had two passions at Westmont: baseball & biology. After graduation he played professional baseball in Japan for two years before returning to join his family's optical & aerospace manufacturing business in California: TFD Inc.  He explains: "The business is built upon Thin Film technologies such as High Vacuum chambers, Plasma Vapor Deposition, and other manufacturing methods similar to semiconductor work. Starting as a Process Engineer I'm now VP of Production/Engineering. It's been rewarding to learn mechanical & chemical engineering from a Biology background, and I couldn't have gotten this far without my time at Westmont."