Degrees & Programs Computer Science
Do you value rigorous academics? Like a challenge? Seek to understand the common threads running through every discipline?
Consider a major in computer science, the formal study of abstract problem-solving. Computers permeate every facet of our society, so more and more careers relate to them: bioinformatics, cognitive science, digital media arts, neuroscience, artificial intelligence, computer graphics, management information systems, human-computer interaction, and intellectual property law. In fact, all fields and organizations welcome the talents of properly trained computer scientists. Learn how to organize and communicate information, use algorithms, procedures or formulas for solving problems, and work with a team to find practical applications.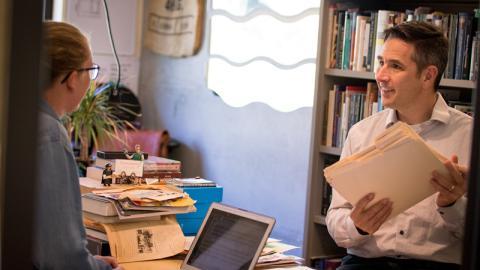 Patterson guest edits IX
Don Patterson had the opportunity to guest edit a special issue of IX(interactions) magazine. The topic was about teaching sustainability and global disruption in various contexts. It was presented as a series of three articles, one of which he coauthored, and brought together researchers from Sweden and New Zealand to present their experiences. Some of the colleagues engaging with this work came to Westmont in June 2017 for a conference on the LIMITS to Computing.
Read More
Computer Science Alumni Highlights
Dustin Carroll '04 completed a master's degree in marine science/physical oceanography from Moss Landing Marine Laboratories in Monterey.
Luke Chambers '02 is a programming manager at iParadigms, the leader in the field of textual intellectual property protection and the provider of Turnitin plagiarism detection products.
James Hanson '03 is a security consultant with FishNet Security, a national leader in information security solutions.
Nick Lassonde '03 helped to start a software company that was purchased by Kaseya, a global provider of IT automation software.
As a Westmont student, Morgan Vigil '11 organized an after-school computer science program to help local high school students. She interned for Green Hills Software and then worked for them as a test engineer before starting a doctoral program in computer science at UC Santa Barbara. Her research uses social network analysis to design innovative wireless systems that enable the next three billion people to get online.
Kyle Watters '06 completed his doctorate in astrophysics at Stanford in 2010 and teaches at California State University, Sacramento.
Mike Yankoski '05 has been involved in various software startups and has also written Under the Overpass, a book about homelessness. He received his a master's degree in theological studies from Regent College in Vancouver, British Columbia and is pursuing a doctorate at the University of Notre Dame.