Outstanding Graduates English
2020
Paul Wuest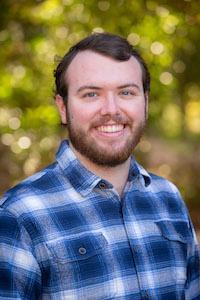 Paul Wuest '20 is completing a double major in English and Music Composition with a grand total of 172 credit hours. Indeed, composition has been a theme for Paul in both of his majors. In addition to composing music, he has enthusiastically guided the collaborative, creative efforts of the Student Writers Guild and currently serves as co-editor of the Phoenix. Paul is well known for his jubilant faith, his welcoming presence, and his terrible puns.
2019
Olivia Stowell
Oxford English Dictionary Award winner Olivia Stowell '19 integrated her work in English and theater to create a powerful stage adaptation of T.S. Eliot's "The Waste Land" with six actors. "Her theater arts senior project paired Eliot with Anne Sexton to stage fractured experiences in two towering American poets," says Sarah Skripsky, chair of the English department.
Stowell says a highlight of her time at Westmont has been the mentorship and friendship she received from faculty and staff. "They have taught me so much, encouraged me on my journey, written me letters of recommendation, let me cry in office hours, prayed for me, supported me and challenged me," she said. "I wouldn't be who I am without their influence."
Stowell's English major honors project explored the intersectional othering of the evil body in animation, Skripsky explains, the way animators encode evil as "other" in terms of race, gender, sexuality or attractiveness. Meanwhile, she organized campus-wide Fringe Festivals and offering her resonant voice to justice issues on campus.
"Intercultural Programs is probably the space on campus where I have learned and grown the most," she says. "The community and family there is such a picture of Christ-like love, inclusion and justice. I'm going to miss it more than I can say."
She will present a paper on "Frankenstein" at the International Gothic Association Conference and another essay will be published in Liberated Arts.  She begins graduate school next fall to study English literature at Villanova University. "I'm excited to take the next step in pursuing my goal to get my doctorate and hopefully someday become a professor," she says.
2018
Kathryn Patrick
Kathryn Patrick '18 will do graduate work in modern and contemporary literature and culture at the University of St. Andrews in Scotland. Westmont's England Semester inspired her to consider questions of contextual and intercultural significance by connecting the works of literature she studied to the places in which they were written. "Shopping the used book market under Waterloo Bridge in London, strolling through Wordsworth's section of the Lake District, and watching shows at Edinburgh's famous Fringe Festival, led me to develop a love for British scenery and culture," she says. Eventually, her goal is to found a magazine designed to empower young women to participate in intercultural travel. "This travel provides young women with invaluable opportunities to launch their personal growth, leading to increased independence and self-confidence," she says.  Observing another country's culture and meeting people who might be different can teach compassion and a willing to understand others and be receptive to new ideas. The ability to see the world from someone else's perspective leads to greater empathy and self-awareness, qualities that will continue to empower young women throughout their personal and professional lives."
2017
Kelly Collins
Kelly Collins '17 has brought a wide-awake mind and an unfailingly eager presence to all of her many courses in the English Department. This year she has ably served as editor of The Phoenix while also completing a major honors project on the parables of Jesus, not only researching the parables themselves but also creating her own short stories based on some of the parables. In addition, this year Kelly has been president of the Philosophy Club and a captain of the track and cross-country teams. She runs, she thinks, she reads, she writes!  She is also a joy to be with.
2016
Kathryn Schuyler
Kathryn Schuyler '16 reads discerningly, offers strikingly original arguments, and writes lucidly. Seizing upon the vivid detail to support her incisive analysis, her exemplary writing manages to remain deftly concise while dealing comprehensively with an issue. For class assignments she crafts essays and reviews of publishable quality. Kathryn has also distinguished herself as a writer of crisp, interesting poetry that she has presented in the Westmont Reading Series and the Santa Barbara Poetry Series with composure and verve. Her upbeat, generous spirit contributes positively to the life of any group of which she is a part. And she's already well on her way to being a life-long learner. Kathryn may have completed all graduation requirements in December, but she's been auditing classwork this semester because of her insatiable intellectual curiosity.
2015
Nicole Blois
Nicole Blois '15 is an intellectual and creative force. She can untangle an arcane literary passage, recall the relevant contextual detail that casts new light on a familiar text, articulate the question that topples received wisdom, and craft a sentence that stops even an experienced reader in her tracks. Whether Nicole is quietly working on a novel while keeping up this impressive academic pace or embellishing an in-class essay with graphics full of literary allusions, her imagination and humor bring real punch to her mental accomplishments. Her mental deftness finds its match in her graciousness and subtle, self-deferential wit. She may embody an otherwise undiscovered literary super power. Whatever the source of her gifts, they have blessed the English Department faculty, who send her to new adventures with gratitude and congratulations.