Outstanding Graduates Theatre Arts
2020
Abigail Pryor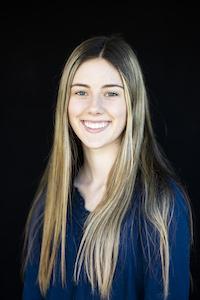 Abigail Pryor '20 has been highly involved in the theatre and dance program over the last four years. In that time, she has worked as an actress, dancer, scholar, producer, director, and creator – she has done it all! Abigail has served as a leader in our department as an artist and model student, living out a Christ-like generosity and embodying a contagious quality of joy. She is currently co-artistic director of the annual FRINGE festival, in addition to directing a senior capstone original musical theatre project that she wrote, Our Season to Bloom. Abigail is highly respected by other students for her artistic ability but also her personal character and demeanor. Abigail is fun to be around. She is genuinely kind, caring, and has a great sense of humor. She leaves behind a legacy of strong performances and contribution to our department as an artist, collaborator, and leader – and we will miss her.
2019
Hunter Stilwell
Over four years, Hunter Stilwell '19 has done it all as a theater student: acted in multiple productions, built with his own hands the sets for most of those shows, directed multiple shows, and designed the lighting for many others. "Has been an exemplary student," says Mitchell Thomas, chair of the theater arts department. "His keen mind, excellent work ethic, creative imagination, and wonderful humor have contributed to classrooms, productions, and a thriving theater culture at Westmont."
Stilwell says his Westmont education has given him opportunities to grow as a student and as a person. "In my major specific classes, I had the ability to study and pursue many different elements of theater as well as form meaningful relationships with both my professors and peers," he says. "Through classes outside of my major, I have learned how to connect the knowledge I have gained from various disciplines. Within the community at Westmont, I have learned how to work and to live with others in a way that encourages meaningful growth."
Hunter directed Jean-Paul Sartre's challenging play "No Exit" for his capstone senior project. "This embodied his artistic spirit: collaborative, searching, funny, and theatrically sophisticated," Thomas says. "He exemplifies what we hope for our graduates – a theater maker with a generous and compassionate heart, an intelligent and discerning mind, and a deep love for God."
As a graduate, Stilwell hope to refine his skills as a director, while finding other ways to create impactful art within his community.
2018
Anna Telfer
Anna Telfer '18, who hopes to pursue a career in the theater, plans to move to San Diego or Chicago to work in public relations and regional theater before seeking an MFA in acting.  "Ultimately, I would love to start my own theater company and bring the arts in conversation with communities, while continuing to act professionally," she says. "As a double major, my career path feels a little up in the air, but I am prepared to work for whatever opportunities may come, while trusting in God's guidance and provision along the way." She served as a Potter's Clay Core Team member while in rehearsal for Rosalinde in "Die Fledermaus." "I have felt genuinely cared for here," she says. "Professors go out of their way to acknowledge, encourage and support me. They are examples of excellence in their fields. It truly blows my mind that women and men at the highest levels of academia are willing to walk alongside me, inside and outside of the classroom, in ways that shape my intellect, emotions and faith. They genuinely live out what they so vigorously teach in the classroom, and it has been an honor and a privilege to be mentored and taught by them these past four years."
Elena White
Elena White '18, who displayed a diverse performance range in all kinds of plays, from contemporary drama to opera to verse drama, has excelled in all facets of her work in the theater arts department. She is a creative and gifted director and a skilled expository writer. She will return to her native Scotland to continue a career in theater. The Santa Barbara Independent awarded her with a coveted Indy Award for her performance in "The Resistible Rise of Arturo Ui."
2017
Mia Altman
Throughout her time at Westmont, Mia Altman '17 has contributed to the theatre program in myriad ways. As an actress, she has appeared in multiple productions, including her melancholy turn as Jacques in Shakespeare's As You Like It. On the production side, she has been a highly effective and organized producer and manager for the annual Fringe festival and mainstage performances alike. Mia is already a playwright of great talent and potential, as evidenced in her multiple short plays she was written at Westmont, and her recent senior capstone project, a full length comedy entitled You Can't Keep Living This Way. Mia is distinctly Mia – quirky, generous, quick to laugh, hard working, personable and poetic – and we are grateful for our time with her in the department.
2016
Christine Nathanson
The Theatre Arts Department is delighted to celebrate the remarkable career of Christine Nathanson '16. Christine blends academic excellence with performance rigor and accomplishment in numerous unique ways. Her insatiable curiosity, boundless energy, and impeccable work ethic lead to success in the classroom and on the stage. Her acting career has been dominated by vivid, imaginative, moving performances in material ranging from Greek Tragedy to Comic Operetta to Renaissance tragedy. Her career as a director is marked by dramatic clarity and stylistic savvy that belie her years and experience. Christine is focused. She is voracious. She is driven. Christine Nathanson is the epitome of what we want for our graduates: she will enjoy a long, fruitful, and endlessly creative life in the theatre, or wherever her many gifts lead her.
2015
Elaine Pazaski
Elaine Pazaski '15 has enjoyed a truly distinguished career as a Westmont Theatre Arts student.  A quick glance at her bio reveals tremendous variety – a stage career dominated by quirky, heartfelt characters of several species; a scholarly career notable for her national awards from the Kennedy Center American College Theatre Festival for scholarly writing (2nd in the nation) and theatrical journalism (national runner-up), both in 2014; and a service career in which her organizational skills were used to schedule two of the department's Fringe Festivals.  Elaine blends artistic knowledge and sensitivity with a curious, humor-drenched attitude to life.  She is the epitome of what we want for our graduates, will be missed deeply by her friends and teachers, and will enjoy a long, fruitful, and fulfilling life in the theatre.