Gayle D. Beebe, Ph.D.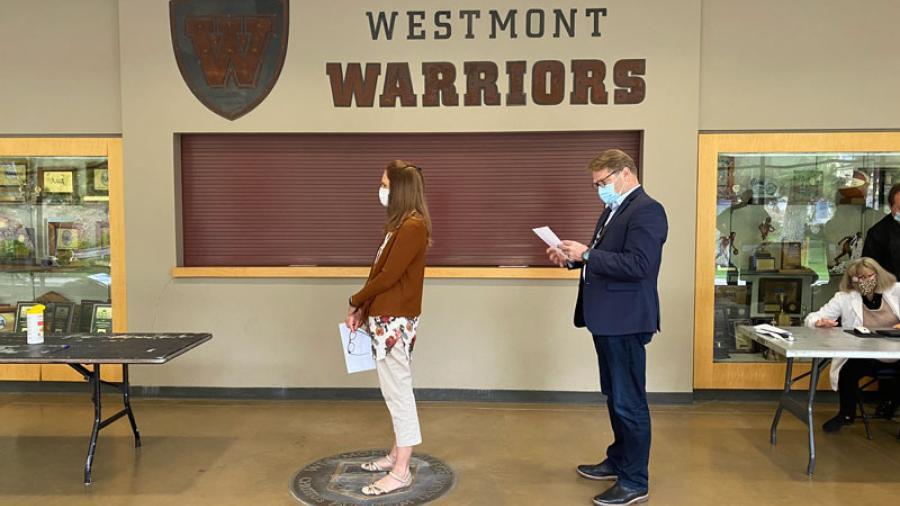 Gayle D. Beebe became Westmont's eighth president in 2007 after serving as president of Spring Arbor University in Michigan for seven years. His inauguration in 2008 featured speeches by Steve Forbes, chief executive officer of Forbes, and Steve Sample, former president of the University of Southern California. Read more about the President.
This unprecedented year has presented considerable opportunities as well as challenges to Westmont, and I'm thankful that our faculty, staff and students have responded with such resilience, energy and enthusiasm. We worked diligently throughout the summer to prepare for the fall semester and have done everything possible to keep our community safe and repopulate campus. I'm encouraged by the progress we've seen in combating COVID-19 in our county as residents continue to practice safety protocols and adhere to the guidelines. We've received so many expressions of support from the extended Westmont community, and we're deeply grateful for your prayers and financial support to the college.
Welcome back, Warriors
We enjoyed welcoming students back to campus September 23-27, nearly four weeks after remote education began August 31. Since September 28, we've offered some classes outdoors under large tents and in the shade of beautiful trees as we take advantage of our vast outdoor spaces. Some labs and studio courses are able to meet indoors with other classes continuing virtually. COVID-19 cases in Santa Barbara County continue to drop and have finally fallen below the threshold of 7 per 100,00 residents. We were just cleared to move into Tier 2, so we'll be able to hold classes indoors beginning October 13. Of course, desks will be set up six feet apart in each classroom, and students and professors will wear masks to keep everyone safe. We're delighted that more than 90% of our students chose to return to campus and continue their semester in residence while others felt more comfortable studying remotely.
We've made significant changes throughout campus to prevent the spread of COVID-19. Tents outside provide space for students to eat and attend classes until we can move these activities inside. Plexiglas shields separate sinks in bathrooms and serving stations in the Dining Commons. Sanitizing stations make it easy for students, faculty and staff to keep their hands clean. We've set up checkpoints at college entrances to monitor access to campus. Members of the campus community submit a daily health assessment before leaving their room or arriving for work. See our COVID-19 website for information about our extensive safety protocols and our commitment to make the health and wellbeing of our community our highest priority.
Celebrating the Class of 2024
Our first-year class this fall is the most academically talented in the college's history. The average SAT score rose 40 points to 1260 with a middle range of 1140-1380. The average GPA jumped significantly from 3.88 to 3.98. It's also among the most diverse classes with 39 percent of the 375 new and transfer students identifying as Hispanic, Asian American, African American, Hawaiian Pacific Islander, Native American, and/or multiracial. Twelve percent are the first in their family to attend college. We're proud to welcome these impressive students from around the world to Westmont.
Top Rankings for Westmont
Westmont continues to place well in annual college and university rankings. Payscale's 2020 Best Universities and Colleges by Salary Potential shows that mid-career Westmont alumni, including those with a graduate degree, earn a median income of $119,800 after more than 10 years in the workforce. This puts Westmont in the top 7 percent nationally of four-year colleges. We jumped four spots in the 2021 U.S. News and World Report rankings to No. 113 (tie) while remaining in the top tier of the 223 National Liberal Arts Colleges. The college skyrocketed 63 points in the Social Mobility Ranking, which measures how well schools graduate students who received federal Pell Grants. Learn more about Westmont's strong rankings.
Generous Gifts Make Westmont Downtown Possible
I am pleased to share Westmont recently received generous gifts from valued friends in the Santa Barbara community. Lady Leslie Ridley-Tree graciously gifted the college $1M toward the purchase of the Westmont Downtown building located at 26 W. Anapamu Street. Dave '63 and Anna Grotenhuis recently pledged an extraordinary $3M for which we are profoundly grateful. Their timely gifts help us to make this building a permanent extension of Westmont in the heart of Santa Barbara. The educational programs, applied learning, and internship opportunities enrich students' experiences and magnify Westmont's impact locally.
At Westmont Downtown, Westmont students and faculty are transforming how emerging issues in technology, health, civic, economic and social engagement are taught, investigated and addressed. Currently using just two floors of the four-floor building, we have already measurably extended Westmont's educational mission into the local community. The location provides an innovative solution to on-campus enrollment limitations. We have a window of opportunity to achieve dramatically more at this location by securing all four floors. Westmont is deeply thankful to Lady Ridley-Tree and to Dave and Anna Grotenhuis for sharing in our vision for impacting the Santa Barbara community and helping Westmont secure such an ideal location to serve, permanently, as a hub for dynamic academic programs.
Newest Trustees Add Voice, Experience to the Board
I'm delighted to announce six new members of the board of trustees, who begin their three-year terms this fall: Denise Jackson '78, Roxanne Hughes Packham, Tremper Longman III, Jordan Jackson '89, Todd Mattson '89 and Karen Yttrup Robilio '90. Two of them, Denise Jackson and Roxanne Hughes Packham, have served as ex officio members of the board, and one, Tremper Longman III, taught at the college for nearly 20 years. Read more here and here about Westmont's newest trustees.
Meet our New Professors
We've hired four outstanding new professors and welcome them warmly to our community: Katherine Bryant (political science), Daniel Gee (music), Robert Haring-Kaye (physics) and Blake Kent (sociology).
Katherine Bryant taught political science as an adjunct for three years and has now become a tenure-track professor. She specializes in international relations, and her research focuses on the efficacy of foreign aid programs and how political factors influence the behavior of aid organizations, especially multilateral agencies. She recently launched a study of the effectiveness of Christian aid organizations. She has a keen interest in improving data literacy among students and has also taught environmental politics. She graduated from USC and earned a doctorate from Texas A&M University.
After an outstanding career at Westmont—he was valedictorian of his class—Daniel Gee '13 has returned to teach music and conduct the Westmont College Choir. He completed majors in both music composition and philosophy at Westmont and earned a Master of Music degree at the USC Thornton School of Music. He has nearly finished his Doctor of Musical Arts degree there. During his time in Los Angeles, Gee served as the assistant conductor of the Long Beach Symphony and associate conductor of Choral Arts Initiative at USC. He has also fulfilled commissions as a composer.
Dr. Haring-Kaye, who earned tenure as a professor of physics and astronomy at Ohio Wesleyan University, earned his bachelor's and master's degrees at Florida State University before completing a doctorate there in nuclear physics. He looks forward to involving students in his research projects. He has been a principal or co-principal investigator on four National Science Foundation grants, the last two focused on cultivating research experiences for undergraduates. He also brings expertise in astronomy and hopes to use the Westmont Observatory to play a larger role in research.
Dr. Kent, a scholar who specializes in population health, medicine and religion, worked as a research associate with Harvard Medical School's Center on Genomics, Vulnerable Populations and Health Disparities at Massachusetts General Hospital. He graduated from Wheaton College, earned a Master of Arts in theological studies at Regent College in British Columbia and then a master's and doctorate in sociology at Baylor University. He is a co-investigator on a major Templeton grant for the National Spirituality and Health Consortium. A prolific scholar, he has published numerous research studies.
New Interim Director Joins Intercultural Programs
Blake Thomas, former director of Bridge-Builders, a service learning ministry of Forge for Families in Houston, Texas, serves as interim director for Westmont Intercultural Programs. "I am passionate about diversity and reconciliation and committed to creating authentic community," he says. "I hope that I can be an asset as Westmont faculty, staff and students navigate the conversation surrounding diversity, race, reconciliation and justice on campus." Read more about Blake and his appointment.
We continue to read, study and discuss the areas of race, bias, equity and inclusion. Dr. Carmel Saad has been an especially invaluable voice this season, and her chapel presentations are helping the entire college community engage the ongoing important conversation on campus about race.
Participate in Our Virtual Events
We had to cancel our in-person public events this fall, but we're presenting many of these activities online and gaining a wider audience as a result. We invite you to participate in these outstanding activities.

Michael Shasberger and the Music Department have scheduled a series of Friday evening virtual concerts. You can listen live at 7 p.m. PDT or watch a recording any time.

While the Westmont Ridley-Tree Museum of Art remains closed, they've created a variety of virtual activities. The current online exhibition, Making a Fine Impression: Prints from the Faith and Dewayne Perry Collection, features work donated by two generous alums.

The Theater Arts Department has adapted their 2020-2021 schedule to present virtual productions and films, including "Small Enchantments" by Lila Rose Kaplan October 30, an "immersive theatrical adventure for Zoom or a real forest" this part play and part art installation.

The Gaede Institute lists virtual lectures available this fall on timely topics such as citizenship, the pandemic and race and racism.
A Center for Spiritual Renewal
In the last several years, an amazing team at the Westmont Martin Institute collected resources to span the teachings of Dallas Willard, Ignatius of Loyola and ancient Christianity about what it means to follow Christ. This collection is now available through Conversatio Divina: A Center for Spiritual Renewal. I encourage you to sign up for their weekly email highlighting resources at conversatio.org.

Making Music with the Santa Barbara Symphony
We've entered into a strategic partnership with the Santa Barbara Symphony to provide music education to local school children. This agreement will help produce new generations of musicians in the community through an innovative virtual and socially distanced curriculum. Discover more about this collaboration.
We're thrilled to see students return to campus and bring their excitement and energy after six long months without them. We're deeply and profoundly grateful for God's care, provision and guidance. Only through his grace and strength will we persist and continue carrying out our mission of rigorous academics and deep love of God.
 
With a heart full of gratitude,
Gayle D. Beebe, Ph.D.
President