Fall 2022 President's Briefing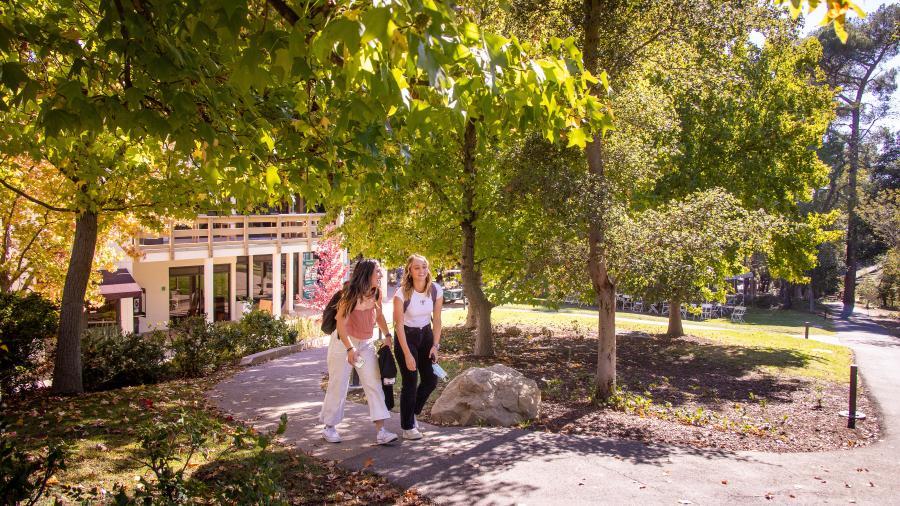 ---
Gayle D. Beebe, Ph.D.
Gayle D. Beebe became Westmont's eighth president in 2007 after serving as president of Spring Arbor University in Michigan for seven years. His inauguration in 2008 featured speeches by Steve Forbes, chief executive officer of Forbes, and Steve Sample, former president of the University of Southern California. Read more about the President.
---
Our new academic year has begun well, and we're excited to see all the activity on campus. We welcomed nearly 400 new students with 70 transfer students — one of our largest transfer classes in college history. I really enjoy greeting and welcoming new students and families at the entrance of campus as they arrive to move into their residence halls.
A busy summer yielded important growth and progress to launch us well into the fall semester and begin Westmont's 85th anniversary. Classes started on August 29. Many good friends continue to support us with their time and resources, playing significant and timely roles in advancing our mission. In the past six years, we've raised $190 million for a variety of projects and scholarships. We finished the 2021-22 academic year with a balanced budget for the 38th consecutive year, a fine testament of God's faithful provision year after year.
---
Westmont Turns 85!
What a blessing to celebrate our 85th anniversary throughout this year. During Homecoming festivities October 14-15, we'll reflect on God's faithfulness since our founding in 1937. To celebrate our history, we'll share stories about dedicated people who've helped Westmont become a truly excellent and nationally known premier liberal arts college. Register today to attend the 85th Anniversary Gala on October 15 at the Santa Barbara Hilton Hotel to honor this incredible milestone. You'll certainly enjoy this fine and inspiring evening.
Additonally, to honor Westmont's 85th anniversary, I am working with various members of our community on a monograph-type book: "Leadership and the Liberal Arts: An Education to Last a Lifetime." I'll share more details in the next briefing, but I know this publication will beautifully capture Westmont's approach to the liberal arts.
---
Westmont Ranks Among Premier Colleges
Westmont improved its overall score and rose in five ranking categories to remain in the top tier of the 2023 U.S. News and World Report's National Liberal Arts College rankings for the 18th straight year. Westmont, ranked at No. 124, is one of only two national liberal arts colleges in the Council for Christian Colleges and Universities (CCCU) and remains one of the top 10 liberal arts colleges in California. These national rankings and economic indicators establish Westmont as one of the premier liberal arts colleges in the U.S. once again.
Two other notable achievements: Westmont is the only CCCU member in the U.S. News' National Liberal Arts Colleges Campus Ethnic Diversity ranking, which recognizes 64 liberal arts colleges for their overall mix of racial or ethnic groups.
In addition, the college is a top performer in the U.S. News Social Mobility Among National Liberal Arts Colleges ranking, which measures the extent schools enrolled and graduated students who received federal Pell Grants.
The latest Payscale report shows Westmont graduates (all alumni) in the top 7.5 percent for all bachelor-degree institutions in the U.S. in mid-career salaries (median after 10+ years of experience), earning an average salary of $127,000. Westmont graduates who only earn a bachelor's degree are in the top 9 percent of mid-career earnings with an average salary of $119,400.
---
New Year with a New Provost
I'm thrilled to welcome our new provost, Kim Battle-Walters Denu, who began August 1. She brings the perfect blend of rigorous academics and deep love of God. For a quarter century, she has held leadership positions in Christian higher education. Previously, she served as interim director at the District Church in Washington, D.C., and as vice president for education programs for the Council for Christian Colleges and Universities. She spent much of her career at Azusa Pacific University, most recently as vice president and chief diversity officer.
---
Strengthening and Growing
We continue to provide cultural intelligence training through Mosaix, which has offered engaging sessions for most of the campus and soon the board of trustees. Harry Li, cultural intelligence team director and senior consultant from Mosaix, leads our efforts with George Yancey, Mosaix co-founder and director of collaborative conversations and race. Harry came to campus in August to provide further insight and guidance.
The Center for Student Success and Student Life direct our initiative on student success and belonging, specifically for students of color, first-generation and transfer students. During Orientation, they hosted several activities for these students and their families. Involving people campus-wide helps introduce these students to college life and the resources available to them so they can achieve long-term success at Westmont.
---
Westmont Global Semester
The Westmont Global Semester has returned with programs in Mexico, England and Cairo this academic year for the first time since 2019. Next summer, we'll also offer three Mayterm programs: Kinesiology Research in Bath and Edinburgh; Archeology in Israel; and London Theatre.
Sustainability
Congratulations to the faculty and academic staff involved in the Arthur Vining Davis Foundation proposal on Sustainability and Climate Change. They received a planning grant of $38,000 and will submit a final proposal for more than $400,000 in September.
Research
Our faculty and students have been busy conducting research this summer, with a record 39 students from nine departments participating in the program, including all the natural and behavioral science departments as well as the art museum, communication studies and political science. Students will share their projects at the annual Summer Research Symposium on October 14 during Homecoming, and you're welcome to attend and learn more about their work. If you know of a prospective student interested in Westmont, please encourage them to attend the event focusing on STEM the same day.
Nursing Program
We've welcomed 20 nursing students in the second cohort of our new Accelerated Bachelor of Science in Nursing program at Westmont Downtown. Eight students in the first cohort have begun the second half of their studies. We're currently accepting applications for spring 2023.
---
Westmont Ridley-Tree Museum of Art
The Westmont Ridley-Tree Museum of Art began this fall with a fascinating exhibition by Adam Belt, who explores the point where art, science and spirituality converge. I enjoy the ways he makes the invisible energies in our universe visible. The exhibition runs through November 5, and we invite you to visit the museum and follow all the exhibits planned for this year.
---
Westmont in NCAA
Our many fall events include art exhibits, lectures, concerts, theatrical productions and competition by our volleyball, soccer and cross country teams. Westmont has been accepted into the NCAA's multi-year membership process for Division II, and we hope to become full members in the 2025-26 season.
---
There are so many reasons to be thankful as I begin my 16th year as president of Westmont. I'm pleased to share with you the significant updates and activities of this unique and extraordinary college community. It would be great to see you attend an upcoming event and participate in our vibrant campus life!
God's blessings,
Gayle D. Beebe, Ph.D.
President