Westmont Magazine It's Time to Celebrate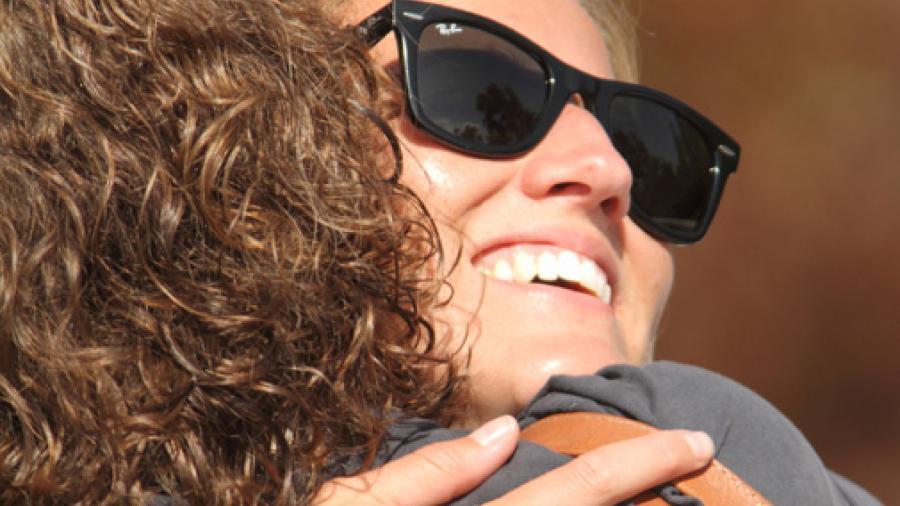 75th Anniversary Homecoming October 26–28, 2012
When was the last time you reunited with your Westmont classmates? How long has it been since you stepped foot on campus? Have you talked to your favorite professor recently? Isn't it time to return for a visit?
"We love Homecoming because everyone who has come into our lives from Westmont has truly blessed us," say Ed '81 and Lorinda Roberts '81 Dry. They were part of a team that organized their 30th reunion last year. "Reconnecting with so many people on Facebook made us even more excited to see them in person," Lorinda says. She used social media to encourage classmates to attend the reunion.
The Drys also reached out to alumni in surrounding classes and to professors, inviting them as well. Because their children's Saturday sports events interfered with Homecoming in the past, they scheduled a backyard barbecue on Sunday that 50 people attended. "We loved this gathering, which made it worthwhile to come for the whole weekend," Lorinda says. She thinks it's a good strategy for alumni planning reunions. "We found a time that didn't conflict with the many wonderful activities Westmont plans on Friday and Saturday, and some people said they came primarily for this event." More than 70 people participated in the 1981 reunion.
"We learned a lot," Ed says. "Some classmates think they don't fit the mold of the typical Westmont alum—perhaps they didn't achieve the success they wanted, made different choices about their faith or life, or faced challenges in their marriage. Some were reluctant to come, but we welcomed everyone with personal emails and letters. We said we wanted to see them and they'd be blessed if they came. It was interesting hearing their stories; some hadn't been back for 30 years."
"We're passionate about Westmont and feel blessed to have a community like this," Lorinda says. "Come and see what is happening now at Westmont. We think you'll be glad you reconnected with classmates."
A gala dinner at Fess Parker's Doubletree Resort at Homecoming will celebrate the college's past, present and future. The event will highlight 75 out­standing alumni who've made significant contribu­tions to the world through their work and service.
Top 10 reasons to attend homecoming:
10. Reconnect with old friends
9. Visit favorite professors
8. Introduce your kids to campus
7. Meet classmates you never knew
6. Sneak away and bask on the beach
5. Enjoy scenic Santa Barbara
4. Eat in the newly remodeled DC
3. Cheer for the Warrior soccer teams
2. Marvel at new facilities
1. Make new Westmont memories
Visit www.westmont.edu/alumni for homecoming information.