Westmont Magazine Westmont Remains Highly Ranked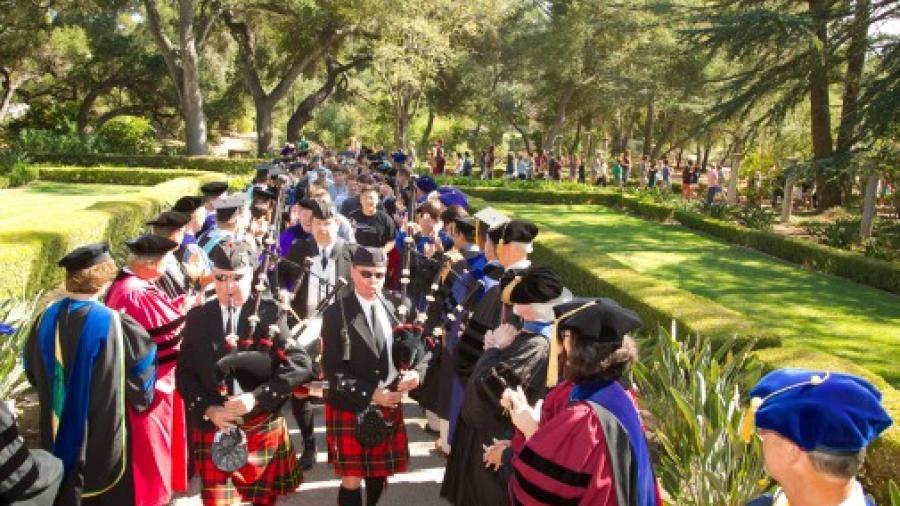 The college continues its top-100 position among liberal arts colleges as an impressive new class of students arrives.
Westmont ranks in the top 100 liberal arts colleges for the fourth straight year according to U.S. News & World Report's "America's Best Colleges, 2013 Edition."Westmont tied for 90th, the same as last year, which represents its highest ranking.
"I'm pleased that the report reflects Westmont's standing as one of the country's most selective, challenging colleges with small classes," says President Gayle D. Beebe.
Westmont improved slightly in the percentage of classes with fewer than 20 students (60 percent) and had higher SAT scores. The graduation rate (77 percent) and percentage of faculty who teach full time (83 percent) remained the same.
Only eight other liberal arts colleges in California appear in the top 100: Pomona (4th), Claremont McKenna (10th), Harvey Mudd (12th), Scripps (24th), Occidental (39th), Pitzer (43rd) and Thomas Aquinas (82nd) Colleges. Soka University of America, which was reclassified in 2010, ranked 49th.
Among members of the Council for Christian Colleges and Universities, only Wheaton and Westmont appear in the top 100, and Westmont is the only California Christian college ranked in the first tier.
In August, Forbes recognized Westmont as one of the best Christian colleges in the country in its 2013 America's Top Colleges list, which included 650 institutions. Westmont ranked 103, second only to Wheaton College (99). The Princeton Review lists Westmont as one of the Best Western Colleges, saying "very personable faculty members take a genuine interest not only in the academic well-being of their students, but also their personal, relational, and spiritual lives."
The new class of 2016, which arrived in August, continues the tradition of students with impressive academic credentials. They earned a combined average GPA of 3.85 and an average SAT score of 1800 (out of 2400).
More than 80 percent of the 339 first-year students received merit scholarships ranging from $10,000-$14,000 in tuition assistance. The class of 2016 includes three National Merit Scholars; four Monroe Scholars benefit from full-tuition scholarships: Jarrett Catlin of Upland, Calif.; Aria Hamann of Grants Pass, Ore.; Megan Litschewski of Centennial, Colo.; and Aaron Wilk of Centennial, Colo.
North American ethnic minorities make up 28 percent of first-year students. The 59 transfer students come from Concordia University, Gordon College, Hampshire College, Pepperdine University, UC Irvine, UC San Diego, University of Minnesota and Wheaton College to name a few.The top five majors are pre-med (13 percent), economics & business (11 percent), biology (9 percent), psychology (7 percent) and English (7 percent); 6 percent marked "undecided" on the application.
Jodi Smith, associate dean of admissions, says the new first-year students intend to build community and global connections. "They've been involved in community outreach programs, working with people with developmental disabilities, helping with environmental efforts, tutoring and mentoring youth and peers, and caring for the elderly," she says."They've volunteered around the globe, serving in the Dominican Republic, Ecuador, Mexico, China, Philippians, Kenya, Costa Rica and Japan, to name a few."
Most members of the class of 2016 were born in 1994, the year Nelson Mandela was elected president of South Africa, OJ Simpson was arrested,"Forrest Gump" won the Oscar for best film and a postage stamp cost 29 cents. These students grew up with digital technology and media and communicate mostly through social media.