Westmont Magazine A Winning Season for Women's Basketball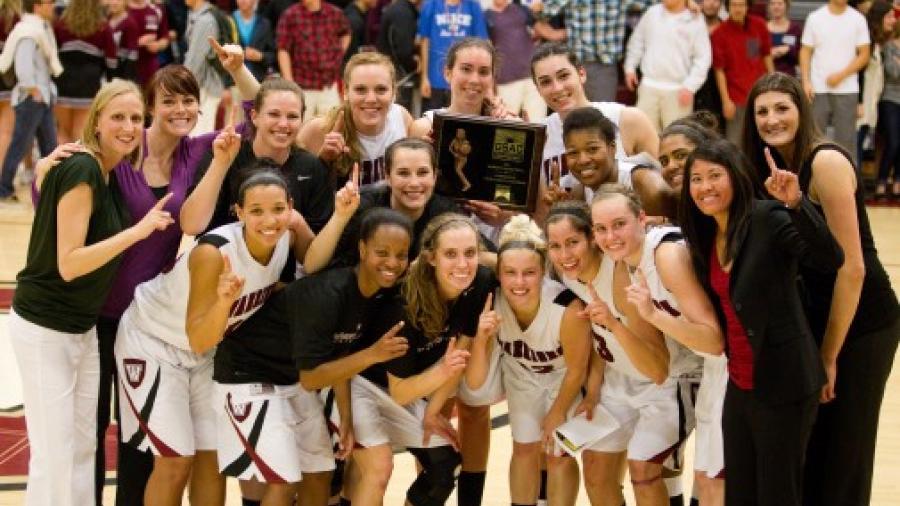 The lady Warriors compile their best record ever and reach the final four of the national tournament.
The women's basketball team set new athletic records this year, but the players say they most cherish their relationships with teammates. The Warriors compiled a 16-game winning streak and captured their first Golden State Athletic Conference (GSAC) regular season championship. Undefeated at home during the season, the Warriors advanced to the quarterfinals of the National Association of Intercollegiate Athletics (NAIA) Division I National Championship for the first time. The season ended with the Warriors ranked No. 4, and junior forward Tugce Canitez was named NAIA Player of the Year.
"Each person on the team is unique and made the team better," says Lisa Peterson, who graduated with a degree in kinesiology. "There were many selfless people willing to put the team first, allowing us to succeed. We had a great blend of people who genuinely enjoyed each other."
"This team was dedicated not only to excellence on the court, but to loving each other with excellence, and that's what made it so special," says Katie Kittle, who ends her Westmont career scoring 1,164 points, ninth on Westmont's all-time scorer's list.
Head women's basketball coach Kirsten Moore will always remember winning the GSAC Tournament Championship at home against Azusa Pacific. "That was the moment that really captured what this team and this season were about," she says." Our Warriors played excellent basketball and beat a strong opponent (the defending national champions) in a close and dramatic game. But that night represented so much more. Our goal all year was to be excellent every day, not just in our basketball skills but in our teamwork, attitude, effort, enthusiasm, and service of one another and the community. That night was the culmination of all these efforts.
"Led by the Westmont baseball team, the college community and neighbors came out in force to support the women's team. The atmosphere was electric, and our Warriors rose to the occasion."
Montecito residents like Gerd Jordano embraced the athletic department's new Adopt-a-Warrior program, supporting Kittle and inviting several other players to her home for dinner. "Watching her score so many baskets made it even more exciting," Jordano says. "It was fun to have a close relationship with a woman Warrior and to sit with others involved in the Adopt-a-Warrior program at the games."